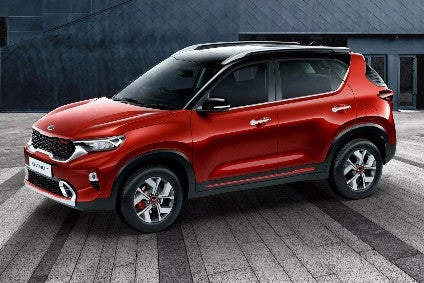 Earlier this month, the former KMC (Kia Motors Corporation) revealed a new logo and tagline, changed its name to KIA Corporation and updated us on the number of EVs it is planning to launch. But Kia's not done yet. Soon, we'll see the production version of the CV electric car project; GL3, a successor for the K7; then NQ5, the next Sportage. It's going to be a busy 2021 for the company.
Cars
Kia says it will be selling 11 electric models by 2027 including seven which won't be offered with a combustion engine alternative. Cars will likely be called EK1, EK2 etc (up to EK9) and crossovers/SUVs EV1-EV9.
The seven EVS are due to be launched before 2025 with the first one coming soon. The name is still secret (it could be EK6) but we do at least know the project code: 'CV'. This electric car is due to be shown in April, three months before series production begins in South Korea. A general preview, the KED13 Imagine By Kia concept, was first exhibited at the Geneva motor show in March 2019. The platform is HMG's E-GMP.
The Imagine By Kia was about the same size as the Skoda Octavia. The company stated in February 2020 that the production model would be compatible with 350 kW chargers thanks to 800 V electrics. That will mean a battery down to 20 per cent of its reserve can be topped up to 80 per cent (roughly 200 miles) in 20 minutes.
GL3, the replacement for the K7 (Cadenza in some countries), may be called K8. This should also be the first piston-powered sedan to feature the brand's new logo when it debuts in March. A K8 Hybrid and/or K8 Plug-in Hybrid for the South Korean market also seem(s) highly likely.
Korean market sales should commence in April/May: series production is due to commence on 21 March. There is by no means any certainty that this car will be sold in the US and Canada as the current model has not performed well in those countries.
Kia might standardise K8 as the model name worldwide, something it did when rolling out the latest K5 which had been sold as the Optima in North America.
MPVs
Either Carens or Rondo might be revived as the name for a five, six and seven-seat MPV. Kia is planning to introduce this 4.4-4.6 m long model in 2022. Although it will mainly be for the Indian market, it isn't yet clear whether that means manufacture or assembly at the Penukonda plant in Andra Pradesh. Both petrol and diesel engines should feature, each one said to be a 1.5-litre unit.
Pick-up
A vehicle in the same size and pricing category as the Toyota Hilux, Ford Ranger and VW Amarok is under development. There will also be a Hyundai model, these facts having been stated by the CEO of Kia's importer for Australia. Kia Corporation's pick-up, the name of which isn't yet known, should hit relevant markets in 2022. Production of this ladder frame vehicle will most likely be in South Korea although another possibility is Monterrey/Pesqueria in the Mexican state of Nuevo León.
SUVs
The Sonet is a sub-4 m long SUV built in and for India as well as for export to certain other markets such as Indonesia and South Africa. It was revealed as a concept at the New Delhi auto expo in February 2020. The production model was announced six months later, with the first deliveries following soon after.
Although the vehicles look entirely different, the platform is shared with the Hyundai Venue. Other major components used by both models include 1.2-litre petrol, a 1.0-litre petrol and 1.5-litre diesel engines, the latter two being turbocharged. The Sonet also offers an extraordinary number of transmissions: five. These are five-speed manual, six-speed manual, six-speed 'Smartstream intelligent' manual (no clutch pedal), six-speed automatic and seven-speed DCT.
After the wildly successful launch of the larger Seltos in August 2019, Kia Motors stated a year later that it wanted to see its Indian plant reach annual capacity before adding more models. The factory was operating at two shifts which equates to 200,000 vehicles per annum before the Sonet was added. Full capacity is 300,000. For more details, including the Sonet's platform, code name and projected life cycle, see PLDB.
Kia has had the Sorento and Mohave in its range for many years so creating a concept with what looked like a misspelling wasn't news. The 4,430 mm long HabaNiro, a concept which was revealed at the New York auto show in April 2019, was about the same size as the Niro. A bright red slash across the rear pillars was meant to link the name to a ripe chilli pepper.
The company hinted that there might be a production car based on this model: "Some will assume the HabaNiro concept will never be built, but we don't advise betting the farm on it". As the Niro has been around since 2016, this concept is likely to show how SG2, the second generation – due later this year or in 2022 – will look.
The next Sportage is due to be announced in April. Production for Kia's home market comes first, with build and sales in Europe to follow from September. There should be a Sportage Hybrid as well as a Sportage Plug-in Hybrid. There will also be an extended version for the first time, the Sportage L (codename: NQ5C) being exclusive to China, insiders claim. Life cycle details can be found in PLDB (see link at end of this report).
MX4, the latest Sorento, (see PLDB for full details) has been in production for a year now but the petrol-electric derivatives took some time to arrive. The Sorento Hybrid is powered by a 1.6-litre T-GDi (Turbocharged Gasoline Direct injection) engine and 44.2 kW electric motor with energy stored in a 1.49 kWh lithium-ion polymer battery pack. The engine and motor produce a combined total output of 230 PS and 350 Nm torque. The transmission is a six-speed automatic. Production at Kia's Hwasung plant in Korea commenced in early July 2020.
The Sorento Plug-in Hybrid, announced to the media in November and on sale a few weeks later also has a 1.6-litre petrol turbo engine. This produces 180 PS and 265 Nm, supplemented by 67 kW and 304 Nm from a motor. Combined, the powertrain offers 265 PS of power and 350 Nm of torque. A 13.8 kWh lithium-ion polymer battery pack is located beneath the driver and front passenger seats. There are seven seats in all.
Some presumed that the front- and all-wheel drive monocoque platform Telluride was the effective successor for the brand's big body-on-frame 4×4. It wasn't. Kia should instead directly replace the Mohave later in 2021. The Telluride is mainly for North America and the Mohave (Borrego in certain countries) should again be mostly for South Korea as well as markets in the Middle East.
The new model should be based on a fresh platform but this would still be a ladder frame chassis. If it instead turns out to be a monocoque, then the architecture would be M3 as introduced by the Genesis GV80.
We can of course expect many of Kia's next generation SUVs and crossovers to be electric and the firm has some very aggressive production targets. By 2026, the company insists it will be selling half a million EVs per annum plus the same combined number of hybrids, plug-in hybrids and other 'alternate energy' vehicles.
In February 2020, HMG stated that it would be collaborating with Los Angeles-based Canoo to bring EVs to market for its Hyundai and Kia brands. Other than these vehicles using Canoo's skateboard architecture, no other specifics were given. The provisional start date for production is 2023 but the vehicles in question could be launched before then.
Reports for many other manufacturers' future models are grouped in the OEM product strategy summaries section of just-auto.com.
Future platform intelligence
More detail on past, current and forthcoming models can be found in PLDB, the future vehicles database which is part of GlobalData's Automotive Intelligence Center. That includes the many Kia vehicles not in this report.
This is the third and final report in a series with HMG as its focus, the other brands having been Hyundai, followed by Genesis. The next OEM to be looked at will be Chery Auto.