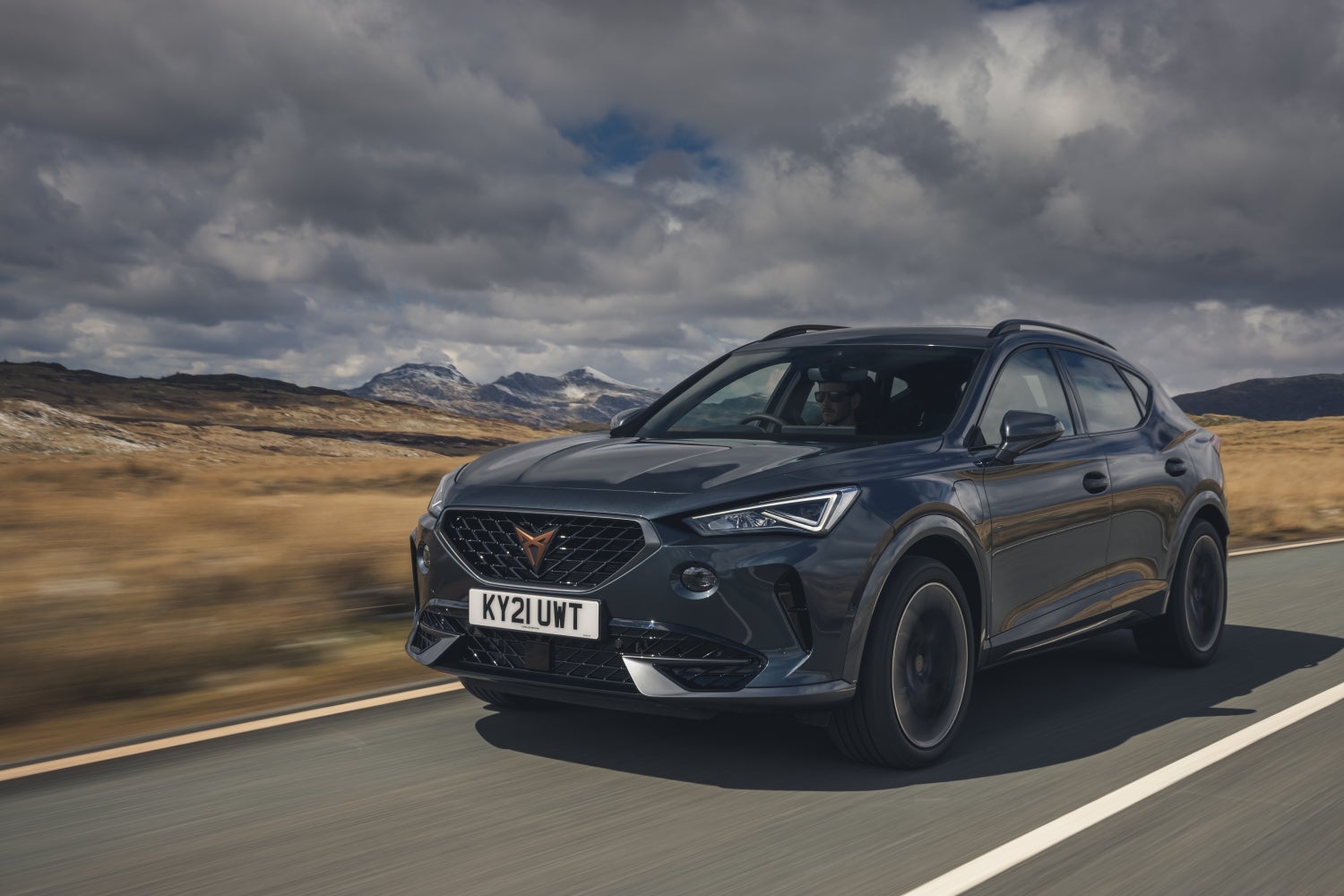 It's quite the achievement, what Seat has managed in a short space of time with Cupra. Sure it was already known but the connotations were far from those associated with a premium brand.
Ironically, those who bought the cars when the name was a fast (and loud-ish) model grade did often then spend a lot of money on them. SEAT didn't get that cash though, as it instead went mainly to after-market tuning companies.
Some shared models, some bespoke
The Spanish OEM held an event in February 2018 just ahead of the Geneva motor show where it revealed the Cupra Ateca to the media. This was the first vehicle for what had been a trim level but which from then on became a brand.
Three years later, the range now consists of the Leon, Leon eHybrid, Ateca, Formentor and Formentor eHybrid.
The brand's parent company says – at least for the moment – it's larger models only. Which is why there is neither a B-segment hatchback nor an alternative derived from the Arona.
Taking things at face value, the lack of a Cupra Ibiza seems like a missed opportunity to really lift brand volume. Yet perhaps keeping price points high by not being in the B segment is part of the first stage of brand building?
The next addition will be another large vehicle and like the shown but not yet in showrooms Born crossover, it will be electric. Also worth noting is that this new EV has no SEAT equivalent. Maybe one will come later.
As for other models, a new Ateca is due in 2023 although we don't know if that might instead be solely a SEAT for the second generation.
The Tavascan, which will be a large electric SUV, plus a small EV will debut in 2024 and these should be just for Cupra. By mid-decade, the sports brand will have a good mix of models then.
How are sales?
Considering how new to the country the majority of the latest models are, sales of 1,062 Cupras in June is nothing short of remarkable. Nine more cars and Dacia would have been beaten. Year to date, the tally is 3,158.
It's a similar story in three of the other big European markets, H1 deliveries in Spain being 5,432 vehicles with 3,081 for Italy and a modest 1,910 deliveries in France. The KBA rolls the division's data into the one number so a break-out of Cupra from SEAT isn't available. Still, 65,707 is a very good total for the two marques' H1 sales in Germany.
Fresh Formentor
With the Born still some months away, the Formentor is the newest addition and, along with the equally fresh Leon, the reason why brand sales just keep rising. I recently tried one out and like the Ateca which was my first experience driving a Cupra, it really does feel different to any SEAT.
There are a lot of Formentor variants, many of these being part of the eHybrid grouping. That's Cupra's term for PHEV.
This new coupé crossover was in fact first seen as a plug-in hybrid concept back in 2019 at the Geneva motor show. While build of the Formentor commenced at the end of September 2020, the PHEV didn't become available until March in LHD markets and more recently for us.
The powertrain is the same as the Golf GTE's: a 1,395 cc four-cylinder petrol turbo TSI engine and motor, with energy stored in a 13 kWh lithium-ion battery. Power and torque are 110 kW (150PS) and 250 Nm from the engine and 85 kW (115 PS) from the motor, making a combined 180 kW (245 PS) and 400 Nm.
Surprisingly large line-up
There is a distinction between variants called simply Formentor (power of <245 PS) and Formentor VZ (short for Veloz in Spanish, meaning fast).
The lesser four variants are:
110 kW (150 PS) 2.0 TDI
110 kW (150 PS) 1.5 TSI, manual or DSG
140 kW (190 PS) 2.0 TSI, DSG 4Drive
150 kW (204 PS) e-Hybrid, DSG
Then there are the more powerful Veloz ones:
180 kW (245 PS) VZ 2.0 TSI
180 kW (245 PS) VZ e-Hybrid
228 kW (310 PS) VZ 2.0 TSI, DSG 4Drive
It was a concept first
A second model for SEAT's Cupra brand was revealed as a plug-in hybrid concept at the Geneva motor show in March 2019. Although it wasn't labelled as such in the media release, the body style turned out to be a coupé crossover.
This 4,450 mm long vehicle was the first Cupra not to be based on an existing SEAT model and that's a good move for any brand which wants to establish its own territory. OK, so it's built in the same plant as many SEATs – on Line 2 at Martorell – but does that matter? Not at all.
Next: a (LHD-only) five-cylinder turbo

Cupra is also still adding variants, the VZ5 being the latest example. Revealed online in February, this has the 2.5-litre, five-cylinder petrol turbo engine from the Audi RS Q3 and RS Q3 Sportback, although power is slightly less at 287 kW/390 PS (versus 294 kW/310 PS). Torque, however, is the same 480 Nm (354 lb ft).
SEAT will build 7,000 examples of the VZ5 and all will be left-hand drive.
Looking at all those alternatives, and particularly the VZ5, how could the Formentor be anything other than a big earner for Cupra? And to think that until the brand was created, no-one really believed that there could be highly profitable white space somewhere above or beside Volkswagen GTI models and below Audi S vehicles.
How is to drive?
The one I drove was the 180 kW e-Hybrid. It's fast enough – 0-62 mph in 7.0 seconds and a 130 mph top speed – but it's how well it handles that matters. I wouldn't mind all-wheel drive as winter conditions might have given me a different opinion of how 400 Nm reaches the road.
There's some torque steer yet the six-speed DSG masks most of that and I have to say, the test car's gearbox was better than the supposedly more advanced seven-speeders fitted to certain Audis.
Copper – the signature shade
Until I saw the Formentor in the metal and plastic, the looks were perhaps a touch overbaked here and there. Up close, it's all harmonious and the copper coloured details such as the tailpipe covers work very well.
Cupra's signature hue and that fancy logo also aid a stand-out identity. The same applies to the interior: it's much better than the Golf GTI and ID.4 with their fiddly and at times infuriating screen-only or voice controls. Sorry Volkswagen, it keeps on feeling like cost trimming is being dressed up as high-tech.
Everything that a family could want in a five-seater crossover is there, including a roomy cabin, decently sized (345 l) boot and all the luxury gear which we rightly expect in a premium priced model.
Will people buy it?
The PHEV Formentor has a 30+ mile EV range, 45 mpg overall economy (but why only a 40-litre tank?) and is possessed of something else which matters just as much: people who want to stand out compared to the Qashqai and Tiguan brigade are buying it. And they are more than fine with paying premium prices to do so.
Cupra as a conquesting brand? Most certainly.
The mid-range Formentor e-Hybrid VZ2 245 PS DSG costs GBP40,260. The two less expensive grades are V1 and V2 plus pricier VZ3 and VZ Edition alternatives.