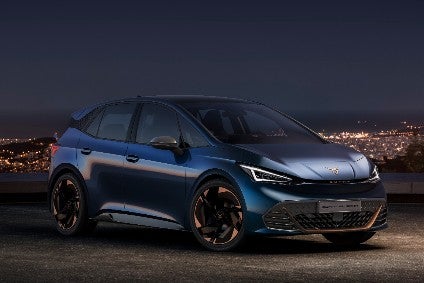 Being so reliant on European markets – specifically Spain, Germany and the UK – Seat has been hard hit by Covid-19. Production at the company's Martorell base fell by almost a third last year and for various reasons the record half a million cars produced in 2019 is unlikely to be broken in 2021. Still, the brand's line-up is fresh, Cupra as a high-margin spin-off is working and the future vehicles cupboard is the very opposite of bare.
Cupra
SEAT's first fully electric production model would be entering production in 2020, the company announced in June 2017. Speaking at the event in Barcelona, the firm's head of R&D said the vehicle would be based on the Volkswagen Group's Meb architecture. It was to be around the same size as the Leon and have a range of up to 500 km.
The EV, which will now be a Cupra rather than a SEAT, will be called el-Born and closely related to the Volkswagen ID.3. Company executives still won't say whether or not a SEAT el-Born will follow at a later date.
The bodystyle was confirmed as being a crossover at a SEAT event in March 2018. The el-Born concept, a preview of the production model, and named after a trendy district of Barcelona, was at the Geneva motor show in March 2019. The name is also a play on words as it is meant to suggest 'electric-born'.
Despite being labelled as a crossover, the el-Born concept is clearly a five-door hatchback and even looks like the VW ID.3, also a small hatchback. Official images and a launch date should be announced this quarter. As for the place of manufacture, that will be at Volkswagen's Zwickau (Mosel) factory.
The Formentor would be put into production, SEAT confirmed in March 2019, and also be available as a plug-in hybrid. This coupé-crossover was a PHEV concept at the 2019 Geneva motor show. While build of the Formentor commenced at the end of September 2020, the PHEV would not be available until early 2021, a Cupra press release stated in February last year. Production has just started.
The powertrain is the same as the Golf GTE's: a 1,395 cc four-cylinder petrol turbo TSI engine and motor, with energy stored in a 13 kWh lithium-ion battery. Power and torque are 110 kW (150PS) and 250 Nm from the engine and 85 kW (115 PS) from the motor, making a combined 180 kW (245 PS) and 400 Nm.
The Formentor line-up is split between variants called simply Formentor (power of <245 PS) and Formentor VZ (short for Veloz in Spanish, meaning fast).
The four lower power variants are:
110 kW (150 PS) 2.0 TDI
110 kW (150 PS) 1.5 TSI, manual or DSG
140 kW (190 PS) 2.0 TSI, DSG 4Drive
150 kW (204 PS) e-Hybrid, DSG
The Veloz variants are:
180 kW (245 PS) VZ 2.0 TSI
180 kW (245 PS) VZ e-Hybrid
228 kW (310 PS) VZ 2.0 TSI, DSG 4Drive
All versions of the Formentor should be facelifted in three years' time with the second generation model due to arrive in mid-2027.
The Tavascan Electric might be a large future SUV coupé for Cupra. Such a vehicle may have been heralded by the Tavascan Electric Concept. This was powered by two motors with a combined output of 225 kW (306 PS) and a 77 kWh battery pack. The prototype premiered at the Frankfurt IAA in September 2019.
Some sources believe that SEAT has delayed this project until 2023 or 2024 from the original 2021/2022.
SEAT
Should there be a successor for the Mii electric, it could possibly be part of a project to create a range of small electric cars. Initially led by SEAT engineers, the division lost leadership during the first quarter of 2020 but the vehicle programme remains active, with 2022/2023 believed to be the launch date for the first model. That means a life cycle lasting until 2030/2031.
It is known that sub-20,000 euro EVs for several Volkswagen Group brands are being developed, each one based on a new version of MEB, the group's electric vehicles platform. SEAT had been tasked with engineering the architecture, the company's then CEO announced in March 2019. There should be vehicles for VW, Škoda and Jetta too.
The next Ateca isn't due until the third quarter of 2023. The platform should be MQB A/B Evo, and there is said to be a possibility that SEAT will add an SUV-coupé derivative.
The second generation of this SUV would not be built in the same plant as the current one, Volkswagen announced in November 2018. It should have been manufactured in a factory which the Group had intended to have built in Turkey. For various reasons, this project was cancelled last year.
The fourth generation Leon was shown to the media a year ago this month, becoming available in the second quarter. A plug-in hybrid derivative called Leon eHybrid is also part of the line-up.
Unlike the prior generation, this one comes only in five-door hatchback and estate (ST: Sportstourer) forms. This follows a decision to drop the SC (three-door) from the prior generation during 2018 as it wasn't selling well.
The hatchback is 4,368 mm long (+86), 1,800 wide (-16) and 1,456 high (-3) with a 2,686mm wheelbase (50 more than the third generation Leon). Equivalent dimensions for the ST are 4,642 mm long (+93), 1,800 wide (-16) and 1,448 high (-3). The wheelbase is identical to that of the five-door. Boot capacities are 380 and 617 litres.
Engines are abbreviated as follows: TSI (petrol), TDI (diesel), TGI (Compressed Natural Gas), eTSI (mild-hybrid) and eHybrid (plug-in hybrid). All are turbocharged:
66 kW (90 PS) three-cylinder 1.0 TSI
81 kW (110 PS) three-cylinder 1.0 TSI
81 kW (110 PS) three-cylinder 1.0 eTSI (48V starter-generator and 48V lithium-ion battery)
96 kW (130 PS) four-cylinder 1.5 TSI
110 kW (150 PS) four-cylinder 1.5 TSI
110 kW (150 PS) four-cylinder 1.5 eTSI (48V starter-generator and 48V lithium-ion battery)
140 kW (190 PS) four-cylinder 2.0 TSI with standard DCT
85 kW (115 PS) four-cylinder 2.0 TDI, manual transmission only
110 kW (150 PS) four-cylinder 2.0 TDI, manual or DSG transmission
110 kW (150 PS) four-cylinder 2.0 TDI, DSG gearbox and 4Drive system (ST only)
96 kW (130 PS) four-cylinder 1.5 TGI (3 CNG tanks with a total net capacity of 17.3 kg)
The former Leon Cupra has been replaced by the Cupra Leon. All these variants will have a styling refresh towards the end of 2023. The fifth generation, which could be sold only in battery form, isn't due to arrive until 2027 so SEAT has some years yet to decide how it will be powered.
SEAT added the Tarraco to its model range in late 2018. There are five- and seven-seat variants and these are aimed at the Land Rover Discovery Sport, Kia Sorento and Hyundai Santa Fe. The public debut was at the Paris motor show in October 2018, production commencing later the same month. A plug-in hybrid powertrain would also be part the line-up, SEAT told the media in March 2019.
The PHEV, the first such vehicle for SEAT, was then announced in August 2019 just ahead of a prototype's public premiere at the following month's Frankfurt IAA. This, the most powerful Tarraco in the SEAT line-up, has combined power of 180 kW (245 PS) thanks to its 110 kW (150 PS) 1.4-litre turbocharged gasoline engine and a 85 kW (116 PS) motor. The range is up to 50 km, while the battery pack has an output of 13 kWh.
The variant at the 2019 Frankfurt motor show was the top-spec Tarraco FR PHEV but the plug-in powertrain is also available in lesser trim levels. SEAT quietly stated on 10 September 2019 (during the first press preview day of the Frankfurt motor show) that the PHEV wouldn't become available until "late 2020". Production started in November 2020 and the name is Tarraco eHybrid.
Volkswagen builds all variants of this 4,735 mm long model in Wolfsburg on the same line as the Tiguan and Tiguan Allspace. There should be a range facelift in the second quarter of next year with the next generation model due in late 2025.
Reports for many other manufacturers' future models are grouped in the OEM product strategy summaries section of just-auto.com.
Future platform intelligence
More detail on past, current and forthcoming models can be found in PLDB, the future vehicles database which is part of GlobalData's Automotive Intelligence Center. That includes Cupra and SEAT models not reported on above.
This is the seventh report in a series which highlights certain current and future models from the passenger vehicle divisions of Volkswagen Aktiengesellschaft. It follows a look at VW cars; VW SUVs, MPVs and pick-ups; Audi cars; Audi SUVs; Porsche; and Škoda. Features on Bentley, Lamborghini and Bugatti will be published soon.