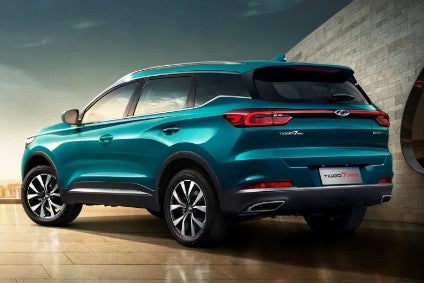 With the exception of the low volume Karry brand, each of Chery Auto's divisions had a great 2020, Chery itself becoming China's 12th most popular make, a y-o-y gain of five places. Nine consecutive months of expansion for the market, plus a wave of fresh vehicles has powered that progress.
There's a lot more to come for not only the company's namesake make but for Cowin, Jetour and Exeed too, although there's a question mark over the future of the COS brand.
Chery
Home market wholesale deliveries of 453,858 Chery brand passenger vehicles represented a year-on-year rise of 14.6 per cent. Hyundai (446,009, -35%) was one of the many names which Chery sailed past thanks to investments in many new models.
The Tiggo 8, a new SUV, was the brand's top seller (136,182) in 2020. Having been launched in May 2018, this 4,722 mm long SUV is due for a facelift in 9-12 months' time. The upscale Tiggo 8 Plus variant announced in August last year (it premiered at the following month's Beijing motor show) will also receive the styling changes. All versions are then due to be replaced in 2025, most likely by an EV.
The brand also has plans for multiple additional EVs well before then, including a circa-4.7 m long sedan which might be called Ant Ruiteng 01. Images of prototypes appeared on the web back in August and earlier this week, patent images surfaced. The car, which would be aimed at Tesla's Model 3 and others in that size class, will have a series of screens stretching across its dashboard, in the style of the Honda e.
Due for launch in perhaps August, this model will be manufactured by Chery Shijiazhuang New Energy Automobile. The partners in that JV are Hebei Ruiteng New Energy Automobile Company and Chery New Energy Automobile Technology Company. The Ant part of the car's name signifies that it's an EV.
As yet there is no official information on the capacity of the battery pack, only that Chery is said to be aiming for an NEDC range of up to 600 km. A motor with outputs of 175 hp and 280 Nm is rumoured. It is believed that like the Ant eQ5 (also known as eQ5 Ant), this model will be based on the company's new RWD electric vehicles architecture.
The Ant eQ5 is a 4,630 mm long rear-wheel drive electric crossover which became available at dealers in China five months ago. It resembles the Lynk & Co 01 in some ways, especially at the front. Chery Auto says the model, developed with the codename S61, uses its EV-specific LSF architecture. The vehicle should be facelifted in 2024 and replaced in 2027.
Cos
Another brand which enjoyed a healthy year-on-year gain was Cos, wholesale deliveries expanding by 24% and reaching 15,809 vehicles on 31 December. Whether that's enough to justify the division's continued existence is another question. Model specifics can be found in PLDB: see the link at the end of this report.
Cowin (Kaiyi)
Wholesale deliveries of Cowin vehicles rose by exactly a third in 2020, to 33,277. It had been rumoured that Chery would phase out this brand but now it seems that a new strategy will be explored: switching to the Chinese name, which is Kaiyi. The move will reportedly be announced in April, timed to coincide with the debut of a design study at Auto Shanghai. The Kaiyi SUV-coupe concept, with its enormous grille and low roof, will inevitably be spoken of being inspired by the Lexus RX. A production model will likely follow in 2022.
At the moment, Cowin's E5 (launched in 2011), E3 (2013) and X5 (2017) are all doing small volume but the X3 (2016) sells fairly well. However it's the far newer Xuanjie which makes up the majority of the brand's volume. Also called Showjet, this model joined the range in May last year. Closely related to the Chery Tiggo 5x and built at the Cowin Yibin Smart Factory, this SUV uses Chery Auto's T1X platform. It should be facelifted in late 2023 and replaced in 2027.
Jetour
With 130,703 deliveries in 2020, Jetour more than proved itself as an inspired piece of brand creation, coming in at 32nd place just behind Tesla. This year should bring at least one additional SUV along with a facelift for the soon to be three years old launch model, the X70.
Twelve months ago, Chery said it would be adding two more X70 variants by year-end, these being the X70M and X70S. One of these turned out to instead be called X70 Plus when it premiered at the Beijing motor show in September. Sales commenced during the following month. An X70 Coupe is also on the way. Full details of these vehicles as well as the brand's other models, the X90 and X95, are in PLDB.
Exeed
A high flyer from the day of its debut in early 2019, Exeed didn't so much crash to earth in 2020, level flight being more of an accurate description, having risen briskly in the final quarter. The division sold 18,263 vehicles, a year-on-year gain of 14% which nonetheless was enough to lift overall performance to 58th place in the home market's brand rankings from 67th in 2019. That meant it was slightly less successful than Citroen (-60% to 20,068) or Jaguar (+4% to 20,151). Exeed hammered both in December though, deliveries shooting up by 26% to 2,527.
Joining the existing TX, TXL and LX this year (see PLDB) will be the VX, delayed from a launch that was supposed to have happened in 2020. The five-metre long seven-seat SUV is expected to have a standard a 145 kW and 290 Nm 1.6-litre petrol turbo engine driving through a seven-speed DCT.
Vantas
The Exeed VX will be one of two models for Vantas, a brand which HAAH Automotive Holdings told the media in February 2020 that it intends to use for certain Chery Exeed models in the USA and Canada. The company, which had also reached an agreement with *Zotye Auto to sell SUVs to Americans, says Vantas vehicles will be US-assembled from SKD kits.
HAAH displayed the Vantas VX and Vantas TXL at last year's NADA gathering as examples of what it has planned for the brand. The models shown in Las Vegas at the 2020 edition of the National Automobile Dealers' Association show had modified front ends and the word VANTAS above the grilles.
Duke Hale, the chief executive of HAAH, told the media at NADA 2020 that some 80 dealers had at that point signed up to take on a franchise.
Four months ago, Hale noted in an interview that his firm would also be marketing certain vehicles under another brand, T-Go, likely commencing in late 2022. Further details are awaited although the T-Go models are likely to be locally assembled and modified versions of certain Chery Tiggo SUVs, positioned below Vantas vehicles.
*in May 2020, HAAH told the media that it had 'suspended' plans to import Zotye vehicles after the Chinese firm got into difficulties with cashflow
Reports for many other manufacturers' future models are grouped in the OEM product strategy summaries section of just-auto.com.
Future platform intelligence
More detail on past, current and forthcoming models can be found in PLDB, the future vehicles database which is part of GlobalData's Automotive Intelligence Center.
FAW will be the next OEM to have its brands looked at, these being Bestune and the rapidly rising luxury division, Hongqi (Red Flag).