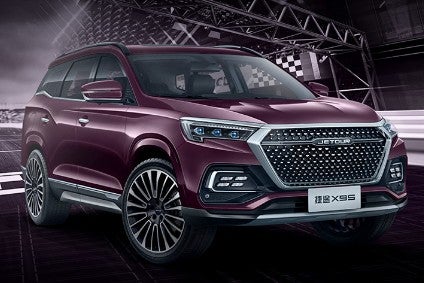 Sales data for February are meaningless and numbers for March will be almost as irrelevant so better to look at how two new Chery brands performed in 2019. Exeed (retail sales: 8,705) could have done better but Jetour (90,002) did very well indeed, proving itself to be not only the market's most successful launch but outselling Jeep by more than 7,000 vehicles.
For the record, retail sales for Exeed numbered just 62 in February with Jetour managing 944 sales, a year-on-year fall of 77 per cent. As terrible as they are, by way of comparison, many brands had a worse month. Examples include DS (10), Lincoln (37), Renault (107), Acura (124), Citroen (138), Jaguar (151), Land Rover (152), Peugeot (214), Infiniti (227), Jeep (401) and Mitsubishi (676), All numbers are for locally built vehicles.
Chery's plants have all been restarted and are ramping up. For obvious reasons, some future models originally intended to be launched by mid-year won't be seen until later in 2020. Nonetheless, multiple additions are coming this year and next, as is noted below.
Exeed
The TX was the first model for the Exeed brand. This 4,690mm long SUV was revealed as a prototype at the Frankfurt IAA in September 2017. That concept was codenamed M31T and its architecture is M3X. The company is planning to enter certain European markets, it announced at the motor show:
Chery is evaluating the sales opportunity in key markets, ahead of setting up a European sales operation in co-operation with import and distribution partners. The new design and R&D facilities in Europe will accelerate Chery's plan for global expansion.
The platform is said to have been "developed from scratch specifically for the new model line and to accommodate electrified powertrains". Chery notes that it was designed and engineered in conjunction with Germany's Benteler.
As for the model's all-wheel-drive system, this was co-engineered with Dana and BorgWarner, the transmissions are supplied by Getrag, while Valeo supplies "various technologies, such as the clutch and advanced driver assist systems". Meanwhile, Bosch provides the vehicle's 10-inch TFT head unit and 7-inch TFT cluster display. The German Tier 1 is also responsible for various safety and engine management components.
Chery further notes that the LED head lamp and rear lamp units were developed by Hella, while Continental Automotive provides the Body Control Module (BCM) and "Gateway applications" to support the vehicle's electronic architecture. Continental also supplies the tyres.
This model entered Chinese dealerships in March 2019. In European markets, the TX will supposedly come with three electrified powertrains: hybrid, plug-in hybrid and electric. The first to go on sale will be the PHEV which combines a 110 kW 1.5-litre petrol engine with an 85 kW motor. It will have all-wheel-drive and a seven-speed "hybrid drive" transmission.
The TX is due for a facelift in 2022 and to be replaced in 2026.
In October last year, Chery added the LX. Also an SUV, this one's dimensions are as follows: 4,533 x 1,848 x 1,699mm. The powertrain consists of a 145 kW and 290 Nm 1.6-litre four-cylinder petrol turbo engine driving through a seven-speed dual clutch gearbox. The life cycle should be seven years, which means a facelift in the fourth quarter of 2023. There will be additional powertrains before then though.
The third model for Exeed will be called VX. Due to be announced soon, this seven-seat SUV will be the third model for the brand. Dimensions are said to be 4,970/940/1,795 mm with a 2,900 mm wheelbase. The standard engine should be the 145 kW and 290 Nm 1.6-litre petrol turbo as powers the LX.
Vantas
There will be two initial models for Vantas, an invented brand which HAAH Automotive Holdings told the media in February that it intends to use for certain Exeed models in the USA and Canada. The company, which has also reached an agreement with Zotye Auto to sell SUVs to Americans, says Vantas vehicles will be US-assembled from SKD kits.
HAAH displayed the VX (based on the Exeed VX) and TXL (an altered Exeed TX) at NADA in February, as examples of what it has planned. The models shown in Las Vegas at the National Automobile Dealers' Association show had modified front ends and the word VANTAS above the grilles.
Duke Hale, the chief executive of HAAH, told the media at NADA 2020 that some 80 dealers had at that point signed up to take on a franchise.
Jetour
The X70 was the first model for a new brand from Chery Automobile. There are Jetour badges on all models' front and rear ends. The Chinese name is Jietu, which can be translated as 'Victory Lane'. All vehicles should have six-seven year production cycles, which means a facelift for the X70 should be launched in 2022 with a successor due in 2025.
Chery has ambitious plans for Jetour. Its model strategy, announced in January 2018, is termed '4+3+N'. This means four SUVs (X60, X70/S, X90, X95), three MPVs (V60, V70, V90) and the New Energy (EV and PHEV) versions of the seven vehicles. In addition, a hydrogen fuel cell powertrain will appear at a later, unspecified date. Two additional X70 variants will join the line-up later in 2020, these being the M and S, Chery told the media at the start of the year. An X70 Coupe is also on the way.
The X70 was followed by the debut of the X90, a prototype of a larger, seven-seat model, at the Beijing motor show in April 2018. Production commenced in February 2019. A facelift in now around two and a half years away with the successor likely to arrive in early 2026.
The latest addition to the line-up is the X95 (pictured). This 4,879mm long SUV is based on the X90 but is longer. The world debut took place at the Shanghai auto show in April 2019 and production commenced seven months later.
The X95 can have five, six or seven seats, while all versions are powered by a turbocharged 197 kW and 290 Nm 1.6-litre four-cylinder petrol engine. Chery may add a PHEV option in 2021. A range facelift is due in 2023 and a replacement model in 2026.
Reports for many other manufacturers' future models are grouped in the OEM product strategy summaries section of just-auto.com.
Future product program intelligence
More detail on past, current and forthcoming models can be found in PLDB, the future vehicles database.
This was the second of two features which listed certain highlights of Chery Auto's divisions' current and future models. The first looked at Karry and Cowin as well as Chery itself. The next OEM is Mahindra & Mahindra.