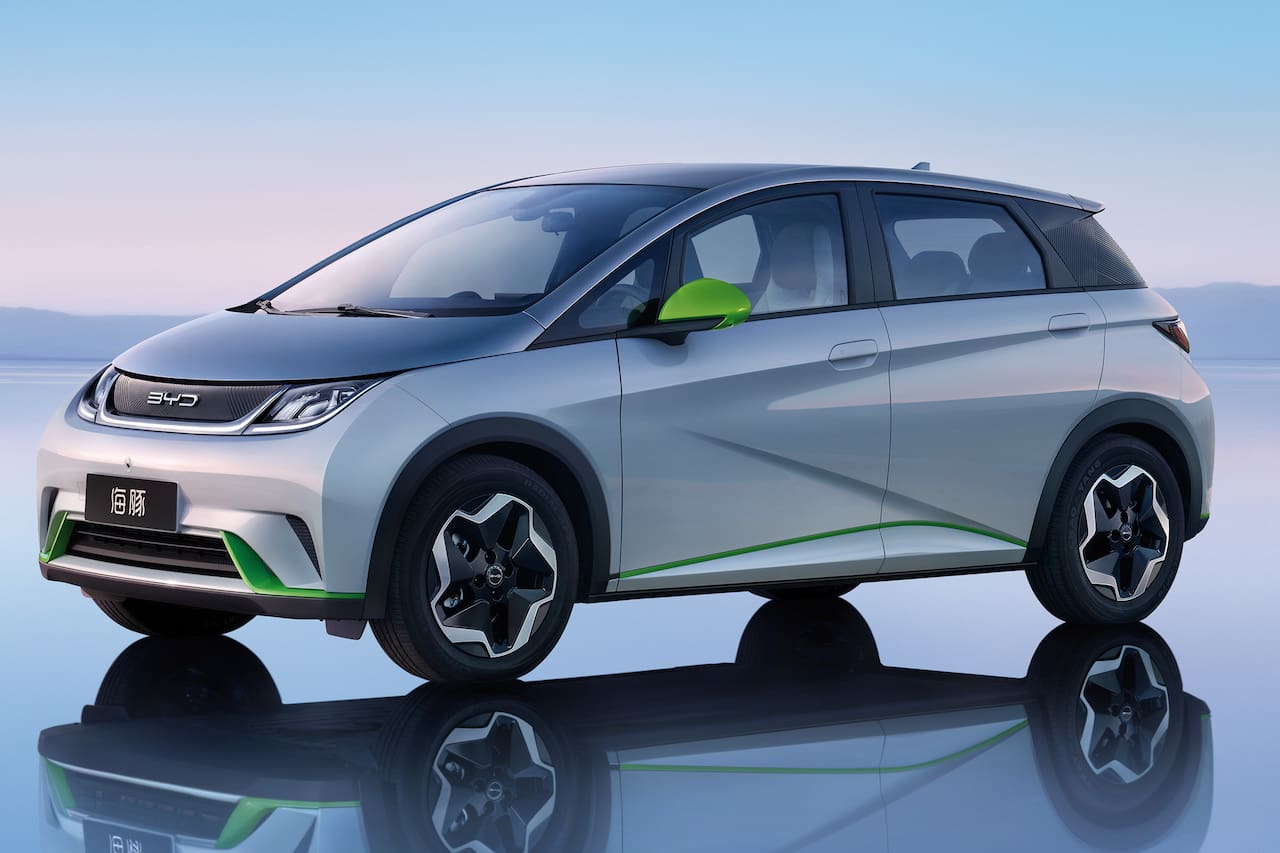 Last week, BYD boasted of an 88 per cent gain in sales for October, the tally being an impressive 89,935. Highlighting how the Chinese market and the company's own range continues to evolve, fewer than 10 per cent of BYD's deliveries were ICE-powered cars.
Of the 542,679 passenger vehicles delivered between 1 January and 31 October, 226,356 were EVs and 184,445 PHEVs. Of the remainder, ICE-fuelled SUVs accounted for 84,427 units, with various cars, MPVs and commercial vehicles making up the balance.
New and next EVs
It's early days for one of the newest BYD models but already, the Dolphin is making waves, with 6,018 delivered last month. This 4,070 mm long electric five-door hatchback is the first car for the company's e-Platform 3.0 architecture.
The Dolphin premiered in August on ChinaJoy 2021, a hugely popular game show. Four months prior to this, a prototype called EA1 was exhibited at AutoShanghai.
All versions are powered by a single motor but there are two battery options: 31 or 45 kWh. NEDC ranges are 301 and 405 kilometres and the top speed of each is 160 km/h. There are also slight styling differences at the front and rear of certain trim level versions.
A life cycle of six years is expected for the Dolphin with a facelift in 2024.
Even though BYD already has a vast line-up of cars and SUVs, more are to come during 2022 as part of its 'Ocean Series'. Following on from the Dolphin will be the Seal (late Q1), a C segment sedan; the Sea Lion (Q3), a C segment SUV; and the Seagull (Q3), a small hatchback. Each will use e-Platform 3.0.
Launched at the same time as the Dolphin, the Yuan Plus is also off to a strong start in the sales charts. This 4,455 mm long electric SUV had its public debut at the Chengdu motor show in August, production commencing a few weeks later.
The Yuan Plus comes with the choice of 50 kWh and 60 kWh battery packs. No matter which version the buyer orders, the top speed is just 160 km/h and the single motor produces 150 kW and 310 Nm. NEDC maximum ranges are 430 and 510 km.
The mid-cycle facelift and potentially battery upgrades should arrive in 2024 with a successor likely to land in 2027.
The company expanded its range of Qin-badged models in early 2021 by adding the Qin Plus. This 1.5-litre plug-in hybrid sedan has since become very successful. It is fitted with one of BYD's own so-called 'Blade' battery packs.
Inside, there is a large screen in the middle of the dashboard. As on certain other BYD vehicles, this can be tilted into either landscape or portrait format. Further, there is no conventional cluster of gauges ahead of the driver; instead they see a small screen.
There is also a Qin Plus EV. Added to the domestic market range in April, this is the electric version of the Qin Plus. Both are due to have a styling refresh in 2024. There will probably only be a successor for the EV, that car being expected in 2028.
The first of four models in the Song family has been particularly successful for its maker. Launched in 2015, the original Song, a 4.6 m long crossover, is now nearing the end of its production run.
There are three newer models, these being the Song Max, a seven seat MPV which arrived in 2017 followed by the Song Pro, Song Pro PHEV and Song Pro EV in 2019.
The Max is due a successor in 2024 while the three SUVs should be facelifted in 2023. It's likely that perhaps only the Song Pro EV will be replaced at the end of the lifecycle in 2026.
The Han is another model series which has been well received by Chinese buyers. Launched last year, the Han DM and Han EV are 4,950 mm long electric sedans which differ in styling details. The DM is a plug-in hybrid while the EV can be ordered with one or two motors.
The single motor EV produces 222 hp and has a stated range of 506 km with a 65 kWh battery or 605 km with the more expensive 77 kWh alternative. As for the dual motor EV, the outputs are 222 hp (front) and 272 hp (rear). System power and torque are 494 hp and 680 Nm. The 77 kWh battery is standard and the NEDC maximum range is 550 km.
The single motor and dual motor Han EVs were the first vehicles to have BYD's Blade battery. This has a lithium iron phosphate (LFP) chemistry. The company claims that a ten minute fast charge allows up to 135 km of travel while from 30-80% of capacity takes only 25 minutes. Further, BYD says cold weather is not an issue with this battery pack.
Higher trim level cars have a large touchscreen which can be positioned in either landscape or portrait format while lower model grades have a smaller, fixed landscape display. Outside, the looks are something of a cross between the Tesla Model S and the Peugeot 508. BUILD YOUR DREAMS badging features in large letters across the tailgate.
As for the Han DM (plug-in hybrid), its powertrain consists of a 2.0-litre petrol turbo engine and a single motor. Combined outputs are 436 hp and 650 Nm, the transmission is an eight-speed automatic and drive goes to all wheels. A ternary lithium battery is said to have a capacity of 15.2 kWh and the maximum NEDC range in EV mode is 81 km.
We should see facelifts for both Han models towards the end of 2023 and one or two successors (depending on whether or not PHEVs are still in favour) in 2027.
Reports for many other manufacturers' future models are grouped in the OEM product strategy summaries section of Just Auto.

Future platform intelligence
More detail on past, current and forthcoming models can be found in PLDB, the future vehicles database which is part of GlobalData's Automotive Intelligence Center. That includes BYD vehicles not covered in this report.
The next OEM to have its future models strategy examined will be Hyundai Motor Group.