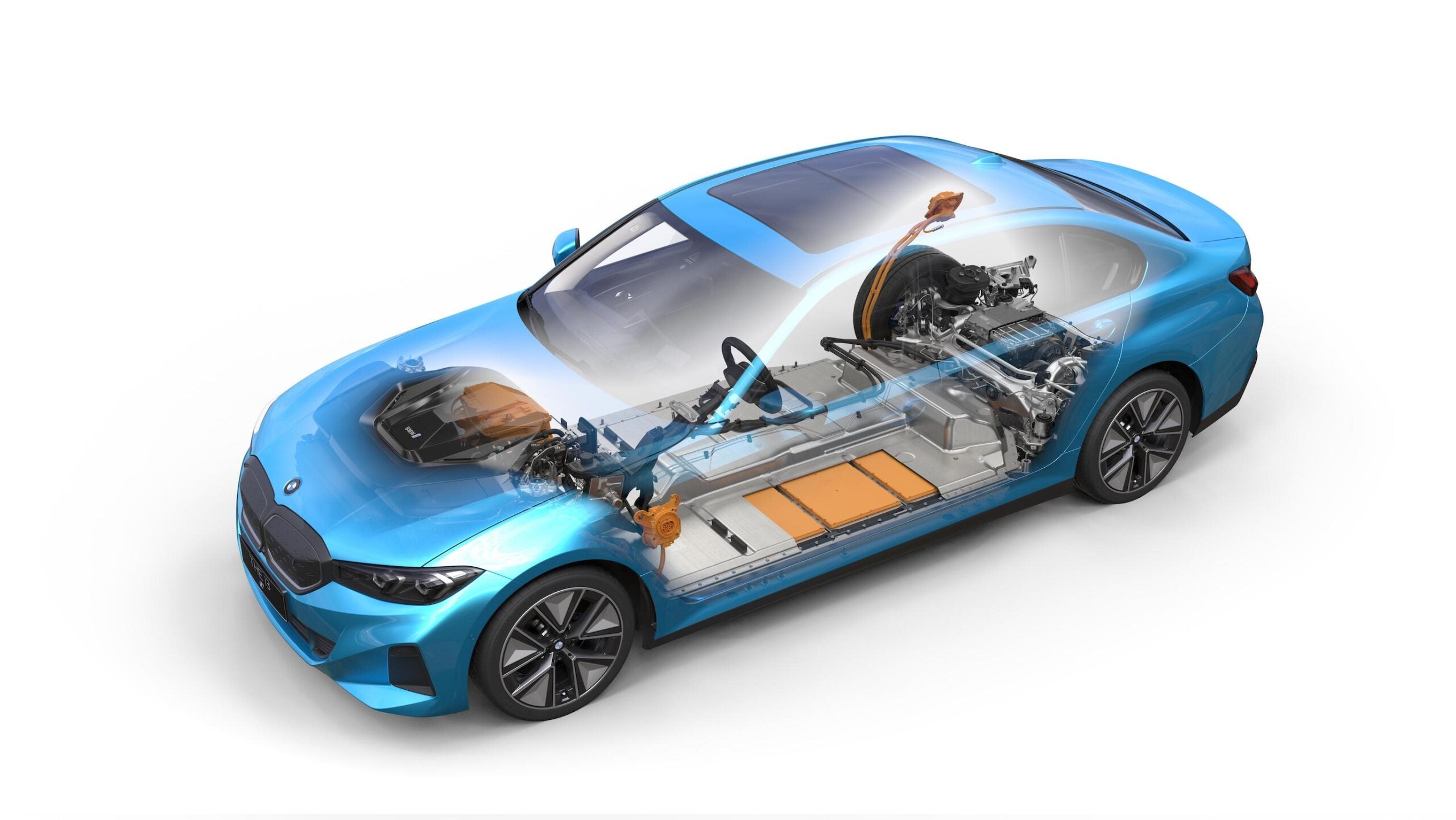 From simple beginnings with one small car, BMW's i model line has expanded into all manner of segments. And there's a lot more future products to come.
The i3 has been expensive to build and probably less than profitable, at least during the first part of what became a long life cycle (nine years by the time build ceases in July).
BMW has evolved the successor into a 4.5 m long SUV as the public generally seems to accept the industry's price premium for such vehicles compared to hatchbacks/sedans. Thus the iX1 model name for this newly announced vehicle, production of which is due to start in November at Plant Regensburg.
The sole variant is called iX1 xDrive30 and this has a 64.8 kWh (usable) battery, allowing a maximum range of 438 km (WLTP). All-wheel drive is to be standard thanks to a motor positioned on each axle and power is up to 230 kW (313 PS) including a temporary boost, with 494 Nm (364 lb ft) of torque. The xDrive30 can be charged at up to 130 kW.
Boot capacity is identical to that of the closely related new X1 plug-in hybrids, being 495 litres, rising to 1,495 whereas the ICE-only X1s have respective capacities of 540 and 1,600 l. See link to PLDB below for the U11 series new X1 as well as the X1 xDrive25e and xDrive30e plug-in hybrids.
The iX1 should be built for seven years, which means a facelift in late 2025 or during the first quarter of 2026. As for the architecture, this will be FAAR.
There is in fact a new i3 but it's an entirely different kind of car to the soon to be discontinued original, being an electric version of China's long wheelbase 3 Series sedan. A new Tiexi factory opened on 5 May and built the first i3 eDrive35L that day. 'Plant Lydia' is the only production location for this vehicle, which had the development code of G28BEV NM.
The 3 Series EV has some unique touches, including a special grille design and the boot's capacity falls to 410 litres from 480.
BMW says the same 210 kW (285 PS) and 400 Nm (295 lb ft) single motor which powers the iX3 is used. The CATL battery pack has gross and net capacities of 70.3 and 66.1 kWh, while the maximum range on the China light-duty vehicle test cycle is 526 km.
A fully electric 5 Series will be manufactured in both Germany (Dongolfing) and in China (BBA's Dadong plant), launching in 2024. Details of this, the i5, and also of the smaller and still new i4, can be found in PLDB: see link at the end of this report.
It's now eight months since production of the iX got underway in Lower Bavaria. The model is put together on the same line within the Dingolfing plant as other vehicles which have PHEV or combustion-only powertrains.
The big crossover, about as long (4,953 mm) and wide as an X5 but as low as an X6, was new for the 2022 model year in North American markets. In Germany, the first deliveries commenced in December 2021.
In many countries, there are two versions: iX xDrive40 and iX xDrive50 with a third announced in January. The iX M60's motors produce a combined 455 kW and 1,015 Nm but in Sport Mode, torque rises to 1,100 Nm.
BMW says 0-100 km/h for the M60 takes 3.8 seconds, that the top speed is 250 km/h and that the WLTP range is up to 566 km (the latter is less than xDrive50). The first deliveries take place later this month.
Unusually for an M variant, the M60 doesn't look too different to other examples of the iX: there are blue brake callipers, unique 22-inch wheels and a bespoke artificial sound.
According to its maker, the "power unit" contains no rare earths and produces 240 kW (326 PS) plus 630 Nm (464 lb-ft) in the xDrive40 or 385 kW (523 PS) and 765 Nm (564 lb-ft) in the xDrive50. Thanks to fast charging at 200 kW (xDrive50), the pack's reserve can go from 10 to 80 per cent of capacity in under 40 minutes.
The xDrive40's high-voltage battery has a net energy content of 71 kWh (76.6 kWh gross) while for the xDrive50, it's 105.2 kWh net.
A range of 630 km (391 miles) under the Worldwide Harmonized Light Vehicle Test Procedure applies for the xDrive50 or 425 km (264 miles) for the xDrive40. The former weighs from 2,510 kg DIN and the latter from 2,365.
The iX uses a new BMW Group aluminium spaceframe with carbon elements. The 'Flex Architecture' is based on the existing 35up, also known as CLAR for Cluster Architecture. It supports electric, plug-in hybrid and internal combustion power applications.
We can expect a seven to eight-year life cycle, which means a facelift in 2025.
Newly announced but not yet in production, the 5,391 mm long i7 is one of the largest electric sedans made by any OEM, lengthier than even the long-wheelbase Mercedes EQS hatchback.
The sole variant at launch later in 2022 will be the i7 xDrive60 but an i7 M70 xDrive will follow during 2023. BMW has positioned these EVs as the most expensive 7 Series variants.
Specifications are as follows:
xDrive 60 – 107 kWh battery, 190 kW (258 PS) front motor, 230 kW (313 PS) rear motor, combined outputs of 400 kW (544 PS) and 745 Nm (549 lb ft), standard AWD, 240 km/h top speed
M70 xDrive – data yet to be revealed by BMW other than a note of "over 600 PS and 1,000 Nm"
As for launch timings, these commence in November, with only the i7 being available in Europe at that time, the 7 Series following later. However, both will arrive at the same time in China and North America.
BMW USA quotes 536 hp for its i7 xDrive60 and a maximum range of 310 miles (500 km) according to the EPA standard. This rises to between 590 and 625 km under the less realistic WLTP system.
Next year's M70 could have the same outputs as the iX M60 but likely power and torque will exceed these numbers, which, as noted above, are 455 kW and 1,015 Nm (and 1,100 Nm in Sport Mode).
The i7's platform is CLAR, production is at Dingolfing and the life cycle should be eight years with a facelift in 2026. BMW might also launch a fuel cell version of this car as well as a top-spec variant with a solid state battery. Neither of these is likely to arrive before 2025.
Hydrogen
BMW is planning a limited production (circa 100 cars) hydrogen-fuelled X5. This was first suggested by the surprise appearance of a concept at the 2019 Frankfurt motor show and then confirmed six months later. In the latter statement to the press was this sentence: "This hydrogen fuel cell electric powertrain will be piloted in a small series based on the current BMW X5 that the BMW Group plans to present in 2022".
A prototype was exhibited at the IAA Munich in September 2021. BMW noted this in a press statement made a month before the motor show: "A small series of the BMW iX5 Hydrogen, developed on the basis of the BMW X5, will be used for demonstration and testing purposes from the end of next year".
The i Hydrogen NEXT was based on the X5. However the CEO, Oliver Zipse, told reporters at the Frankfurt show that he didn't see series production of any BMW powered by a fuel cell until "2025 at the earliest". Therefore the production run of Hydrogen X5s will be low volume and likely to be lease-only. The concept had many blue accents as hydrogen-powered BMWs are part of the i sub-brand.
Reports for many other manufacturers' future models are grouped in the OEM product strategy summaries section of Just Auto.
Future platform intelligence
More detail on past, current and forthcoming models can be found in PLDB, the future vehicles database which is part of Global Data's Automotive Intelligence Center.
This was the third of five reports which form a series exploring selected future models for BMW AG's brands. The first concerned BMW cars, and was followed by another on SUVs. The remaining two will focus on M division, followed by MINI and Rolls-Royce.