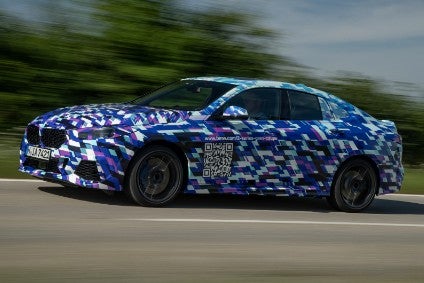 Profits might be down but there is no doubting the sales success of BMW AG. Cars, not so important in the US market, remain a major part of BMW's growth in Europe and China. The G20 3 Series is this year's stand-out product, particularly in Germany. With the G21 3 Series Touring plus a steady flow of many other new models imminent, Mercedes and Audi have much to worry about.
Cars
The third generation 1 Series goes into production this month. It uses Frontantriebsarchitektur, a new platform derived from the existing UKL1 and UKL2. Unlike the L7 architecture as used by the outgoing 1 Series hatchbacks, Faar, which can also be abbreviated as FAAR, is for front- and all-wheel drive models. Although BMW would not admit this, a major issue with many BMWs and most Minis is inadequate rear seat room so the switch to FAAR was also made to address this.
BMW will not replace the three-door 1 Series: there is a five-door hatchback only to start with but a new sedan will follow. The hatchback is 4,319mm long. While that is slightly shorter than the previous model, the car is claimed to have 30mm more rear legroom and a larger boot.
The first five variants were announced in May with deliveries in European countries commencing from September. All are turbocharged:
118i (103kW/140hp & 220Nm 1,499cc three-cylinder petrol, six-speed manual or seven-speed dual clutch Steptronic)
116d (85kW/116hp & 270Nm 1,496cc three-cylinder diesel, six-speed manual or seven-speed dual clutch Steptronic)
118d (110kW/150hp & 350Nm 1,995cc four-cylinder diesel, six-speed manual or eight-speed Steptronic automatic)
120d xDrive (140kW/190hp & 400Nm 1,995cc four-cylinder diesel, eight-speed Steptronic automatic)
M135i xDrive (225kW/306hp & 450Nm 1,998cc four-cylinder petrol, eight-speed Steptronic Sport automatic)
At the start of this year, Handelsblatt carried a report which claimed potential collaboration in small cars between Daimler and BMW AG was being considered as part of a wider pooling of resources for autonomous cars. With the 1 Series about to be launched and a fresh A-Class on sale only last year, any co-developed models wouldn't appear until 2025.
The 1 Series sedan has a different platform to the former three-door (F21) and five-door (F20) hatchbacks and also to the latest F40 five-door.
This front-wheel drive four-door is manufactured solely in China, having been revealed by BMW and its partner Brilliance in July 2016. The car was previewed by the Concept Compact Sedan which premiered at November 2015's Guangzhou motor show. The production vehicle had its public debut at the Chengdu motor show in September 2016 and went on sale in China during March 2017.
Although BMW said at the time of the 1 Series sedan's market release that it would be only for China, the car is also exported to Mexico.
There should be a facelift in 2020 which would change the front and rear ends so as to make them resemble the newer F40 1 Series five-door hatchback. The successor is due in 2023. That car will naturally switch to the FAAR architecture.
BMW announced initial details of a future model, the 2 Series Gran Coupé, in March, noting that it will not be fully revealed until the Los Angeles auto show in November. The market launch of this small sedan will take place in the northern hemisphere spring of 2020. It will use FAAR.
Even though certain segments might be contracting in some countries, in announcing this additional model BMW is clearly stating that it sees traditional car lines as very much part of its business, albeit in evolved forms. Nonetheless, as the axing of a replacement for the 3 Series GT shows, certain cars will vanish.
The 2 Series should continue to be two ranges: one using a FWD-AWD platform for the GC and 2AT (the Gran Tourer probably won't have a successor) and the other a RWD-AWD one for the two-door cars. There is however a chance that in announcing F44 (2 Series GC), BMW is also signalling that the current 2 Series Coupe and 2 Series Convertible may not be directly replaced.
The seventh generation 3 Series was revealed in standard wheelbase sedan form at the Paris motor show in October 2018. A month later, the M340i xDrive, a high performance variant powered by a turbocharged 275kW/374hp six-cylinder engine, premiered at the LA auto show.
The car's platform is BMW Group's G3UP, also known as 35up or CLAR and as introduced in 2015 by the 7 Series. G20 is 85mm longer than the previous model and China's extended wheelbase body is 41mm longer than the standard sedan. Sales of both standard and Li cars commenced in March.
BMW also makes this car at its second North American manufacturing plant which is in the Mexican city of San Luis Potosí. What the company calls 'Plant SLP' opened in June and has an initial capacity of 150,000 vehicles a year. While it has body, paint and assembly shops, as is the case with Spartanburg, engines and transmissions are imported from Germany. BMW intends to export the 3 Series to some forty countries, it stated at the facility's opening.
G21, which is the 3 Series Touring, was announced to the media in June, three months ahead of its on-sale date. It has the same wheelbase as the standard length sedan.
The 3 Series is due to be facelifted in 2023 and then replaced in 2026.
New generations of the 4 Series Coupe (project code: G22), Convertible (G23) and Gran Coupé (G26), all due out in 2020, are expected to use CLAR. There will be a major change for the convertible, with the folding metal roof of the current car replaced by a fabric top.
G24 (what would have been a second generation 3 Series GT) and G26 were merged into one future five-door hatchback. As well as replacements for the existing three cars, BMW is said to be planning an electric version of the 4 Series as part of the next generation line-up.
The seventh generation 5 Series, which has been around since early 2017, uses CLAR. The model range is available as a 4,935mm long sedan, long-wheelbase Li sedan and Touring. All three will be facelifted in 2020. The eighth generation range is due in late 2023.
The 6 Series GT replaced two cars: the 5 Series Gran Turismo and the 6 Series Gran Coupé. It is a rival for the Audi A7/S7 and Mercedes-Benz CLS-Class. The GT should remain the only 6 Series car, the former coupe and convertible having been replaced by the pricier 8 Series.
BMW issued the first details of the car to the media in June 2017. This was three months ahead of the motor show world premiere at the Frankfurt IAA. The market launch commenced from November 2017. As well as being manufactured in Germany, the 6 GT is, like multiple other BMW models, assembled in India.
At 5,090mm long, G32 is even bigger than the 5 Series GT which itself was effectively a hatchback version of the F01 (2008-2015) 7 Series standard wheelbase sedan. A PHEV version, expected to be called 640e GT, is due for release later this year.
The first three variants for European markets were as follows:
630i, 1,998cc four-cylinder petrol, 190kW (258hp) and 400Nm (295 lb-ft)
640i & 640i xDrive, 2,998cc six-cylinder petrol, 250kW (340hp) and 450 Nm (332 lb-ft)
630d & 630d xDrive, 2,993cc six-cylinder diesel, 195kW (265hp) and 620 Nm (457 lb-ft)
Depending on how it sells, BMW may replace G32 in 2024 after facelifting it in 2021. However, if demand isn't strong enough, this car may not have a direct successor.
The current G11 7 Series is 5,098mm long, 1,902mm wide and 1,478mm high, making it 19mm longer and 7mm taller than its predecessor. Width is unchanged. Measuring 5,238mm from end to end, the LWB G12 is 139mm longer than the G11 and 18mm lengthier than the car it replaced. Production and SKD/CKD assembly is at the same plants which made the F01-F04 series 7 Series sedan. Dingolfing, the lead plant, commenced series production in July 2015.
This was the first vehicle in the BMW Group's core model portfolio to use industrially-manufactured carbon fibre in combination with maximum-strength steel and aluminium in the body structure rather than as a visible shell material. Carbon fibre is used for the roof bows, to reinforce the roof frame, the B and C pillars, the sills, the centre tunnel and for the shelf aft of the rear window.
A facelifted 7 Series was revealed to the media in January. This took place at a special event in Shanghai rather than at the Detroit auto show. The car gained a particularly arresting front end with the largest grille in the multi-decade history of the 7 Series. In North America, the facelift is new for the 2020 model year.
No further changes are envisaged, and the next 7 Series, which is due in 2022, is said to be codenamed G70 in standard wheelbase form.
The 4,843mm long 8 Series Coupe, a 2+2 seater rival for the Mercedes-Benz S-Class Coupe, was announced by BMW just ahead of the appearance of a concept version. The design study was revealed in May 2017 at the Concorso d'Eleganza Villa d'Este. The production model made its public debut at Le Mans on the eve of 2018 race in which the M8 GTE competed. Production commenced on 2 July 2018 but deliveries didn't start for a further four months.
The first two variants were:
M850i xDrive Coupe M Performance, 390kW (530hp) and 750Nm 4,395cc biturbo petrol V8, ZF eight-speed Steptronic transmission
840d xDrive Coupe, 235kW (320hp) and 680Nm 2,993cc in-line six-cylinder diesel, ZF eight-speed Steptronic transmission
The 8 Series Convertible had its global debut at the LA auto show in November 2018, deliveries starting in March and the first two versions being the M850i xDrive and 840d xDrive. Then just last month two additional 8 Series cars were added to the line-up: an 840i Coupe and an 840i Convertible. They are powered by a 250kW (340hp) six-cylinder engine and are available in RWD or AWD form.
The 8 Series Gran Coupe was revealed to the media in June and sales are due to commence in September. Four variants have been announced: 840i Gran Coupe, 840i xDrive Gran Coupe, M850i xDrive Gran Coupe and 840d xDrive Gran Coupe. The 5,082mm long GC has a 3,023mm long wheelbase whereas that of the two-door cars is 2822.
All 8 Series cars should have facelifts in 2021 and replacements in 2025.
Reports for many other manufacturers' future models are grouped in the OEM product strategy summaries section of just-auto.com. That also includes more information on past, current and next generation BMWs as well as cars not listed in this report, such as the Z4, 2 Series Coupe, 2 Series Convertible, 2 Series Active Tourer, 2 Series Gran Tourer, 3 Series GT, 330e (PHEV), electric 4 Series, 530e (PHEV), 745e (PHEV) and 9 Series.
Future product program intelligence
More detail on past, current and forthcoming models can be found in PLDB, the future vehicles database which is part of QUBE.
This was the first feature in a series which looks at the passenger vehicle brands of BMW AG. The next will have BMW SUVs as its focus, with a look at what's ahead for BMW M, BMW i, MINI and Rolls-Royce to follow.