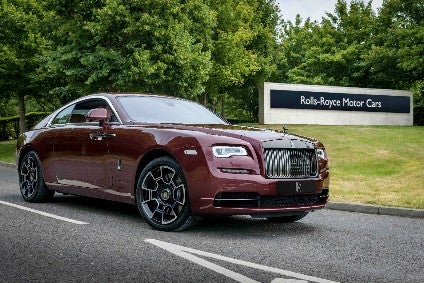 Until COVID-19 hit, Rolls-Royce was starting to perform at a level which BMW AG had demanded of it. Thanks to the addition of the Cullinan, sales exceeded 5,000 vehicles in 2019 compared to the previous record of 4,107 in 2018. With the Chinese economy back in expansionary mode, 2020 might not even be that bad a year for the luxury car maker.
No matter what happens this year though, BMW is pressing on with funding for new cars and, rumour says, perhaps even another SUV. Might we even see the first EV from Rolls-Royce in the 2020s too?
Cars
The Wraith (pictured) had its global debut at the Geneva motor show in March 2013 and became available from the fourth quarter of that year. This big coupe is powered by a 465 kW and 800 Nm 6,592 cc turbocharged V12 driving through an eight-speed automatic gearbox. Curb weight is an EV-like 2,435 kg. The successor is due in 2023 and is said to be codenamed RR25. For details of the Dawn – the convertible – see PLDB.
Production of the previous RR4 series Ghost ended in the final quarter of 2019, so there will have been almost a full year's gap by the time the next generation model appears in Q4. The new model should adopt the same platform as the Phantom and Cullinan. There will be both standard (RR21) and extended wheelbase (RR22) derivatives. Expect a decade-long production cycle with a facelift in 2025/2026.
Available from the fourth quarter of 2017, the current Phantom was the first vehicle to use the brand's aluminium spaceframe architecture. This enormous sedan has a 6,749 cc biturbo BMW V12, four-wheel steering, pneumatic suspension and weighs a minimum of 2,560 kg. The car had its public debut at the Frankfurt IAA in September 2017.
An electric Phantom will follow, Rolls-Royce says. That may be announced around the time of a facelift in 2023. The next generation model likely won't arrive until 2028/2029.
SUVs
We're still perhaps three years away from a facelift for RR31, the marque's only SUV. The 5,341 mm long Cullinan was shown to the media in May 2018 and the first deliveries took place five months later. The standard engine is a 6,749 cc biturbo V12 with outputs of 420 kW (571 PS) and 850 Nm (627 lb ft). A Black Badge version announced in November 2019 takes those numbers up to 441 kW (600 PS) and 900 Nm (664 lb ft), has the chrome-look trim replaced by black detailing while the brake callipers are gloss red.
Rolls-Royce is expected to add an electric Cullinan in 2023. As the brand's models tend to be in production for a decade – sometimes longer – a successor for RR31 probably won't appear until 2028.
There have been reports that BMW is developing a second SUV, sized around the 4,800-5,000 mm mark and therefore about half a metre shorter than the Cullinan.
In theory, the Spartanburg plant in South Carolina would manufacture the body-in-white of this vehicle, the basic platform being shared with the BMW X7. As happens with all other Rolls-Rolls models, final assembly would take place at the Goodwood factory in England. The start of sales could happen as soon as late 2022.
Reports for many other manufacturers' future models are grouped in the OEM product strategy summaries section of just-auto.com.
Future platform intelligence
More detail on past, current and forthcoming models can be found in PLDB, the future vehicles database which is part of GlobalData's Automotive Intelligence Center. That includes certain Rolls-Royce vehicles not reported on above.
This, the sixth of six features exploring the passenger car brands of BMW AG, was preceded by a look at what's ahead for the BMW brand's cars, SUVs, M models, and i electric vehicles, as well as for Mini.
The next OEM to have its future model plans looked at will be Anhui Jianghuai Automobile (JAC).