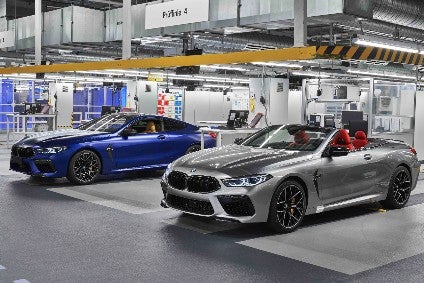 BMW doesn't have nearly as broad a range of M models as Mercedes-AMG. What it lacks in line-up, Motorsport division makes up via powertrain choices, with super-torquey diesels offered in relevant countries in addition to the high-power petrol alternatives. Why Daimler hasn't aped this strategy – as Audi has with its S and RS TDI cars and SUVs – is a mystery.
Cars
Will BMW reply to Mercedes-AMG's A 45 and A45 S five-door hatchbacks? The 1 Series switching to a front-wheel drive based architecture means that the new M135i xDrive has all-wheel drive whereas the previous car was rear-drive. The successor is powered by a 225kW/306hp and 450Nm 1,998cc four-cylinder petrol turbo. An eight-speed Steptronic Sport automatic transmission is standard.
Rather than copying AMG by further boosting its 2.0-litre engine, BMW might instead go the hybrid route for a potential M140i and/or M140i Competition which matches the outputs of the A 45 4MATIC+ and A 45 S 4MATIC+. Such a car would not appear before 2020.
Due to the name having been used decades ago on a limited build supercar, BMW has never used 'M1' in relation to the 1 Series.
The smallest 'proper' Motorsport car is the M2 Competition Coupé. This rear-wheel drive MINI-supercar has some 18 months of production remaining. Originally launched as the M2 in early 2016, it was replaced by the M2 Competition, that car being a world debut at the Beijing motor show in April 2018. As well as having more power, it gained different mirrors, a new grille and a fresh front apron.
The M2 was powered by a 272kW (370hp) 3.0-litre turbocharged six-cylinder engine which produced 465Nm or up to 500Nm when overboost was activated. Transmission choice was between a six-speed manual or a seven-speed dual clutch transmission. As for the Competition, its outputs are 302kW (410hp) and up to 550Nm with overboost. The same transmission choices remain.
The car has wider wheel arches, four tailpipes and bespoke front end modules compared to other 2 Series Coupes. There will not be an M2 Convertible but an M2 CS is expected in 2020. The next M2, due in 2021/2022, will likely use 35up/CLAR, the latest rear- and all-wheel drive architecture.
The project code for the next M3 is G80. The car will have four-wheel drive and be offered in two forms, each one powered by BMW's S58 straight-six. In standard form, power will be 352kW (479PS) but in Competition spec this rises to 375kW (510PS). These are the same outputs produced by S58 in the X3 M and X3 M Competition. This same engine should also power next year's M4 Coupe (G82) and M4 Convertible (G83).
F90, the latest M5, is the first one in the history of the series to come with all-wheel drive. Its engine is a biturbo V8 which produces 441kW (600hp), peak torque is 750Nm and the CO2 average is 241g/km. Its motor show debut was at the Frankfurt IAA in September 2017, although the car was revealed a few weeks prior to the show at an event in Cologne.
There is also a more powerful M5 Competition variant. Its engine has claimed outputs of 460kW (625hp), while torque of 750Nm is identical to that of the M5. The car's public debut took place at the Paris motor show in October 2018. There will be a facelift for the M5 in 2020 and a successor in 2024.
There are no M versions of the 6 Series GT and that is expected to remain the case. As for the 7 Series, BMW offers the M760Li xDrive as its most expensive variant but this is as close as it gets to a theoretical 'M7'. Such a car has never existed in the long history of the 7 Series, which is odd, given that Daimler has found a small niche for the Mercedes-AMG S 63 and S 65.
The M8 was confirmed by BMW in May 2017 as being under development and then announced to the media only a few weeks ago. The M8 Coupe and Convertible (see pic) are powered by a 441kW (600PS) biturbo V8 with a 460kW (625PS) version for the Competitions. Torque for all four cars is 750Nm (553 lb-ft) and AWD is standard.
There is a third body option for the 8 Series, which is the four-door, low-roof Gran Coupé. The M8 GC was previewed by the Concept M8 Gran Coupe, a prototype which was displayed at the 2018 Geneva motor show. A production model is yet to be officially announced or seen, even though BMW says it will become available by year end. Both RWD and AWD will be available.
The full M8 range will eventually be as follows:
M8 Coupé and M8 Competition Coupé
M8 Convertible and M8 Competition Convertible
M8 Gran Coupé and M8 Gran Coupé Competition
SUVs
At the moment there are only two M SUVs: one each for the X3 and X4 ranges but more are expected, and soon.
The X3 M (F97) and X4 M (F98) were announced by BMW in September 2018, each revealed at a DTM race at the Nürburgring but wrapped in camouflage. Full details were then publicised in February 2019 two months ahead of their world debuts at the Shanghai motor show. Both are powered by a 352kW (479PS) 3.0-litre biturbo in-line six with 598Nm (442 lb-ft) of torque. There is another option for each: the more powerful X3 M Competition and X4 M Competition. Their version of the same engine produces 375kW (510PS) with unchanged torque.
The X5 M and X6 M should both appear in 2020, although they could be revealed at the LA auto show later this year. They will supplement the X5 M50i which was announced in May at the same time as the X7 M50i. These are powered by a 4.4-litre biturbo V8 with outputs of 390kW (530hp) and 750Nm. Other variants in these ranges are the X5 M50d and X6 M50d (294kW/400hp and 760Nm 2,993cc in-line six-cylinder diesel with four turbochargers) as well as the X6 M50i (390kW/530hp and 750Nm 4,395cc petrol V8). There is no X5 M50i, only an xDrive50i which has the same engine but with lesser outputs: 340kW/462hp and 650Nm.
Due to just how big and heavy it is, there doesn't seem much chance of an X7 M appearing, although it cannot be ruled out. What may be more likely is an M version of a model which BMW is said to have begun work on. To be positioned above the X7, the rumoured X8 should be a coupe´-style model in the way that the X6 relates to the X5. The theoretical X8 M would not appear until 2023, or possibly later.
Reports for many other manufacturers' future models are grouped in the OEM product strategy summaries section of just-auto.com. That also includes more information on past, current and next generation BMWs as well as M division vehicles not listed in this report.
Future product program intelligence
More detail on past, current and forthcoming models can be found in PLDB, the future vehicles database which is part of QUBE.
This was the third feature in a series which looks at the passenger vehicle brands of BMW AG. The first two looked at BMW cars and BMW SUVs while the next one will have BMW i as its focus. What's ahead for Mini and Rolls-Royce will follow.