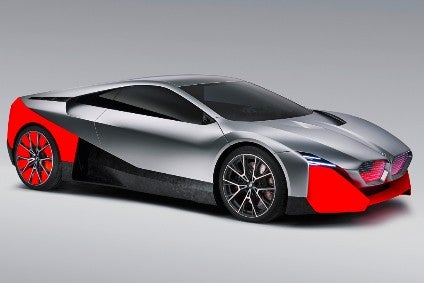 The penultimate feature in the BMW AG future models series takes a look at BMW i. At the moment, only the I01 i3, I12 i8 Coupe and I15 i8 Roadster exist but that will soon change, as more fully electric and plug-in hybrid models are added. At least one hydrogen fuel cell model is said to be in the planning stages too.
Back in 2017, BMW Group's CEO Harald Krueger told the media at an event in Munich that the company would offer 25 electrified vehicles by 2025. That would be across its brands and of the 25, a dozen would be EVs. Three months later, at another presentation in Munich, the CEO announced that the firm had secured naming rights for i1 to i9 and iX1 to iX9. Then earlier in 2019, the company stated that the 25 models would be available by 2023. Many of those electric or PHEV BMWs already exist or will soon: i3, i8, 225xe Active Tourer, 330e, 530e, X1 xDrive25e, X1 xDrive25Le, X3 xDrive30e, X5 xDrive45e, 745e, 745Le and 745Le xDrive.
Electric cars
BMW's first series production EV was the i3, project I01. This small car has been in production since mid-2013 and sales have risen steadily. Continuous tweaks have taken place, most of them adding range. The option of a 25kW two-cylinder petrol engine which acted as a back up was dropped in September 2018. This happened in conjunction with an upgrade for the battery pack, which now gives a WLTP maximum range of 193 miles.
There will not necessarily be a direct replacement for the i3. However, BMW and Daimler may collaborate to develop a platform for small EVs, and that could see the i3 name going to a second generation, or it might mean that there is instead a cheaper model called i2. This architecture would be aluminium or steel as the i3's carbon fibre platform is presumed to be expensive to manufacture. Recently, there have been rumours that an i3 replacement is back in development and has the project code of U15, although some sources claim it is instead U11. Such a model would come to market in 2022 or 2023.
The i Vision Dynamics, a concept at the 2017 Frankfurt IAA, was a preview of project G08, the i4. This car, another fully electric model, will be BMW's answer to the Tesla Model 3. Production will take place in Munich in the same plant and on the same line as the G20 3 Series sedan. BMW stated in June that build is set to commence in 2021.
The i4 could well be one of the first vehicles for the so-called 'Flex Architecture' which BMW will eventually use as the basis for most future BMW and Mini models. This platform will accommodate all possibilities: front-, rear- and/or all-wheel drive, as well as electric and combustion engines.
BMW Group's CEO stated at a financial results presentation in Munich in March 2018 that the i4 will be able to travel up to 700km on a single charge. The car will have a top speed of more than 200km/h (124mph) and accelerate from 0 to 62 mph in 4 seconds, BMW told the media in March this year as it released pictures of prototypes on test in Sweden.
Some sources claim that BMW is also developing an i5 and that this car, not the i4, was heralded by the i Vision Dynamics concept. If that proves to be true, an i5 would follow the i4 into production and likely be in showrooms in 2022.
Will there be an i8 successor?
There is a question mark over the future of the i8, BMW's plug-in hybrid 2+2 seater supercar. Series production began in April 2014 with the first customer deliveries following two months later. Build is set to continue into 2021 but what happens after that is subject to much speculation.
BMW's thinking on a potential successor was revealed in June in the form of the Vision M Next, a concept. This was powered by a 2.0-litre petrol engine and two motors, the combined output of which was claimed to be just shy of 600 horsepower. There have been suggestions that a car based on this prototype could hit the market in 2022 and be called either i8 or i9.
Electric SUVs and crossovers
A plug-in version of the third generation X3 is under development, BMW Group's CEO stated in an interview in September 2016. It would be available in relevant countries in 2020, he added. No reason for why the car's development would take so long was given. The iX3 is still on course for launch next year. It will compete with the Tesla Model Y, Mercedes-Benz EQC, Jaguar I-Pace, Polestar 2 and Audi Q4 e-tron.
A preview, the Concept iX3, premiered at the Beijing motor show in April 2018. According to BMW, this prototype's power was "in excess of 200kW (270hp)". The concept was powered by a "model-specific high-voltage battery with a net capacity of over 70kWh", allowing a maximum range of "more than 400 kilometres (249 miles) in the WLTP cycle."
As for the vehicle's badging, BMW noted as part of its information to the media at AutoChina 2018 that "Fully electrified vehicles of the core brand will in future bear a BMW i brand logo. This is visible in the concept vehicle both in the side and in the rear".
What the company terms "fifth-generation BMW eDrive technology" is distinguished by being compact. The electric motor, transmission and power electronics are grouped into a single component, making it easier to integrate them into different vehicle architectures. Plus, their modular construction enables them to be adapted to the performance levels required and the available space. Another notable element is that the motor does not need any rare earths.
The BMW Brilliance Automotive joint venture will produce the iX3 at a plant in the Chinese city of Shenyang. BMW stated this additional fact to the press at the 2018 Beijing show. The plant in question – Dadong – will also be the build location for all markets: BBA will export the iX3 to Europe, North America and elsewhere.
The iX3 will be closely linked to the X3, which means a relatively short production cycle. This could be as few as four years (the G01 shape X3 has been around since 2017).
Electric and autonomous
A prototype of a larger electric vehicle, the iNext, was revealed to the media in September 2018. This X5-sized four-seater crossover is all about autonomous driving, to level 3 at least. The prototype can self-steer, brake and accelerate. Production is due to commence at the Dingolfing plant in 2021. The project code is i20. Competitors for the iNext will include the Mercedes EQS and Audi e-tron GT.
It remains unclear what the production name will be: possibly i5, i6, i7 or i9. Some instead believe that the iNext will simply be an AD version of the i4. A range in excess of 600km (373 miles) under the Worldwide Harmonized Light Vehicle Test Procedure is being aimed for.
This car should also be the first autonomous model from BMW Group: the vehicle will alert the driver if they need to take back control. As for fully AD vehicles, this technology is said to be some years away, as the company is especially cautious of potential safety problems in urban driving.
Krueger made a further statement about the iNext at the BMW Group financial results presentation in March 2018:
"The BMW iNEXT is far more than just a car. By that, we mean it is a future-proof, scalable modular system. It will enable the entire company and all our brands in terms of technology, design and new approaches. The iNEXT combines Autonomous Driving, Connectivity, Electrification and Services," he announced.
Whatever the iNext ends up being called in production form, it will use a new BMW Group platform, tentatively called 'Flex Architecture' and which is said to be based on the existing 35up, also known as CLAR for Cluster Architecture. It will support electric, plug-in hybrid and internal combustion power applications. For an EV, the motor is at the vehicle's rear, while for a hybrid or combustion-only model, the engine will be located at the front.
Production of this model will take place at Dingolfing, which is BMW Group's largest plant in Europe. The iNext will be made on the same line as other models which have PHEV or combustion-only powertrains.
A new fuel cell car?
In January 2013, BMW and Toyota agreed to share their technologies and to jointly develop a fundamental fuel cell vehicle system. This, the companies stated, would include not only a fuel cell stack and system, but also a hydrogen tank, motor and battery, aiming for completion in 2020.
A small run of BMW Hydrogen 7 sedans were built between 2007 and 2008 but until the January 2013 announcement, the company had been quiet on fuel cell technology. News is awaited of the next BMW model to be powered by hydrogen. There have been suggestions that an i7 powered by hydrogen is under development. This would reportedly share much with the second generation Toyota Mirai and not be released until 2025.
Reports for many other manufacturers' future models are grouped in the OEM product strategy summaries section of just-auto.com. That also includes more information on past, current and next generation BMWs including additional electrified vehicles not listen in this report.
Future product program intelligence
More detail on past, current and forthcoming models can be found in PLDB, the future vehicles database which is part of QUBE.
This was the fourth feature in a series which looks at the passenger vehicle brands of BMW AG. The first three were about BMW cars, BMW SUVs and BMW M. Mini and Rolls-Royce will be examined in the final chapter.