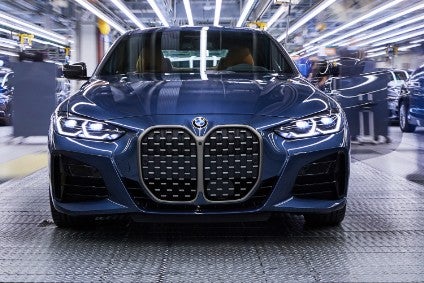 The company which forged its reputation long ago with the first generation 3 Series shows no sign of phasing out cars. BMW knows that sedans reinvented for the 2020s is what customers want in China and Europe. And even though buyers in North America prefer a bias towards SUVs, last year BMW USA's cars still outsold its light trucks.
BMW announced the existence of the then future F44 2 Series Gran Coupé in March 2019, noting that it would not be fully revealed until the Los Angeles auto show in November.
The first variants, all turbocharged, are as follows:
218i, 103 kW (140 hp) and 220 Nm 1,499 cc three-cylinder petrol, six-speed manual or seven-speed Steptronic dual clutch gearboxes
218d, 110 kW (150 hp) and 350 Nm 1,995 cc four-cylinder diesel, six-speed manual or eight-speed Steptronic torque converter automatic gearbox (218d being added later this month)
220d & 220d xDrive, 140 kW (190 hp) and 400 Nm 1,995 cc four-cylinder diesel, eight-speed Steptronic torque converter automatic gearbox (xDrive also new in July 2020)
228i xDrive, 228 hp and 258 lb-ft, B48A20T1 1,998 cc four-cylinder gasoline, North America only, eight-speed Sport torque converter automatic gearbox
M235i xDrive, 225 kW (306 hp) and 450 Nm B46A20O1 1,998 cc four-cylinder petrol, eight-speed Steptronic Sport torque converter automatic gearbox
The market launch of this 4,526 mm long sedan did not take place until the northern hemisphere spring (2020 model year in North America), although production commenced in November last year. The car uses Frontantriebsarchitektur (FAAR), a front-wheel drive/all-wheel drive architecture which will gradually replace the existing UKL1 and UKL2 platforms. Setting it apart from certain cars around the same size, the GC has no door pillars.
Even though certain segments might be contracting in some countries, in announcing this additional model BMW is clearly showing that it sees traditional car lines as very much part of its business, albeit in evolved forms. As the axing of a replacement for the three-door 1 Series and the 3 Series GT show, some body styles have vanished.
The 2 Series continues to be two ranges: one using a FWD-AWD platform for the GC and F45 2 Series Active Tourer (the F46 Gran Tourer probably won't have a successor) and the other a RWD-AWD one for the two-door cars. The Gran Coupé will have a facelift in 2023 and depending on how the F44 series performs, potentially be directly or indirectly replaced in 2027.
G42, the next generation 2 Series Coupé due out next year, will not go front- and all-wheel drive as some reports have stated. There is speculation that the two-door 2 Series will be made in Mexico as well as in Germany. G43, which would have been the next 2 Series Convertible, was cancelled.
The 330e was a world premiere at the Geneva motor show in March 2019. Three months later, BMW announced the 330e Touring, well in advance of its market launch.
The wagon, along with all-wheel drive versions of both sedan (330e xDrive) and wagon (330e xDrive Touring) were to be world debuts at this year's Geneva salon but they were instead revealed online after the show's cancellation. The first deliveries will commence later this month. As with other 3 Series variants (see link to PLDB below), these plug-in hybrids are due facelifts in 2023 with the successors inked in for 2026.
The new 4 Series Coupe (project code: G22), as well as the yet to be seen Convertible (G23) and Gran Coupé (G24), use/will use the 35up architecture. There will be a major change for the convertible, with the folding metal roof of the current car replaced by a fabric top. The 4768 mm long (+128 mm) Coupe was revealed online in June and initial production commenced on 1 July.
BMW says the M440i xDrive Coupé will be the range topper in the G22 line-up, powered by a 275 kW (374 hp) six-cylinder in-line petrol engine. Two four-cylinder petrol alternatives and one four-cylinder diesel will also be available from market launch in October. Two six-cylinder diesels will then join the line-up in March 2021.
As well as replacements for the existing three cars (F32, F33 and F36), an electric version of the 4 Series is said to be planned. All these cars should be facelifted in early 2024 and replaced in the fourth quarter of 2027.
Facelifted versions of the 5 Series Touring (G31) and standard wheelbase sedan (G30) were announced in May. Relevant updates for the G38 long-wheelbase sedans will be shown later in 2020 by BMW China. The plug-in hybrid cars built in Munich are now as follows: 530e Sedan, 530e Touring, 530e xDrive Sedan, 530e xDrive Touring and 545e xDrive Sedan, although the last of the five will not be available until November.
As it isn't due to arrive until 2024, there are at present few confirmed details of the eighth generation 5 Series. Tentative information indicates that model codes for the sedan, Touring and long-wheelbase sedan are respectively G60, G61 and G68. The architecture will be the same one as that of the future 7er's (G70 & G71).
Work on the next 7 Series is progressing, with the standard and extended wheelbase cars due to be launched in 2023. The architecture will be an evolution of the current model's although thoroughly re-engineered and compatible with front-, rear- and all-wheel drive applications, along with combustion engines and electrified powertrains.
Speaking at the BMW AG annual general meeting, Oliver Zipse reiterated that there would be a fully electric variant, in addition to other forms of propulsion.
"The next-generation 7 Series will be available with four drivetrain variants: petrol, diesel, plug-in hybrid and fully electric. All drivetrains will be based on a single architecture. And the top, most powerful 7 Series will be fully electric," said the CEO.
Reports for many other manufacturers' future models are grouped in the OEM product strategy summaries section of just-auto.com.
Future platform intelligence
More detail on past, current and forthcoming models can be found in PLDB, the future vehicles database which is part of GlobalData's Automotive Intelligence Center.
This is the first of six features exploring the passenger car brands of BMW AG. Next will be BMW SUVs; then M division; i models; MINI; and finally, Rolls-Royce.