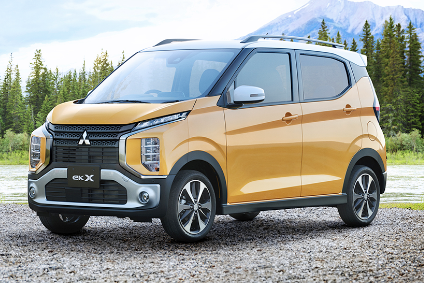 Four years ago this month Nissan Motor told us that it had become the largest shareholder in Mitsubishi Motors . Time enough to have integrated platforms, powertrains, plants and consolidated or where relevant, expanded the global model range?
For many and varied reasons, a fresh plan is being drawn up with much of that in mind plus other restructuring. Some of the action points could be drastic. The details remain secret but with Nissan set to lay out its own path back to profitability on 28 May, we should learn the specifics relatively soon. There were some hints earlier on 19 May as the firm's CFO announced FY19-20 numbers.
"Before the virus we had been mulling which under-performing regions and vehicle segments to cut our exposure to," Takao Kato stated at an online press conference.
"In the wake of the virus, we need to pick up the pace of making these changes. To stay competitive in a post-coronavirus market, we need to immediately shrink our area of focus to regions and segments in which we excel," MMC 's CFO added.
Mitsubishi Motors Corporation serves as another example of the troubles which continue to beset the Renault Nissan Alliance, although to be fair to Nissan, MMC wasn't in tip-top shape at the time of the takeover. The companies had worked together on various projects, such as the consolidation of their Japanese market Kei vehicles into the NMKV venture. The results of that have been good, as the latest generations of both marques' 660 cc models have been well received.
MMC's problems aren't centred on Japan, but rather the issue it has faced for a long time: being an at best medium sized car maker which has a presence in all regions takes up a lot of management time and much cash.
China and the USA have been especially challenging, and right now is a very difficult time for the Mitsubishi brand in both these giant markets. The brand image isn't that strong, although owner loyalty is but expanding sales continues to be tough, and now others are piling in to the plug-in hybrid tech which MMC once dominated when it comes to SUVs.
Thailand is another cause for concern. Mitsubishi has annual capacity of 400,000 vehicles via several plants but sales have taken a big hit both locally and in just about every one of the more than 100 countries to which models made in Laem Chabang are exported. Production was idled in April but MMC's factories came back on line yesterday (18 May) and the Thai government is trying various incentives to revive the battered market for the small cars, crossovers, SUVs and pick-ups in which Mitsubishi specialises.
Nissan and MMC are expected to lay out official plans fairly soon which will see a new attempt made to reinvent both firms. We can expect delays and cancellations for various vehicle programmes, the culling of unprofitable existing models, and more than likely the withdrawal from not only some segments, but possibly countries too: could the US and Canada be on the hit list?
In another change, there should be electrification for vehicles which presently lack this, and a pooling of engineering on plug-in hybrid technology. Nissan's e-Power Range Extending Electric Vehicle powertrains will likely appear in certain next generation Mitsubishis too.
All in all, if the imminent reboot is done well, MMC could emerge from the current global crisis in good shape, playing to its strengths in those markets and vehicle categories where it has built up a sustainable position, and exiting those places and size classes which had been draining resources.
Looking at the sales charts in Japan, the Mitsubishi brand is not a major one although in some segments, it is strong. One such is Kei cars.
The company told us back in October 2017 that new mini-vehicles would be launched in 2020, one of which would be an EV. Sure enough, the eK Space and eK X Space (pronounced cross space) landed in January. Each looks like a taller version of the existing eK Space and eK X respectively. These models, which are more or the same vehicle but with different front ends, went on sale in Japan in March.
There are front- and all-wheel drive variants of the eK Space and eK X Space, while a 660cc three-cylinder engine comes in standard and turbo forms. The architecture is an adaptation of the one developed by NMKV which debuted with the eK Wagon (and Nissan Dayz) in 2013. The life cycle, facelift date and other details can be found in PLDB – see the link below.
As well as an electric Kei model to replace the i-MiEV, there might still be another small EV for the Mitsubishi line-up. Should it survive the latest round of cuts, this B-segment electric car would be launched after the next generation Renault Zoe. The first of the pair is likely to hit the Japanese market in 2021 with the sister of the Zoe 2.0 due in 2022. There is a chance that the B-EV could be built in France in the same plant as the next Zoe and be sold almost exclusively in Europe.
The next ASX won't appear until the second half of 2021, insiders say, with the current model – it dates to early 2010 – having had yet another facelift in 2019. The successor will, unlike the existing one, use a Renault-Nissan -Mitsubishi architecture. Whether or not the current Outlander Sport and RVR alternate model names will be phased out with the introduction of the new generation ASX is yet to be confirmed.
A new Outlander will be released during the second half of this year. A larger vehicle than the third generation model, it will be based on a Renault-Nissan Alliance architecture. Some of the styling influences should be from the GT-PHEV concept which premiered at the 2016 Paris motor show as well as from the Engelberg Tourer, a concept which debuted at the 2019 Geneva motor show.
The replacement for the L200/Triton is due in 2023. The new pick-up will use an evolution of the current model's platform which is being updated and will be shared with the Renault-Nissan Alliance.
Speaking at the media launch of an updated L200 in November 2018, Mitsubishi Motors' then corporate vice-president of product strategy Vincent Cobee (he left MMC in March 2019) said there would be a plug-in hybrid variant "by 2025". Such a model would have an EV range of 100km, he added.
Presuming that the Mitsubishi brand remains in North America, there is a chance that Nissan will manufacture the L200 at one of its US or Mexican factories. Laem Chabang #2 in Thailand should remain the mother plant for this model.
Reports for many other manufacturers' future models are grouped in the OEM product strategy summaries section of just-auto.com.
Future platform intelligence
More detail on past, current and forthcoming models can be found in PLDB, the future vehicles database which is part of GlobalData's Automotive Intelligence Center. That includes many Mitsubishis not featured in this report.
The first brands to be featured as part of the Groupe Renault and Nissan Motor series were Alpine and Renault, followed by Dacia, Samsung (RSM: Renault Samsung Motors ) and Lada. The final reports will focus on Infiniti , Datsun, Venucia and Nissan.