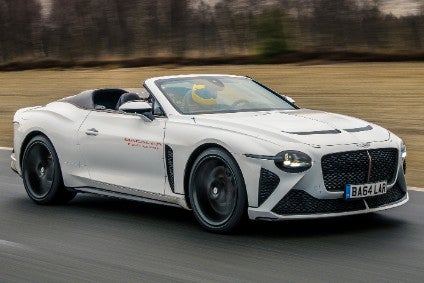 What a year it was for Bentley Motors. On the one hand, record sales, new cars and the announcement of a shift to electrification, yet one quarter of a 4,000-strong workforce was dismissed, multiple markets went into a steep downturn, and now comes Brexit. This company will look different by 2030, so what does it have planned?
Volkswagen is said to be poring over the business case for an electric sedan in the style of the Mercedes-Benz EQS. Interviewed in March last year, Bentley's CEO Adrian Hallmark said such a car would need to offer at least 300-350 miles of range. If approved, the launch date is as far off as 2025, maybe 2026.
The company made plans for its future models strategy public in November. In short, the division will not be offering combustion engines in the 2030s, all petrol-powered models being due for phase out during the latter 2020s and all vehicles will be EVs or PHEVs by 2026. Further than that, there was a claim that "Bentley aims to be end-to-end carbon neutral by 2030, with Crewe operations climate positive thereafter".
At the moment, it is thought the first EV will be a big sedan powered by lithium-ion batteries but it's also possible that the project may evolve into an SUV with solid state cells. In either case, the architecture should be PPE.
In December, Bentley Motors was shifted into the orbit of Audi and away from Porsche. Adrian Hallmark has told UK-based media that he wishes to see the EV built in Britain and that it would be part of the Volkswagen Group's Audi-led Artemis project, which is for advanced EVs.
The current Flying Spur, announced to the media in June 2019 and shown to the public for the first time later that month at the Chantilly Arts & Elegance, uses the Porsche-developed MSB architecture. This 5,316 mm long sedan is effectively a four-door version of the Continental GT with an extended wheelbase. The Spur can be optionally specified in so-called Blackline form, which means that all the exterior mock-chrome trim is dark.
The car is normally rear-wheel drive, but torque is automatically sent to the front axle when needed. Also, there is air suspension and four-wheel steering. During low-speed manoeuvres, the system steers the back tyres in the opposite direction to the front ones. This reduces the turning circle to make parking easier but at high speed, the back axle is steered in the same direction as the front one so as to improve stability.
The first engine to be announced was a biturbo 5,950 cc W12, mated to a ZF dual-clutch eight-speed transmission. Outputs are 467 kW (635 PS) and 900 Nm (664 lb-ft), 0-100 km/h takes a claimed 3.8 seconds and the top speed is 207 mph (333 km/h). Bentley says unladen weight is 2,427 kg. Production commenced in mid-October 2019, with the first customer deliveries taking place in January 2020.
A Spur V8 was announced three months ago, powered by a 404 kW (550 PS) and 770 Nm (568 lb ft) version of the Volkswagen Group's 4.0-litre biturbo. Production of the V8 commenced in November.
A V6 PHEV should be added to the range this year and following what was said in November, the V8 and the W12 will be discontinued by 2026. There will be a facelift in 2024 and the next generation should arrive in 2028 or 2029. It should be an EV.
Given what was said in November, the next generation Continental GT and Continental GT Convertible are likely to be plug-in hybrids at first, that powertrain being replaced by a fully electric one in the latter 2020s or potentially even launched in 2025 or 2026 as EVs.
Bentley announced the Bacalar – named after a lake in Mexico – in March 2020. Originally due to be seen for the first time at the Geneva motor show before that event was cancelled due to COVID-19, this big convertible was instead revealed online on what would have been the press preview day.
The Mulliner coachbuilding division would make 12 examples of the Bacalar, Bentley said. The engine is a 659 PS and 900 Nm (667 lb ft) 6.0-litre W12 and there is all-wheel drive. Production won't commence until later in 2021.
Reports for many other manufacturers' future models are grouped in the OEM product strategy summaries section of just-auto.com.
Future platform intelligence
More detail on past, current and forthcoming models can be found in PLDB, the future vehicles database which is part of GlobalData's Automotive Intelligence Center. That includes Bentley models not reported on above.
This is the penultimate report in a series highlighting current and future models from the passenger vehicle divisions of Volkswagen Aktiengesellschaft. It follows a look at VW cars; VW SUVs, MPVs and pick-ups; Audi cars; Audi SUVs; Porsche; Škoda; and Cupra/SEAT. The final feature, which has Lamborghini and Bugatti as its subject, will follow.
COVID fails to stop Bentley sales record