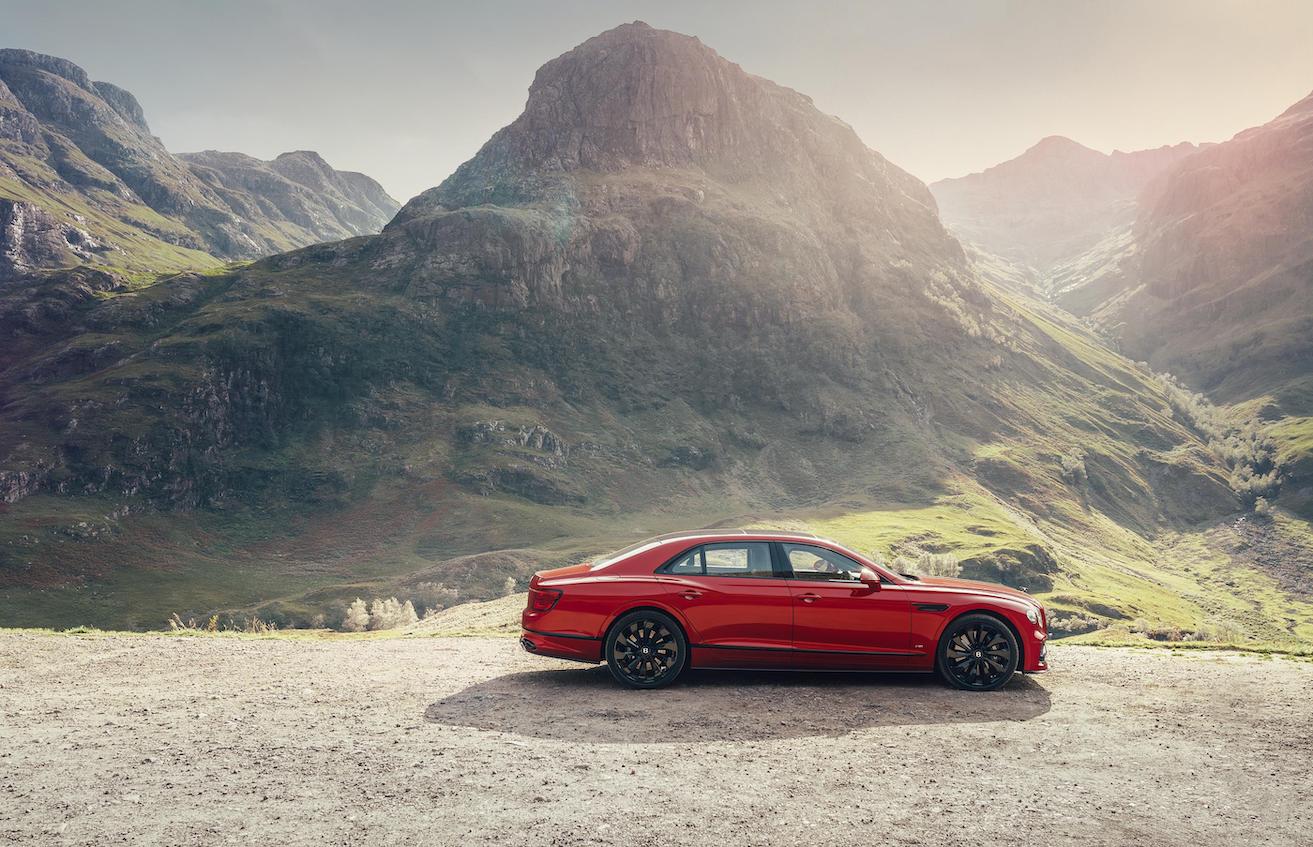 The big-bore twelve – it's four banks of three cylinders – doesn't have the spine-tingling bellow of the less expensive 4.0-litre V8. Nor will it allow you to attempt an eco-friendly claim should your Flying Spur be the new 2.9-litre V6 plug-in hybrid. The reasons which make the W12 special are different.
Positioning
Announced in June 2019, this 5,316 mm long car was exhibited for the first time later that month at Chantilly Arts & Elegance.
The marque's only saloon can be thought of as a four-door Continental GT with an extended wheelbase. Normally rear-wheel drive, it becomes AWD when needed. All body panels, with the exception of the composite boot lid, are aluminium.
Air suspension is standard, as is four-wheel steering. During low-speed manoeuvres, the system pushes the rear wheels in the opposite direction, reducing the turning circle. By contrast, at high speed, the back axle is steered in the same direction as the front tyres so as to improve stability.
W12 tech specs
The first engine to be announced was Bentley's Crewe-built biturbo 5,950 cc W12, mated to a ZF dual-clutch eight-speed transmission.
Outputs are 467 kW (635 PS) and 900 Nm (664 lb-ft), 0-100 km/h takes a claimed 3.8 seconds and the top speed is 207 mph (333 km/h). Unladen weight is 2,427 kg.
Production commenced in mid-October 2019, with the first customer deliveries taking place in January 2020.
Flying Spur V8…
The V8 was announced in October 2020, powered by a 404 kW (550 PS) and 770 Nm (568 lb ft) version of the Volkswagen Group's 4.0-litre biturbo. Build of this variant commenced in November 2020.
Both the V8 and the W12 will be discontinued by 2026, Bentley suddenly announced during the same month. The division further noted that it will not offer combustion engines in the 2030s, all petrol-powered models being due for phase out during the latter 2020s. All vehicles will all be EVs or PHEVs by 2026.
…and now a 400 kW PHEV V6
News of the Hybrid's existence broke in July, with the first deliveries promised for the end of this year. Despite the name the car is a plug-in hybrid. The public debut took place on the Bentley stand at The Quail during Monterey Week last weekend.
The combined outputs of the motor and 2.9-litre petrol engine are 400 kW (544 PS) and 750 Nm (553 lb ft). The biturbo V6 on its own produces 306 kW (416 PS) and 550 Nm (406 lb ft). As for the motor, this is positioned between the transmission and the engine. Its outputs are 100 kW (136 PS) and 400 Nm (295 lb ft). All-wheel drive is standard.
The zero to 100 km/h time is claimed to be 4.3 seconds, top speed is 285 km/h (177 mph) and the car has a stated range of up to 700 km (435 miles) from the energy stored in the 14.1 kWh battery and petrol tank.
Inside the cabin, the automatic Start-Stop switch is replaced with a control for the three E Modes – EV Drive, Hybrid Mode and Hold Mode. On the outside, there are Hybrid badges on the front wings, quad oval exhaust outlets and a covered universal charging point on the left hand rear wing.
Not forgetting the new Mulliner
There was one other Flying Spur world debut in California a few days ago, that being the Mulliner. Available with each of the three powertrains, this model grade has a special grille, unique and wheels and various other ultra-luxury changes.
How to describe what it's like to waft around in one of these cars? Bentley gave me the W12 in Blackline specification – all the chrome-look trim is instead dark – for five fantastic days. The engine designation is on each front wing but you won't find any badge that says FLYING SPUR.
Buttons and leather everywhere
What became instantly apparent is how those things we took for granted in cars are now becoming part of a luxury vehicle experience. By that I mean things we can press and pull and gently turn: the Flying Spur is a total treat for those who savour tactility.
Yes, there's the requisite big screen which, for extra money, Bentley will cleverly hide behind a revolving panel of veneer. This also has a third position which consists of three analogue gauges: temperature, compass and stopwatch.
I never tired of seeing that flush, rectangular display glide around, silently. Oh, and if you need the screen for parking, it appears the instant R is selected, displaying the rear view.
Softest head restraints and carpets in the business
Interior space? Take it for granted that this is in the first class category. The press car also came equipped with electric blinds for the rear and side windows plus endless seat adjustments ranging from work to recline modes.
Those in the back also have a good sized cubby box whereas the driver and passenger must make do with a sliding padded armrest. At least there is good storage space in the glovebox and doors.
The boot is fairly spacious (420 l) although it's a shame there is no spare type. One reason is what must be one of the biggest batteries in any production car – it's mounted below a false floor. And a minor quibble: neither the key nor the dashboard switch which will open it can be used to close the luggage compartment. The only way is a button inside the boot lid.
How does it sound, how does it handle?
Some might think the W12 is a little too muted. I'm not one of them. The tail pipes don't even pretend to impersonate a supercar but those who want that can choose the V8.
The big twelve cylinder engine is all about effortless cruising and acceleration. Purring is the default although pressing the throttle pedal firmly results in a gorgeous muffled boom with every change of ratio.
The Flying Spur even steers well for such a heavy car and there's very little body lean. The aluminium and steel rear-biased MSB architecture was engineered by Porsche (it's shared with the lower slung Panamera hatchback). Bentley's engineers should be congratulated too for adapting this platform so masterfully.
Admittedly, lots of road is needed to enjoy what is a 2,220 mm wide and fairly tall sedan. If you can find such a stretch, it can be a very rewarding car for a driver seeking a giant slice of enjoyment.
Finally, the not so great news which I'll type quickly and then we can forget all about it: Combined consumption is 19.1 mpg (it's way worse when exploring how 900 Nm feels…or so I am told) with the CO2 number being 337 g/km. Gulp. At least the petrol tank will take 90 litres.
Life cycle
Don't expect Bentley to leave the Flying Spur alone now, the company knowing that tweaks and additions must continue so as to fight off any challenges from Rolls-Royce (and perhaps Hongqi in China) plus newer electric-only rivals.
There will probably be a facelift for all versions in 2024, after which production should last four years more. Who knows how the world will look in 2028 but it's guaranteed that the next Spur will be an EV and due for launch around then.
Sales and profits on the rise
It's been a very good 2021 thus far, Bentley recently telling us that its profit for H1 was the company's best yet at the half-year stage (178 million euro). Deliveries were excellent too, the total rising to 7,199 cars. The Flying Spur accounted for 2,063 of those, the remainder being the Continental GT (2,318) and Bentayga (2,767).
The Bentley Flying Spur Blackline is priced from GBP177,800. Extras fitted to the press review car included Mulliner Driving Specification with black wheels (GBP11,580), Naim audio system (GBP6,725), Touring Specification – Lane Assist, ACC etc.. (GBP6,480), Blackline Specification (GBP3,620) and the rotating display (GBP4,865).