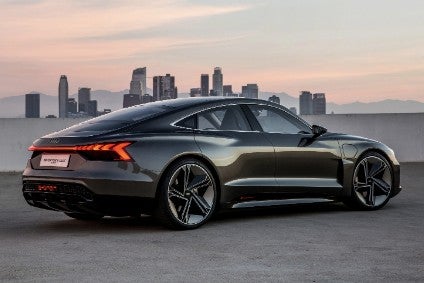 The first in two features which cover what Audi is up to worldwide looked at the division's current and next generation cars. The second of the two now turns not only to what's ahead to fill out the Q1 to Q9 range of SUVs but also examines the strategy for expanding the line of e-tron electrified vehicles.
SUVs
There is no Audi Q1, at least not at the moment. To learn about this model, as well as the Q4 and the Q6, two other secret 'missing number' future SUVs, see the link to PLDB at the bottom of the page.
The Q2 is the brand's current smallest SUV. This 4,191mm long model had its world premiere at the Geneva motor show in March 2016, with production at the Ingolstadt plant commencing six months later. An extended wheelbase model, the Q2 L is 38mm lengthier, built in China and sold mostly there too. Its sales release was in October last year. Both bodies should be facelifted in 2020/2021 and replaced in 2023/2024. The name of next year's fully electric Q2 L isn't yet known. It could simply be 'Q2 L e-tron'.
Mexico is the only country in North America where the Q2 is available. In the USA and Canada, the Q3 is Audi's smallest crossover or SUV. The new, 4,485mm long generation of this model will soon become available there. European market deliveries commenced in November after an October manufacturing start-up at Audi Hungaria's Györ plant. Meanwhile FAW Volkswagen added production a few days ago. There should be assembly in Brazil too from later in 2019.
A facelift for the new Q3 should take place in 2023, and a third generation model is inked in for 2026.
The lead plant, which is in Mexico, began building the second generation Q5 in October 2016. San José Chiapa is close to Puebla where Volkswagen has its own manufacturing base. This was a big shift for Audi as the Q5 is no longer manufactured in Germany. As was the case with the first generation Q5, kits are sent to India and Russia for Q5 assembly in those countries.
A then-new plant for China's FAW Volkswagen joint venture is the other manufacturing location for the Q5. The additional factory in Changchun opened in March 2018 and the Q5 L was its first vehicle. The facility's annual capacity is 300,000 vehicles of which roughly half is taken up by the Audi SUV. The public debut of the special long-wheelbase L took place in April 2018 at AutoChina, the bienniel Beijing motor show. The increase in wheelbase and length is 88mm.
The SQ5 was announced in early 2017. The Q5 e-tron, a plug-in hybrid, is said to be under development. All of these variants will be facelifted in 2020 and replaced in 2023/2024.
Audi's longest SUV doesn't have the highest number. The Q7 exceeds five metres, making it lengthier than the coupe-like and more expensive Q8. The current generation was a world debut at the Detroit auto show four years ago so a facelift should take place later in 2019. Its successor, which is due out in 2023, will be on a new platform. That's because this model uses a refresh of what is now an aged architecture, Modularer Längsbaukasten (MLB Evo in its latest form).
The Q8, a derivative of the second generation Q7, was revealed to the media at an event in Shenzhen in June 2018. This SUV is 4,986mm long, 1,995mm wide and 1,705mm high. A coupé-style roof line makes it looks much lower than the Q7 sister model.
An SQ8 and an RS Q8 are expected to be added during 2019 and 2020 respectively along with an e-tron (plug-in hybrid) variant. The range is due for a facelift in the final quarter of 2022. The next generation model will be on a fresh platform when it appears in 2026.
Electric
The e-tron is the first EV of what the company claims will be an eventual 12. This crossover was revealed at a special media-only event in San Francisco last September. Production had commenced earlier that month. In an usual move, US dealers will not stock this model: all examples will be built to order. US market deliveries are due to commence in June.
The model itself, which became available in LHD European countries last year, has two cooled asynchronous motors, a 95kWh battery and a claimed range of up to 249 miles (400km) on the WLTP test cycle. Top speed is quoted as 200km/h. These numbers are for the e-tron 55 quattro. A less expensive variant with a smaller battery pack is due to be added by the end of 2019. The model's mid-life facelift should take place in 2022. A second generation e-tron should then be released in 2025.
Supplementing the e-tron will be the e-tron Sportback. Known within Audi as the X17 BEV Coupé, build is due to start later in 2019. The company stated this date to the media in April 2017. The announcement was made at the Shanghai motor show as the covers came off the e-tron Sportback concept, a preview of this model. Two months later came news from Audi that its Forest plant in Brussels will be the production location.
After the e-tron and e-tron Sportback but ahead of the e-tron GT, Audi will offer a car designed to take on the Tesla Model 3. This 4.6m long electric sedan should be powered by two electric motors and have a range of around 500km.
Audi is also developing a rival for the Tesla Model S. This large electric sports hatchback was referred to by the company's then CEO Rupert Stadler as the e-tron GT in a March 2018 media statement. It may also serve as a replacement for the R8 as some believe that the brand's only supercar will be discontinued in the 2020s rather than replaced.
The car was previewed in concept form at the LA auto show two months back (see image above). This design study was 4.96m long hatchback. The company says a production version will be available in dealerships from early 2021.
One other e-tron model will be a C segment crossover-SUV, which will be manufactured at the Mosel-Zwickau plant from 2021 onwards. To be slightly smaller than the forthcoming Tesla Model Y, it should instead be a direct rival for the Mercedes EQA.
A final word on Audi's electric models. Volkswagen is talking up the potential for affordable EVs. The fact remains that no-one knows what demand for such vehicles will look like. Reading the texts of the many media releases issued on the topic of Volkswagen's future EV-manufacturing capabilities during recent days, weeks and months, one fact is striking: the focus is on the platform, MEB. So fresh plants such as Chattanooga No.2 will not necessarily be making only electric VWs.
Right now, Americans who buy EVs mostly choose expensive ones, i.e. Teslas. Perhaps then the hidden message in Volkswagen's communications about MEB plants is that they can be, and may well be, multi-brand operations. As was said about Watergate, follow the money. Which is exactly what Volkswagen AG seems to be planning to do.
Recent reports for many other manufacturers' future models are grouped in the OEM product strategy summaries section of just-auto.com.
Future product program intelligence
More detail on past, current and forthcoming models as well as additional vehicles which are not in the feature above such as the Q1, Q4 and Q6 plus various additional e-tron models can be found in PLDB, the future vehicles database which is part of QUBE.
Following this feature and after others covering Audi cars; SEAT and Cupra; Skoda; VW cars; and VW pick-ups and SUVs; the remaining makes to be featured in the Volkswagen Aktiengesellschaft series will be covered by two reports. One on Porsche and the other on Bugatti, Bentley and Lamborghini.