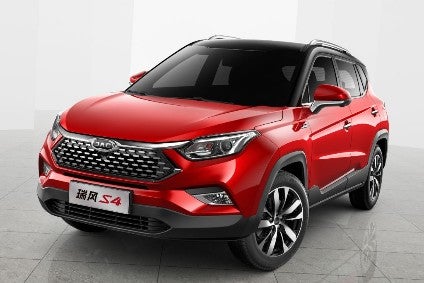 A partnership with Volkswagen AG and a certain degree of expertise in EVs have become vital assets for JAC as it tries to recover from losses of Yuan 786.1m during fiscal 2018 and a plunge in home market vehicle sales.
The Chinese OEM, the full name of which is Anhui Jianghuai Automobile Group Corp Ltd, is based in the country's east where it has a modestly sized manufacturing footprint. The company's focus is increasingly going in the direction of electric vehicles, which is what drew the attention of SEAT and its parent company as well as Nio (see below).
Data for May are not yet available but over the first four months, Chinese market wholesale deliveries numbered 55,825 units, a year-on-year fall of 25 per cent. For the month, deliveries of 11,383 represented a 39 per cent drop. That put JAC in 28th position above BAIC and below Zotye. With quite a few new models due to come on stream from the second half of 2019, the company has at least a fighting chance to turn things around.
ICE models
JAC has multiple multiple models which are part of a sub-brand called Refine. The newest of these is the Refine R3, a seven-seat MPV powered by a 1.6-litre petrol engine. The seating format is 2+2+3. There should be a mid-cycle freshening for the Refine R3 in 2022 with a replacement in 2026.
Another model powered by an ICE is the Refine S4. Added to JAC's domestic market range in December 2018, this 4,410mm long SUV offers the choice of two petrol engines: a 1.6 or a turbocharged 1.5, each with four cylinders. Expect revised engines and styling in 2022 and, depending on how strongly this model sells, a replacement in 2025. Should small electric SUVs begin to become mainstream by 2022 or 2023, JAC may instead choose to drop this model.
The Refine S7 was added to the range in June 2017. This 4.8m long SUV has a Lexus-style grille and is available in five- or seven-seat forms. Engine choice is between 128kW 1.5-litre and 140kW 2.0-litre petrol engines. Both are turbocharged. A facelift is due in 2021 and a successor in 2024.
EVs
The iEVS4 is a fully electric version of the Refine S4. In April, the vehicle's first month on sale, 325 examples were delivered. A facelift is scheduled for the first half of 2022 with a replacement due to arrive in 2025.
A prototype of a small plug-in sedan was a world premiere at April 2014's Beijing motor show. The iEV5+ concept was claimed to have a range of 200km. Production commenced in the first half of 2015. A revised iEV5+ premiered at April 2016's Beijing motor show. It also changed names and became the iEV6. This is now JAC's best selling EV, with April deliveries numbering 3,002 units.
The iEV7 is a small sedan which went on sale in China during the first quarter of this year, which means a life cycle which should end in 2026 after a facelift in the second half of 2022.
Unlike the iEV7, the iEV7S is an SUV. Even more confusingly, a large sedan prototype also used this name: the iEV7 concept was exhibited at the Beijing motor show in April 2016. The iEV7S, which is 4,135mm long, went on sale in China in October 2017. It has a 39kWh battery pack, outputs are 85kW (113hp) and 270Nm (199 lb-ft) and the range is claimed to be 280km. Top speed is limited to 130km/h (80mph). Expect a facelift in early 2021 and a successor in 2024.
JAC's least popular model is the iEVA50. This small sedan is effectively an EV version of the former Heyue A30. There are two versions: one with a 47kWh battery pack and one with a 60kWh pack. The ranges are claimed to be 330 and 500km respectively. Given that the basic model dates to 2013, the iEVA50, launched in 2018, will likely have a short life cycle and be replaced in the early 2020s.
Future vehicles
The T8 is to be JAC's second pick-up, joining the T6 Frison. This 5.3m long model had its debut at the Beijing motor show in April 2018. The production model will be a rival for Great Wall's Wingle and powered by a 136hp 2.0-litre diesel with 320Nm of torque. The T8 is due for sales launch in a few months' time. Its life cycle should be eight years.
Project P241, which should be called either Refine S5 or Refine S6, is also expected to come to market later this year. Prototypes of this D/E segment SUV resemble the former Mercedes-Benz GL-Class at the front and the first generation Audi Q7 at the rear.
Autonomous & EV ventures with Volkswagen
JAC is based in Hefei and this is where the company will be rolling out car sharing, taxi hailing and autonomous car programmes in partnership with the city's authorities and the Volkswagen Group. The two OEMs have an existing JV via SEAT which sees JAC supplying an electric SUV called the E20X for a bespoke brand, Sol.
The model supplied by the Chinese company since April 2018 is a small SUV based on the iEV7S. It has different front and rear styling but no other major changes and the length is identical to that of the JAC original.
The deal with JAC is believed to be just one part of Volkswagen AG's electric vehicles strategy for China. The Group's own MEB architecture will be the basis of the electric models which the company will produce in China with its JV partners, SAIC and FAW, in 2020 or 2021.
JAC-Nio
The ES6 is the second electric SUV for China's Nio brand. Revealed in December 2018, it is manufactured by JAC. Full details of this model and others can be found in PLDB (see below).
Reports for many other manufacturers' future models are grouped in the OEM product strategy summaries section of just-auto.com.
Future product program intelligence
More detail on past, current and forthcoming models can be found in PLDB, the future vehicles database which is part of QUBE. JAC models not listed in the above report, such as the M4, M6, T6 Frison, Refine S2 and Refine S3 can also be found in PLDB.
The next OEM to be covered will be Groupe PSA.