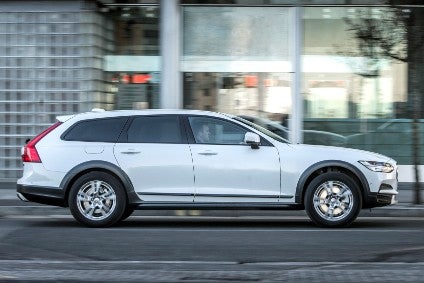 Will people in the US take to the V90 CC? That's the key question for a model which replaces the XC70, a car that Audi went after with the A6 allroad, and now Mercedes-Benz wants in on the action too.
Luxury, Volvo-style
This large estate manages to be both a big step forward over the XC70 and to have the air of a luxury car, without looking flashy or aggressive.
Does the Cross Country feel expensive? Yes. Does it look it? No. Therefore it succeeds, which probably sounds illogical. But bear with me. This large estate manages to be both a big step forward over the XC70 and to have the air of a luxury car, without looking flashy or aggressive.
I'm not the world's biggest fan of the fashion – for that is what it is – for making a centre console screen as large as possible and then throwing just about every control you can think of onto it. The idea is to create a minimalist look, which apparently equals premium. Are lots of finger marks a desirable thing, though? Volvo includes a special cleaning cloth in the glovebox of 90 series models, so the issue is at least acknowledged. A better idea is what most other OEMs have decided to do: keep the HVAC controls separate, with real buttons that you hit in an instant. Why not arrange them around the perimeter of the touch-screen?
More successful is the dash top, which is finished in a satisfying-to-the-touch plastic. This material is as good as what you'll find in an Audi, a BMW or a Benz. The roll-top cover for the cupholders feels less lovely: the supplier either hasn't mastered silent, smooth and satisfying opening and closing, or else for the price negotiated, thin and brittle feeling plastics were as good as the Swedes were going to get. Sorry to say this Volvo but your cars often now cost as much as Audis so these little details matter.
There are so many other really good touches inside this car, that the not-quite-there ones stand out. The door handles are as beautiful to look at and use as they are in the XC90, the headliner is soft, the carpets are plush, the ignition-twist has a satisfying action and the steering wheel of all SPA vehicles has to be one of the best looking of any car.
Why no paddles?
Maybe this is a personal preference but even after the sixth day of the seven-day loan of this press review car I was still missing paddles for the standard eight-speed automatic gearbox. It seemed strange that they weren't there. They're not something I think of being only for fast, firmly-sprung cars. And this being a Volvo, after all, how safe is it to take you left hand off the wheel when you shouldn't need to?
Let's continue for a moment on this point. I've noticed this same issue with the S90, XC90 and V90 – not the lack of paddles but the need to sometimes look away from the road ahead and to make a lot of presses on a touch-screen to get what you want.
True luxury is silent and almost effortless and instant.
Again, even after six days, things hadn't become intuitive in the way that your fingers will find a plastic button or switch and press it. On a screen, that control cannot be felt – you can't slide from one switch to the next to divert air from your feet to the windscreen or adjust the temperature. Certainly, some people want everything on a screen and/or to be able to speak an order to their car (and hope that it understands at the first attempt and doesn't do something else). Surely though, true luxury is silent and almost effortless and instant?
Pressing safety issues
Will we look back and wonder if plastic buttons were safer? I know what my belief is, borne out of driving multiple cars every month and year. Not wanting to sound like a luddite but in a V40, S60 or V60, you soon know how to adjust for example the HVAC temperature or fan speed by feel. That's not possible in the 90 Series cars. Therefore, is this progress?
I'm not suggesting the V90 CC is unsafe. Only that there must be a reason for the success of Punkt phones, the return of the Nokia 3310 and the rising popularity of Blackberry's KeyOne (even if a Wired reviewer hates it). OK, that's enough of that. Well, almost. Audi has just announced that there will be "hardly any buttons or switches" in its new A8. So as to free up space, apparently. Space for….what exactly?
Southern England was humid and relatively hot during my time with the CC, which revealed a handy and thoughtful feature of the car. You don't need to keep a finger on the unlock button until all the windows have been fully lowered – just a slightly longer than normal press is all it takes.
Something else which sets this elevated estate apart from certain other luxury class models is electric closing for the tailgate, not just opening. I am yet to try the new XF Sportbrake but some JLR vehicles' key fobs will command the bootlid to rise, but it must be manually shut. Such are the small differences now between rival brands and yet, potential buyers do take note of this sort of thing.
Others have tested the CC in slightly cooler conditions. If you want to see the Haldex system at work, cut to the eight minute mark.
D4, D5, or T6?
Maximum torque is 480Nm developed at only 1,750rpm and power is 173kW (235PS).
I've banged on before about how great it would be if VCC's Drive-E diesel sounded better, and other than this subjective wish, yet again this 1,969cc engine impressed. That's due to an abundance of torque in D5 PowerPulse spec. Maximum twisting effort is 480Nm developed at only 1,750rpm and power is 173kW (235PS).
Choose the D4 instead of the D5 and torque drops to 400Nm, with 140kW (190PS) of power. Your third option is the T6, which means petrol power. Torque is identical to the D4 but obviously power is greater, at 235kW (320) thanks to not just a turbocharger but a supercharger as well.
Just as what happens with the 1.0-litre turbo petrol engines two size classes down in the Focus, Civic, i30 and others, you do need to urge the 2.0-litre D5 on more than was the case with the 2.4-litre inline five. And what that means is that the 173kW Drive-E isn't nearly as economical as the official EC numbers.
Heavy? Not compared to its rivals
Over several hundred miles clocked up in a 60/40 mix of motorway/city driving, average economy was 41mpg. Curb weight of 1,848kg before options doesn't help matters, though it's not fair to accuse the V90 CC of being worse than rivals when the A6 allroad shows a minimum of 1,890kg in its lowest powered form, which is with a 218PS 3.0-litre V6 engine. The 4,947mm long Mercedes-Benz E-Class All-Terrain has a diesel of the same capacity and a minimum heft of 2,010kg.
I said at the start of this review that the USA would be a key market for the V90 Cross Country. Big wagons not being too popular there; Volvo only imports the V90 to special order. Having said that, Subaru of America's dealers can hardly keep up with demand for the cheaper, smaller Outback, with more than 86,000 having been sold in the first half of this year.
US sales – so far so good
Buyers of the CC in North American markets have no engine choices to make, the supercharged and turbocharged 2.0-litre petrol Drive-E being standard. Sales in the US market over the first six months amounted to 891 cars, and last month's total was 132. If you're interested to know how many Americans took out a lease on a V90 over the same period, the answer is 14, 13 of whom signed up in June.
And worldwide?
Worldwide, V90 CC sales reached 8,715 units as at the end of June.
Worldwide, V90 CC sales reached 8,715 units as at the end of June, which is good going when you consider deliveries in North America only got underway in March (build for other countries commenced last October). This compares fairly favourably to the V90, deliveries of which were 17,935. Sweden is a big market for that car, and the UK is another good one.
The sense of understated luxury is a key part of what continues to help Volvo forge a new image and attain ever higher vehicle sales worldwide. The first half of this year was another record for the company, and gently lifting prices, as has happened with the V90 CC compared to the XC70 should mean ever better margins too.
What's next for the V90 Cross Country?
Aside from model year tweaks, Volvo Cars is expected to leave the V90 Cross County alone for the next 24 or so months, maybe longer. A facelift should happen in 2020, possibly earlier, and we are likely to also see a petrol-electric variant.
Assuming a seven-year production life, the next CC should be released in 2023. It's way too early to say if build will again be only at Torslanda – depending on buyer preferences in the US and China, there is technically no reason why production couldn't shift to South Carolina or Daqing.
The V90 Cross Country costs from GBP39,870, is available with the choice of two diesel engines and one petrol, with CO2 emissions ranging from 138g/km (D4) to 176 (T6).