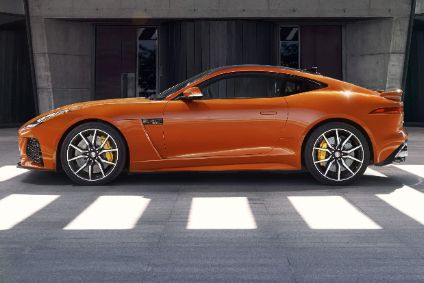 Jaguar's new 300PS four-cylinder F-TYPE might have a great CO2 number but can its many attributes compare to the magnificence of the 575PS supercharged V8 which powers the SVR?
Four years to the month since X152 went into series production, this car looks as perfectly styled as it did when the world first saw it at the 2012 Paris motor show. Steep pricing and the contraction of the segment in which it competes have been the two factors keeping sales at fairly low levels. Jaguar wanted to make a statement with the F, and it succeeded with that, as the car is well recognised but sadly not as popular with buyers as had been hoped.
The Porsche 911 and BMW's 6 Series have also suffered from the shrinkage of the sports car/GT vehicle classes. So perhaps Jaguar's decision to charge high prices for the F-TYPE didn't really matter, as it turns out. As a forerunner for getting the Jaguar name out there ahead of the brand's return to other segments (XE) and entry to others (F-PACE, I-PACE), this two-door GT has more than done its job.
Now, the four-cylinder versions as well as some mild mid-life changes should give F-TYPE sales a handy lift. Indeed, Jaguar is still racing ahead, even if the F is only ever going to be a small contributor to the brand's success. When it comes to image though, this car punches way above its weight.
People know that the F is a Jag. Driving one you get smiles and nods, and that applies even to the range topping SVR, a car which is anything but shy and retiring.
Bespoke exterior touches
Added to the range in 2016, this was JLR's first SVR model.
Let's start with the looks. Added to the range in 2016, this was JLR's first SVR model. The fastest, loudest and most expensive F-TYPE gets it own front bumper and splitter, a flat underfloor, an active rear wing formed from carbon fibre and a venturi at the rear which is claimed to reduce both lift and drag.
Powering the beast is a 575PS supercharged 5.0-litre V8. Ford builds this engine at Bridgend in South Wales and it likely won't have a direct replacement when emissions and fuel economy rules eventually squeeze it out of the market. Given how few of these incredible sounding engines are produced each year, the F-TYPE SVR is going to be one of those cars to lock away for the future. Not that I could ever imagine owning one and limiting the miles.
It's the growl of the thing, as well as how it looks which make the SVR so addictive. Having been frustrated by silly speed limits in New South Wales when I spent some time with the 25PS less powerful and heavier F-TYPE R some 18 months ago, it was doubly glorious to drive the SVR here in England.
Coupé or Convertible?
The test vehicle was the convertible, the top speed of which is a mere 195mph. Mere in comparison to that of the hatchback, or as Jaguar labels it, Coupé. Given a long enough road, the one with a decent boot is said to be capable of 200mph. And there is probably the only serious flaw with the roadster, its laughably tiny boot. Where the liftback has room for a large suitcase and a couple of small soft bags, in the convertible, it's best to pack very lightly.
Both SVR versions will get you to 100km/h in 3.7 seconds
Both SVR versions will get you to 100km/h in 3.7 seconds and have a Combined average of 25.0mpg. CO2 is 269g/km. If you want to fully exploit the performance, fuel consumption can drop into single figures. Be a touch gentler and something in the high teens is realistic; perhaps even into the low twenties. If that scares you, maybe a BMW i8 is a better option. As sensational a technology statement as that car is, it's not a supercar which excites in the same way as the Jaguar.
Rivals
Really, the Audi R8 is a better rival for the F-TYPE SVR. That might sound like a strange claim but if a buyer is looking to be noticed, then does it really matter where the (wonderfully noisy) big-bore engine is located in the car? Plus, the Jaguar's handling is so good, even with all that metal hung outside the wheelbase, that it would be a hard decision to make choosing one over the other. The many different versions of the 911 also could be considered further alternate choices but don't be deceived by the 2+2 seating: apart from small kids, no-one could be comfortable back there. So the Porsche is effectively also a two-seater, the same as the F-TYPE and R8.
Standard AWD & weight loss measures
Given the torque output of 700Nm, it's no surprise that the SVR has standard all-wheel drive, something which is optional for the F-TYPE R. You do get the same Quickshift eight-speed torque converter automatic transmission though.
Another change over the R is an exhaust system which weighs 16kg less. Forged from titanium and Inconel, this can withstand higher peak temperatures and also has reduced backpressure. The four tail pipes not only have SVR branding on their tips but they emit a note which burbles loudly when the engine is cold and screams with a hard edge at higher revs. There are active valves in the rear silencers and these are programmed to open at lower engine speeds. These too are made from titanium. Of course.
Jaguar has specified 265- and 305-series tyres front and back, which means they are 10mm wider than those fitted to the R. Despite their size, it's possible to get the rear end out of line relatively easily. That's all quite harmless stuff, as electronics will automatically iron out any potential for instability.
IDD & TracDSC
What Jaguar calls Intelligent Driveline Dynamics (IDD) has been designed to get you off the mark without wheelspin. This, combined with an electronic active differential (EAD) at the back end means there's never any accidental drama should you boot the throttle on a wet road from a standing start.
Just be sure to set aside some funds for burning through petrol. And tyres.
It's hard not to select Dynamic mode if you really want to enjoy the SVR to its limits. You're also able to change the setting on the DSC system to TracDSC or switch it off. It's completely safe and guarantees a wide, infantile smile for the driver. Just be sure to set aside some funds for burning through petrol. And tyres.
In Dynamic mode, which is activated by a button near the gear selector, the instruments take on a crimson glow, the suspension is firmed up and the engine note turns feral. If you thought the days of truly loud production cars were gone, then you need to hear an SVR blasting forwards or decelerating in Dynamic mode. Depending on what you think of supercars, it's either sensationally sonorous or aurally affronting.
The Carbon Ceramic Matrix brake system isn't cheap (GBP8,570 including some very sexy looking satin-black polished 20″ rims) but if you also go for the GBP2,550 carbon fibre roof, overall weight drops by 50kg. For some, the tiny improvement in handling will make these options worth the extra cost. Standard weights are from 1,705kg for the hatchback and 1,720 for the convertible.
Tweaked torque vectoring
Naturally, there are also changes to the suspension system. Among them are a thicker rear anti-roll bar and bespoke dampers linked to the Adaptive Dynamics system. That a car which has such a small degree of suspension travel and super-low profile tyres can also be genuinely comfortable comes as a welcome surprise. How about road holding? That's in the incredible category. Most likely due to a recalibration of the torque vectoring system – tweaked to give even more fine tuning to the braking of an inner wheel when cornering – understeer in what is, remember, a nose-heavy monster, is almost non-existent.
Quilted seats – just like a Bentley
The changes to the interior are enough to make the SVR feel genuinely different to other F-TYPEs. No surprises to find more leather trim and this covers some special high-grip seats into which are set quilted panels. The Jet black leather is standard but a steering wheel covered in the same shade with suedecloth is an option. Other small touches include larger anodised aluminium shift paddles and suedecloth covering for the centre console and instrument cluster.
Aside from the narrow lanes and parking worries which accompany any vehicle as wide as this one, you could easily have this as a day-to-day car. It's comfortable to cruise around in, the mad exhaust note isn't always on unless you want it to be, but you do need to get used to people wanting to ask how fast it is. And of course, how much it costs.
Jaguar's fastest road cars yet are priced from £110,000 for the Coupé and £115,485 for the Convertible. You won't ever see many of these cars on the road but as a way of pushing the top-end of what an F-TYPE can cost – just as JLR did with the Range Rover some years back – the two six-figure supercars show what's possible for Jaguar pricing, image and margins.
Will X161 be mid-engined?
The successor to the F-TYPE is still some years away. Due to enter production late in the third quarter of 2020, it should use an evolution of the current car's aluminium platform. Expect a more powerful four-cylinder petrol as the base engine, plus several versions of a supercharged six-cylinder unit from JLR's forthcoming in-line series. These will replace the current Ford-supplied supercharged 3.0-litre V6. There may even be a plug-in hybrid.
In an interview at November 2016's LA auto show, design director Ian Callum stated that the next car might be mid-engined, though he also added that it could retain the current layout, claiming that the decision had yet to be taken.