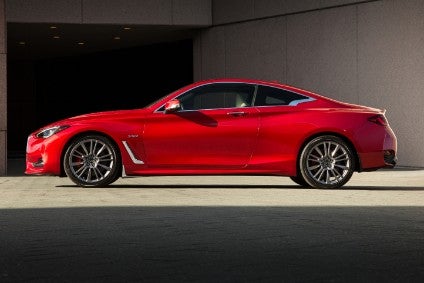 The latest Q60 will never be a big seller for Infiniti and with the contraction of the global market for convertibles, there probably won't be a replacement for the old-shape open car. Even so, this challenger for the BMW 4 Series, Mercedes C-Class and Audi Q5 coupés is both a big step forward over the old-shape car and an underrated alternative to the segment leaders.
Brand sales: up by 15 per cent
At the time of writing, sales numbers for June had yet to be released so the latest figures out of Infiniti's Hong Kong headquarters show a year-on-year gain of 15 per cent as at the end of May. That's down to not only various refreshes and replacements, but also additional cars. It's also impressive stuff given how old some of the brand's SUVs are. Even the giant QX80 is having a great year, the seven-year old monster having found 9,920 buyers in the USA, always its best market. That total is for the first half of the year, Nissan North America having just reported sales.
Worldwide, Infiniti delivered 104,512 cars, crossovers and SUVs between 1 January and 31 May, of which 73,015 were in the Americas. China saw just 17,206 vehicle sales in the same period but still, that represented a gain of 15 per cent. The second generation QX50 L will no doubt give the locally made line-up a major boost from 2018 and also, the made-in-Hubei Q50 L is now a four-year old car in its basic design so its sales are good in that context.
Manufacturing innovation
Nissan builds the Q60 in Japan at the Tochigi plant. Production commenced last August and there had been various changes made ahead of Job 1. The main updates were to the stamping and assembly lines. This was so as to prepare the way for deep-body stamping technology and new tooling machinery for the model's resin boot lid. Nissan also noted that to further improve quality, a new lighting system for the inspection process and a camera and video system on the assembly line were introduced.
In what Infiniti claims was a world first application, the Q60's boot lid is a hybrid combination of a resin skin on a steel frame. Can you tell by looking at it? No, and even giving it a slam out of curiosity fails to betray any of kind of flimsiness. The reversing camera is well integrated too, and as expected, paint quality is flawless – you simply cannot tell which panels are metal and which aren't.
Some details need improvement
The overall impression of the Q60 is one of genuine luxury though here and there, certain things all too obviously allude to the brand's origins as a Nissan division.
Would it really cost that much to specify a key which isn't just about identical to the one which fires up a Qashqai? The symbol embossed on it is the Infiniti one but it's same basic component. The silver plastic lock/unlock/boot buttons set into a hard black plastic ellipse are also shared.
If the first impression is disappointing to anyone who knows what a Nissan key looks like, then things do get much better once the driver's door is pulled open. Infiniti's purple 'signature' colour works well in combination with lots of good looking and well styled plastic curves for the dashboard. As for the foot-operated parking brake, it's a small yet distinctive touch which sets this car apart from the likes of the 4 Series Coupé. It also works as flawlessly as the ones in every other current Infiniti which I've driven.
At 4,683mm long, the Q60 is exactly the right size for its segment: some of the brand's other models can be a bit on the large side, which is understandable, with the US being Infiniti's long-time number one market. And it's in the US too that the Q60 is finding ever greater popularity. In June, Nissan North America sold 851 units of this car, and over the first five months, a total of 5,638.
What about Europe?
Nissan Europe doesn't break out Infiniti sales by model, and ACEA fails to even acknowledge the brand in its monthly region-wide registrations data. The UK's SMMT does list Infiniti sales and with a production base in England, it's no wonder that things are going very well indeed for the brand.
June numbers had not released at the time of publishing, but May registrations surged by 153 per cent, due mainly to the Sunderland-built Q30 and QX30. Overall numbers remain modest, with just 346 Infinitis delivered to UK buyers in May, and 1,749 over the first five months. Year-to-date, the gain is 76 per cent. The overall tally might be modest, but Infiniti out sold Alfa Romeo (269), Jeep (303) and SsangYong (273). It also also not that far behind MG (395). Let's see what happens once the numbers for June have been announced.
Power and performance
The Q60 for the UK market offers the choice of a 155kW (211PS) turbocharged Mercedes-Benz 1,991cc four-cylinder engine, or else Nissan's own 298kW (405PS) 2,997cc V6. Both have a seven-speed automatic gearbox as standard fit, and while the 2.0t is rear-wheel drive, a3.0t variants come with AWD.
The Mercedes-engined Q60 might be admirably fleet, with 0-62mph taking only 7.3 seconds and top speed being 146mph, yet it's the six-cylinder car which is the real rocket. It will get to 62mph in five seconds exactly, and v-max is a limited 155mph. Neither variant could be accused of being a lightweight in other ways either, with the four-cylinder weighing in at 1,722kg and the V6-AWD cars having a minimum mass of 1,862kg.
Room for four, or 2+2?
The cabin is roomy, for two at least, the boot's volume is pretty good at 342 litres and something else which many rivals go without is a generous 80-litre fuel tank. As for that beautifully trimmed compartment over your shoulder, you wouldn't really want to put anyone too tall in the back seats.
Thick glass, heavy doors and other factors combine to keep NVH to near-silent levels, which is great for maintaining and building on Infiniti's luxury image, yet couldn't we have a little more in the way of a sporty exhaust note from the V6 please Nissan? Especially as the handling of what seem like a grand tourer is in fact, fairly sports car-like. A lot of that is down to the 59/41 weight distribution and a really well tuned chassis, whereby the rear-drive bias is exactly as you would wish it to be. Anyone who thinks the 4 Series is way ahead of all comers in its class needs to spend some time in a Q60, especially the AWD V6 variants.
Summary
So then to pricing. At GBP47,780, this is no bargain GT with supercar performance. What it is though, is a great looking car – neighbours and colleagues alike all rated it as such, and the toffee apple red paint probably helped a lot with that – which will remain rare in Britain and other European countries (the CO2 average for the V6 is 208g/km). Is that a bad thing? Not at all. I would imagine Infiniti retailers selling perhaps 100-200 a year over what should be a seven to eight year life cycle. And don't be surprised if even faster versions are added, which can only help the brand's image expand from being a purely premium/luxury one to towards being a bit racier too.