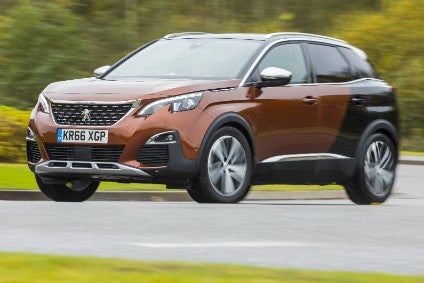 Production of vehicles which share Groupe PSA's EMP2 architecture is on the rise, with one of the more successful being the Peugeot 3008. Even if its sales can't match those of the Nissan Qashqai and VW Tiguan in Europe, this C segment SUV is greatly aiding Peugeot's mission to lift both image and margins.
For a company which still makes its own shock absorbers, the Peugeot brand has been having a bumpy ride in many countries; China especially. As is so often the case with such yo-yoing sales performances, a relative lack of new SUVs has been partly to blame. The best example is the 3008. This was more than seven and a half years old when its replacement went into production in the fourth quarter of 2016.
Out with the old 3008 MPV, in with the new 3008 SUV
It has to be said that PSA does now appear to be bringing new or refreshed models to market quicker than had been the case. Renault's unfathomable decision to let the Captur carry on without a facelift for too many years gave the facelifted Peugeot 2008 a golden ticket late last year. Sales took off, while those for the Captur nose-dived.
The 208 is also doing well but it's going to have a hard time from the second half of 2017 once the new Fiesta and Polo hit the market. And how will Peugeot attempt to tackle the big selling Passat, C-Class, A4, 3 Series and Superb in the D segment when it comes time to introduce a successor for the 508? Perhaps, like Honda, Fiat, Nissan and Subaru, it might throw in the towel and decide that it could be time to exit what for it must be a low-margin class across Europe. Toyota and Citroen are two other brands with old sedans and estates which may not be directly replaced. Instead, their successors could be D-SUVs.
Will SUVs replace the 508 too?
Should Groupe PSA have decided to simply drop the 508, it's sad to say that the market wouldn't miss it. Not even in France: in 2016, and despite being the best seller there in the D segment, just 17,919 Peugeot 508s were registered. Depressingly for Renault, its still-young Talisman rival failed to get near the aged Peugeot last year (15,234). A new model is coming in 2018, though, PSA believing that the upscale shift of the 3008 and 5008 creates a fresh opportunity to take on the VW Arteon.
If the C-D-E segments for the Peugeot brand in European countries and China become ever more populated with SUVs and crossovers, then the 3008 plus the related 5008 and perhaps one or two more models should ensure a strong and growing presence there.
Design
Is there a more distinctive entry in the D-SUV class than the 3008? From every angle, there are design elements which make it stand out. There are creases and curves all other this SUV, as well as aggressive headlights with Audi-like sequential turn signals, darkened tail-lamps and a well chosen range of big-diameter alloy wheels. The look is convincingly premium and that's not something which we have been able to say about many Peugeots.
As someone who loves the i-Cockpit idea which features in most of the brand's passenger cars, the 3008 from the driver's seat, is a great place to be. Aside from the elevated positioning, you wouldn't believe you were in an SUV. It feels cosy yet roomy – a snug driving position but lots of head and elbow room and much glass in all directions.
Peugeot says that interior space is improved compared to the old 3008, notably for rear occupants who have an additional 24mm of legroom, 4mm of elbow room and 36mm of headroom.
The plastics are getting there but if you drive a Q5 or X3 this is not a car which will make you want to trade in your Audi or BMW. Clearly, PSA still has a very tight rein on what it is willing to pay to vendors and you do find yourself touching some surfaces with slight disappointment.
Granted, the materials used for the surfaces of the dashboard and door trims are a step change over the old 3008 but it's not quite up to the high standards set by the Germans. Peugeot would argue that you don't have to pay the same prices, and yes, that's true. Perhaps it's a case of PSA making sure that the new DS 7 will have no direct internal competition from its Peugeot brother.
Build
Series manufacturing commenced at Sochaux in October and the French plant will also make the rival Opel/Vauxhall Grandland X. It too will use EMP2.
Build also takes place in China via the Dongfeng JV. As the old T84 series 3008 is still made in the PRC, Dongfeng PSA sells the new T94 3008 as the Peugeot 4008.
Compact for its class yet roomy
Despite being only 4,447mm long, the boot capacity is 520 litres (under the cover), which is close to 90 more than the previous generation. If you fold the second row of seats flat, capacity rises to 1,580 litres.
The folding bench seat has a 2/3 – 1/3 'Magic Flat' capability and the adaptable moving boot floor from the first 3008 has been evolved. Now, there are two positions, allowing an optimisation of boot space and removable side-panels that can be attached to the side boot trim.
On your bike(s)
A folding Micro scooter with electric assist (e-Kick) is an option and a folding bike with electric assistance (e-Bike) by Peugeot is another. Docking stations hold the e-Kick or e-Bike in place in the boot and recharge the batteries while the vehicle is running.
Thanks to the designed-in weight savings which come with the EMP2 architecture, the series two 3008 is, on average, 100kg lighter than the old car. Very High Strength Steel (VHSS) and Ultra High Strength Steel (UHSS) have been used, there is a thermoplastic boot floor and tailgate, the front wings are aluminium as are the front suspension arms and rear seat frames. Aluminium is also used for collision management components and certain body panels, these parts being supplied by Constellium.
Faurecia is another leading supplier for the 3008. This includes SCR systems to treat nitrogen oxides in the exhaust; all seating systems; carpets; and the entire range of acoustics, including sound-proofing.
Powertrains
Four petrol engines are available:
1.2 PureTech 130, six-speed manual
1.2 PureTech 130, six-speed manual 'optimised low fuel consumption'
1.2 PureTech 130, six-speed automatic
1.6 THP 165, six-speed automatic
Should you prefer diesel, there are five options and like the petrols, all have stop-start:
1.6 BlueHDi 100, five-speed manual
1.6 BlueHDi 120, six-speed manual – normal and low consumption versions)
1.6 BlueHDi 120, six-speed automatic
2.0 BlueHDi 150, six-speed manual
2.0 BlueHDi 180, six-speed automatic
No all-wheel drive, at least not yet
As the 3008 HYbrid4 did not sell well there is no direct successor. Instead, there will be a PHEV version of the 3008 in 2019, Peugeot CEO Maxim Picat told just-auto.com in May 2016. This will have a petrol-electric powertrain: the first generation 3008 HYbrid4 was a diesel-electric. The PHEV will be the first variant to offer all-wheel drive.
"All C- and D-cars, including SUVs, will have new plug-in hybrid powertrains. It will start with 3008 in 2019. For the smaller cars, like 208 or 2008, we will launch an electric version of them," Picat stated.
The 3008 supplied by Peugeot UK had the 180PS 2.0-litre diesel with a six-speed automatic gearbox. Torque is 400Nm, which is a useful 20 more than what the equivalent Volkswagen engine produces. You can notice it too, as the Peugeot is more fun to drive than a Tiguan, Qashqai or Kadjar. The lack of all-wheel drive can occasionally be an issue when having to fast-exit a wet T-junction, especially with all that torque but Peugeot's optional Grip-Control system does a good job of keeping the front tyres from scrambling for traction.
You can load up this SUV with a full complement of passengers and still have good acceleration. Officially, 0-62mph takes 8.9 seconds and the top speed is 131mph.
The CO2 average of the 2.0-litre automatic diesel in GT trim is 124g/km. Groupe PSA's brands make a point of publishing realistic consumption figures, not just the official EC ones, so an owner driving 12,000 miles a year should expect to spend about GBP1,168. I found that my 53mpg was close to what Peugeot UK says the 180PS 3008 will do over a mix of driving conditions.
Sales performance and what's to come
The Peugeot brand's sales fell by 21 per cent in April, so slightly worse than the market itself. Year to date, registrations stand at 33,798 which means the lion logo is close to clawing ahead of Land Rover (33,855), that marque's numbers tumbling by 37 per cent last month. The imminent arrival of the 5008 will give dealers another SUV (well, a crossover-MPV, really) so the second half of 2017 is likely to be an especially profitable one for them.
Prices for the Peugeot 3008 line-up range from GBP22,000-33,000.