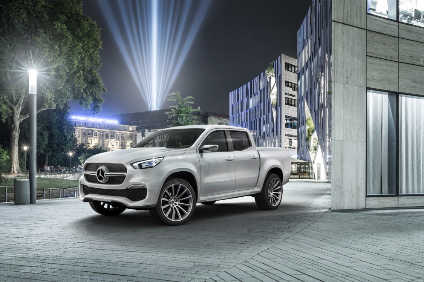 This is the fifth of six features examining the current and future models of Daimler brands. Its focus is on Mercedes-Benz SUVs and pick-ups. The final feature will be on electric vehicles.
Crossovers and SUVs
Expected to be just over 4m long, the B-segment/Sub-compact GLX-Class, originally due for launch in 2017, will become Mercedes' smallest SUV. This rival for the Audi Q2 was said to have been under development using a Renault-Nissan Alliance platform. The project was reportedly cancelled in 2014, only to be revived some months later following a rethink. Daimler was at one time planning to slot a smart SUV into this segment but those plans were cancelled.
To mark the November 2014 opening of an engineering centre and design studio in Beijing, Mercedes-Benz revealed the G-Code. This so-called Sports Utility Coupé (SUC) may have shown many styling elements of the GLX. Despite its 4.1m length, the G-Code was a 2+2, as could be guessed from the shortness of the counter-opening rear doors. It was extremely wide for such a small vehicle (1.9m), 1.5 high and had 21-inch wheels, while the A pillars were glazed over and the exterior mirrors replaced by retractable cameras.
The GLX name is not confirmed, but this additional SUV is definitely edging closer to production. To be based on the FWD-AWD MFA 2 architecture, it is due for release in 2018. It will likely be the first Mercedes-Benz to be manufactured at COMPAS (Cooperation Manufacturing Plant Aguascalientes), otherwise known as Aguascalientes 2, a Daimler-Nissan Motor JV plant in Mexico.
The GLA-Class, a C segment/Compact crossover, is closely related to the A-Class, B-Class and CLA-Class, in that they share an architecture. It competes with the Range Rover Evoque, Volvo XC60, BMW X1, Audi Q3, Infiniti QX30 and in China, the Acura CDX.
In July 2012, Daimler told the media that it intended to expand the capacity of its Rastatt plant and that a new, small SUV would be built there. Until then, it had not been known if the build location for this vehicle would be the German plant, or Kecskemet in Hungary, the other facility where MFA platform models are built.
The GLA was previewed by a concept which premiered at the Shanghai motor show in April 2013. The production model would be the first vehicle for a new plant in Beijing, Daimler then stated in October 2014. Build in China commenced in the second quarter of 2015, with the locally made model having its debut at April 2015's Shanghai motor show.
Prior to its Chinese market debut, the GLA had been revealed at September 2013's Frankfurt motor show, with initial production in Europe commencing three months later. The first customer deliveries were in March 2014, to LHD European markets.
Daimler would erect a new plant in Brazil to manufacture two models, the company announced in October 2013. The location is Iracemapolis, near São Paulo. The C-Class came first (April 2016), with the GLA-Class following during the second half of the year. Due to a local economic crisis, combined volume in the first year was set at just 12,000 cars per annum.
Meanwhile, the GLA was the first vehicle to be assembled on a second line at the Mercedes-Benz plant in India. This facility in Chakan had its capacity doubled in June 2015, to 20,000 vehicles per annum. The GLA became the company's sixth local model after the C-Class, E-Class, S-Class, M-Class/GLE-Class and GL-Class/GLS-Class.
A facelifted GLA-Class had its world premiere at the Detroit auto show in January 2017. No further changes are expected until the arrival a second generation GLA in early 2021. The successor should use MFA 2, an updated version of the MFA architecture.
The larger GLC-Class is five inches lengthier than the GLK which it replaced and almost identical in size to its rival, the BMW X3. It went on sale across Europe from September 2015. Production in China commenced just weeks after the start of build in Germany. RHD production began in December 2015, followed nine months later by assembly in India. The GLK was never available in RHD form.
According to a November news report by just-auto.com, Mercedes-Benz would expand GLC production by contracting out additional volume to Valmet Automotive from 2017. This was confirmed in August 2016. A-Class build in Finland by Valmet ceased at the end 2016 so the GLC effectively took that car's place at the Finnish plant. GLC-Class production commenced at Uusikaupunki in February 2017. A facelift is expected in late 2019 and a successor in 2022.
Mercedes-Benz also has a direct competitor for the BMW X4. A preview of this vehicle had its world premiere at April 2015's Shanghai motor show. The 4.7m long Concept GLC Coupé was a four-door crossover with frameless windows, powered by a 270kW (367hp) 2,996cc biturbo petrol V6. It had a nine-speed automatic transmission and 4MATIC permanent all-wheel drive.
A production version of the GLC Coupé had its world premiere at the New York auto show in March 2016. It is 8cm longer and 4cm lower than the GLC-Class. Production commenced in June 2016. There should be a facelift in 2020 and a new generation model in 2023.
The proposed C-Class All-Terrain, a crossover-estate, would be a rival for the Audi A4 allroad. It is said to be under development and due for launch in Europe and North America during 2018.
Having started life as the M-Class, what is now the GLE-Class was renamed so as to link it to the E-Class in terms of pricing, even though in size, it is just 4,804mm long. The third generation M-Class was seen for the first time at the 2011 Frankfurt motor show. It uses a re-engineered version of the previous model's platform.
Like all previous generations of the M, the GLE is manufactured in the USA. Knocked down kits are sent to plants in Thailand, Indonesia and India for local assembly.
The name change was announced in November 2014 and the updated model range had its debut at the New York auto show in April 2015. Deliveries commenced from August 2015. With a new model due for release in 2018, no further revisions are expected.
The second generation GLE will likely enter production during the fourth quarter of 2018. It will once again be a rival for the BMW X5 and Volvo XC90 and manufactured in Alabama and assembled at other global plants. It will use Daimler's MHA (Modular High Architecture) platform.
In the same way that the BMW X6 relates to the X5, so too the GLE Coupé is more or less a GLE with a different, low-roof body. The first letter of its development code denotes that Mercedes-Benz really does consider it to be a coupé.
While C292 was an additional SUV for the line at the US factory, capacity did not have to be expanded as it effectively took the place of the R-Class at the Tuscaloosa plant. The big crossover-minivan continues to be made, but it is now built by AM General at a plant in Indiana.
The 4,935mm long GLE Coupé, which entered production in April 2015, three months after its premiere at the Detroit auto show, was the first for Daimler's MHA architecture. This rear- and all-wheel drive platform is for large SUVs and crossovers. The production model had been previewed by the Concept Coupé which was exhibited at April 2014's Beijing motor show.
Daimler executives attending the GLE media launch in June 2015 told the media that China was expected to take 30-40% of volume, with 20-30% for the USA. Europe is another major market. The big Coupé will likely receive the latest range of inline six-cylinder engines at the time of a mid-life facelift in 2019. The C293 GLE Coupé successor will then come in 2022 and this should be based upon an evolution of MHA.
A longer vehicle than the GLE Coupé, the E-Class All-Terrain is a rival for the Volvo V90 Cross Country and Audi A6 allroad. It is mainly sold in European markets but notably, not in the USA. This additional model is based upon the E-Class estate, with its public debut being at the 2016 Paris motor show alongside the other variants in the new E-Class Estate range. Expect a facelift in 2020 and a replacement in 2023.
As per the intention to position the GLE as the SUV equivalent of the E-Class, so then the GLS is meant to be linked to the S-Class. Production of the second generation of this XL-sized SUV commenced at Mercedes-Benz's US plant in June 2012.
The GL-Class, which was a rebodying of the first generation GL-Class but on a longer wheelbase, had its global debut at the New York auto show in April 2012. The more powerful, facelifted and newly named GLS-Class premiered at November 2015's LA auto show. Competitors include the Range Rover, Cadillac Escalade, Infiniti QX80, Audi Q7, Lexus LX and Lincoln Navigator.
As with the related GLE, knocked down kits for the GLS are sent from the Tuscaloosa/Vance plant to India, Thailand and Indonesia for assembly.
The next generation GLS-Class will be based on MHA and should enter production in Alabama during 2019.
The most expensive SUV and the reason why all other models have a G as their first letter is the 38 years young G-Class. This ladder frame chassis 4×4, which dates to early 1979, was originally called the Geländewagen.
There was a minor facelift announced in February 2007. This consisted of LED tail-lights and a revised interior with a new centre console. The revised range went on sale in April 2007. Mercedes-Benz announced a further update in June 2008, which went on sale in Germany three months later. There was a new grille and a telematics update. Then in May 2011 came a special edition of the three-door G-Class. This signalled the end of production of that bodystyle.
A facelifted G, as well as two new AMG derivatives to replace the G 55 AMG, premiered at the Beijing motor show in April 2012. This revised range went on sale in Germany two months later. The model range was then as follows: 155kW/211hp 2,987cc V6 diesel G 350 BlueTEC, 285kW/388hp 5,461cc V8 G 500 & G 500 Cabrio (G 550 in the US) plus the G 63 and G 65.
Yet another round of styling changes was announced in May 2015, along with Euro 6-compliant engines and retuned suspension. The G 500 (G 550 in North America) also gained a new engine, the same 3,982cc V8 biturbo as was announced a month earlier for the G 500 4×4² show car. This produces 310kW (422Nm) and 610Nm of torque. It is unusual for having the turbochargers located inside the V. Also, the power outputs of the 2,997cc diesel V6 G 350 d rose from 155kW/211hp to 180kW/245hp, with its torque climbing from 540 to 600Nm. The Mercedes-AMG G 63, G 65 and Mercedes-Maybach G 680 variants were covered in recent features.
The second generation G-Class isn't far off now. The new model will switch to an aluminium frame, while six-cylinder, V8 and V12 engines are again expected. Given how distinctive the slab-sided looks make the current G, the next one shouldn't look too different, though it is said to be lower and wider. Production is likely to once more be carried out by Magna Steyr at its Graz works in Austria.
Pick-ups
Daimler Trucks confirmed in March 2015 that a pick-up was under development. The model will be a joint venture with the Renault-Nissan Alliance, it was stated during the following month. The X-Class will feature a double cab and be targeted both at personal-use and commercial customers. The primary target markets are Europe, Australia, New Zealand, South Africa, Argentina and Brazil. The company has ruled out a single cab bodystyle.
Production for the Australasian, European and South African markets will commence at Nissan Europe's Barcelona factory later in 2017, to be followed by build in Argentina at a Renault plant in 2018. The X-Class was revealed in prototype concept form at an event in Stockholm in October 2016.
"The Mercedes-Benz pickup will share some of the architecture with the all-new Nissan NP300 but it will be engineered and designed by Daimler to meet the specific needs of its customers," the Renault-Nissan Alliance's April 2015 media release noted.
Nissan and Renault developed the Alaskan, a 1-tonne truck for Renault, which also shares some common architecture with the Nissan NP300. Production of the Alaskan commenced during the final quarter of 2016 at Nissan Mexico's Cuernavaca plant.
Both Cordoba and Barcelona will eventually manufacture all three trucks. Barcelona will produce about 120,000 vehicles annually for the three partners, while the Cordoba plant will produce nearly 70,000 vehicles a year. A high parts localisation rate is expected to expand the supply bases in Spain and Argentina significantly.
As for engines, there will be four-cylinder Renault-Nissan petrol and diesel units as well as a Mercedes-Benz V6 diesel.
Mercedes-Benz has not ruled the X-Class out for the US market but says it will monitor sales in other markets. It could be that a larger model or the next generation X-Class might be built in North America. There X is due to have a facelift in 2021. The second generation X-Class should be released in 2025.
A pick-up version of the G-Class began to be supplied to the Australian military as a special order in 2016. With a new G due out in 2018 or possibly even at the Frankfurt IAA this September, this body style might well become available in relevant markets where there would be demand from private buyers. It would likely not appear until at least 2019, though. Even though pricing would be high, a G-Class pick-up would theoretically sell well in the US, Canada, Mexico, Australia, South Africa and certain countries in the Middle East.
Future model plan reports for other manufacturers can be viewed in the OEM product strategy summaries section of just-auto.com.
Future product program intelligence
Additional data on vehicle lifetime and future product plans, such as model codenames, are available in PLDB from QUBE.