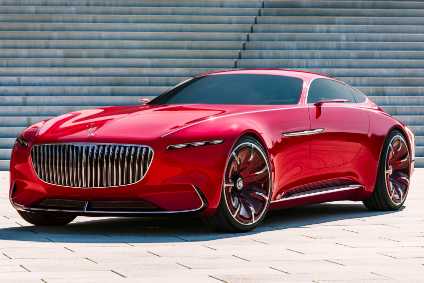 Daimler is the latest manufacturer to be featured in just-auto's ongoing series of product strategy summaries. In this first part, the current and future models of Mercedes-Maybach are examined.
SUVs
Presently, there are two Mercedes-Maybach models, with a third to be launched in October as a limited edition.
The model due to enter production during the fourth quarter is to be an SUV convertible: the G 650 Landaulet. This was a world premiere at the Geneva motor show in March. The Landaulet is the final edition of the 38 year old G-Class and also the first 4×4 to use the Mercedes-Maybach brand. The engine is a biturbo V12 which produces 1,000Nm and 463kW (630PS).
Magna Steyr will build 99 units of this open-top SUV at its Graz works in Austria. The Mercedes-Maybach G 650 Landaulet will only be built with left-hand drive.
A new generation G-Class has been eagerly awaited for not just years, but decades. Such a car will finally appear late in 2017. Daimler will possibly wait until 2018, maybe even 2019 before adding a Mercedes-Maybach derivative. This model's name would likely be G 680 Landaulet.
A larger SUV is also said to be on the way for Mercedes-Maybach and it will be based on X167, which is the next generation GLS-Class. This vehicle should be released towards the end of 2018. Production would be at Vance/Tuscaloosa in Alabama and the architecture should be MHA.
Cabriolet & Coupe
The Maybach sub-brand in increasingly leveraging its heritage with drop-top cars. The G 650 will in fact be the second such model to be launched in 2017, the S 650 Cabriolet having entered production in February. This modified S-Class Cabriolet was revealed at the LA auto show in November 2016. Daimler will build 300 units of this car, of which 75 will go to the USA, thus its debut in California.
The S 650 is powered by the same 463kW (630PA) 6.0-litre biturbo V12 as will be fitted to the G 650 Landaulet. The price in Germany is 300,000 euro.
The S-Class Cabriolet is due to have a facelift and gain a range of new engines either later this year or in 2018, so there should be another limited edition for Mercedes-Maybach. Expect that car in perhaps 2019 or 2020 and a replacement in 2023.
After the cabriolet is sold out, Daimler seems likely to launch another limited edition car based on the two-door Mercedes-Benz S-Class body style. Rather than another batch of convertibles, the more obvious opportunity would be for several hundred units of a model based on the S-Class Coupe. The model name would likely be Mercedes-Maybach S 680 Coupe. Look for that car to appear in 2018.
Limousines
The only Mercedes-Maybach models which are presently not special editions are the S 400, S 560 and S 680. Two of these three have recently had their names changed as part of a facelifted line-up.
The extended wheelbase derivatives of the S-Class went into production in December 2015 and should continue being built until 2024. They act as replacements for the Maybach 57 and 63.
The Mercedes-Maybach was revealed at the LA and Guangzhou auto shows in November 2014. It went on sale in the US, China, Europe and elsewhere during the first/second quarters of 2015. While still an enormous car, it is shorter than the former Maybach 57 and costs less too. Its length and wheelbase were extended by 20.7cm and 20cm compared to the S-Class LWB.
Depending on the market, there had been three Mercedes-Maybach derivatives:
S 400 4MATIC (245kW/333hp 2,996cc turbo V6, 480Nm of torque, AWD, mainly for China)
S 500 4MATIC (335kW/455hp 4,663cc turbo V8, 700Nm), AWD and nine-speed automatic
S 600 (390kW/530hp 5,980cc turbo V12, 830Nm).
Brabus has built the Mercedes-Maybach Pullman at its Bottrop works since December 2015, with the first deliveries in early 2016. This car had its world premiere at the Geneva motor show in March 2015, and there is also an armoured version. The Pullman has four face-to-face seats and a glass partition which can be darkened to give the passengers privacy from the driver.
With a length of 6,499mm, the Pullman is 1,053mm longer than the Mercedes-Maybach S-Class and at 1,598mm, it is more than 100mm higher than a Mercedes S-Class.
The V12 biturbo engine is the same 5,980cc unit as features in the Mercedes-Maybach S 680 (formerly S 600), with identical power and torque.
Daimler revealed facelifted and renamed variants at Auto Shanghai in April. The S 500 has become the S 560 and gains a new biturbo 4.0-litre V8. The S 600, meanwhile, retains its V12 but changes names to S 680 though this might only be in the Chinese market.
Mercedes-Maybach models are not expected to drop down into the territory occupied by the E-Class, though there could well be a further vehicle based on C257, the successor to the CLS-Class. This is speculative as it is equally likely that Daimler wants to keep cars for this sub-brand priced at super-luxury levels so as maintain demand and exclusivity.
Future model plan reports for other manufacturers can be viewed in the OEM product strategy summaries section of just-auto.com.
Future product program intelligence
Additional data on vehicle lifetime and future product plans, such as model codenames, are available in PLDB from QUBE.