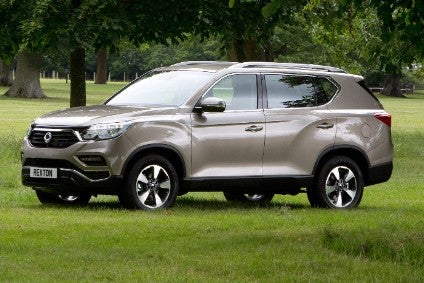 India's third largest vehicle maker by domestic sales volume is steadily moving away from cars, concentrating instead on crossovers and SUVs. The same strategy applies to SsangYong Motor in which it has a majority holding. The firms are also steadily working towards integrating not only powertrains and architectures, but are collaborating on EVs too.
Can M&M stay ahead of Tata?
Mahindra & Mahindra Ltd (M&M) is looking as though it will close the current financial year in robust style. During its fiscal third quarter ending 31 December, the Indian passenger vehicle market's number three brand saw its profit rise by 16.9% to Rs1,306 crore (US$196.31m).
The company is a major global force in tractor production but the Automobiles division has also been doing well, at least in its home country. In common with its rival Tata Motors, M&M needs to invest in replacements for multiple models plus add several more to avoid being outpaced by competitors.
Maruti Suzuki remains far and away India's number one car maker, having delivered exactly half of the more than three million vehicles sold there last year, which was a new record. Mahindra's registrations reached 222,168 units, enough to secure it third place ahead of Tata Motors' 179,071 sales. Equivalent numbers for Hyundai and Maruti were 531,170 and 1,602,522.
It may have been a good 2017 but the result for January should give M&M a wake up call: Tata is now seeing the benefits of its investment in replacements for so many of its aged models. While Mahindra remained in third position, Tata Motors got close, with sales surging by 55 per cent to 20,055 compared to M&M's 21,817 (+14 per cent).
There were only two Mahindra models in the top twenty, the Scorpio just scraping in, with 5,230 registrations.
The Bolero, a long-lived SUV, was the best selling Mahindra in January but unlike Tata Motors, the brand had no model in the Indian top ten, which was as ever, dominated by Maruti and Hyundai. There were only two Mahindra models in the top twenty, the Scorpio just scraping in, with 5,230 registrations.
Cars
The Verito and Verito Vibe are the only cars produced by Mahindra. The first of the two is a small sedan which dates to October 2007. Until 2011, this model was the Renault-Mahindra Logan. The ownership of a joint venture had originally been 51/49% in favour of Mahindra but Renault stated in April 2010 that it was selling its stake to M&M. The car continued to be sold as it was until the end of 2010 but changed branding and was shortened as part of its relaunch as a Mahindra in early 2011.
The Logan sold poorly. M&M for a time saw better results from the revised model, the Verito, which it announced in April 2011. A facelifted Verito went on sale in India in July 2012.
M&M launched the Verito Vibe, a hatchback, in June 2013. It is powered exclusively by a 1.5-litre Renault dCi (diesel) engine. This compact model was specifically developed to take advantage of a tax law in India which penalises cars longer than four metres.
Due to low sales, Mahindra stopped building the Vibe at the end of India's 2015-2016 financial year but the company insisted that this would be a temporary measure. Production did indeed restart but as sales have been so low, it is expected to cease later in 2018. Only 125 units combined of the Verito and Vibe were sold in January. No replacements are expected.
Minivans
The U321 project is said to be the Xylo replacement.
The Supro, a five- or eight-seater rival for the Maruti Omni and Maruri Eeco, went on sale in India during November 2015. It is an MPV based on the Maxitruck, a compact van. The standard engine is a 45hp 909cc two-cylinder diesel. Production is at M&M's Chakan plant near Pune.
The Supro will likely have a long life and may not be replaced until 2025 or later. There should be a facelift in 2019 or 2020.
The Xylo, another MPV, and what Mahindra initially called its 'Multi Utility Vehicle', was announced in April 2006. It went on sale in India in January 2009 as a rival for the Toyota Innova.
The Quanto, a small SUV that M&M launched in India in September 2012, was based on the same platform as the Xylo. Its replacement, the Nuvosport, also uses this platform.
M&M added a 2.2-litre diesel engine to the Xylo range for the Indian market in May 2013. Eighteen months later came a facelift. The U321 project is said to be the Xylo replacement.
S321 is the development code of a larger model. This will be a Toyota Innova rival. Another project, U321, is said to be related to this vehicle. It might be a variant with raised suspension and plastic add-ons for a mock-SUV look. The first of the two is due on sale in India within the next six to twelve months, although some sources now claim that U321 will come first and that it could be revealed soon.
Crossovers & SUVs
The second generation Nuvosport should appear in 2024.
The Nuvosport, a compact SUV, was announced by Mahindra in March 2016. This replacement for the Quanto is based on that model but features a new body and also represents a thorough re-engineering of the original. It will likely be facelifted in late 2019.
The second generation Nuvosport should appear in 2024. It will most likely use a Mahindra-SsangYong FWD-AWD architecture.
One size up, M&M has developed low-cost small SUVs in collaboration with SsangYong Motor engineers.
The first of the two, the KUV100, went on sale in the Indian market in January 2016. The name is pronounced 'KUV one double oh'. Its public debut was at February 2016's Delhi Auto Expo.
The proportions are unusual and another quirky touch is the ability to accommodate six people. This small crossover has two rows of seats but there is a fold-down additional one in the front.
The KUV100 is closely related to SsangYong's X100 project.
The KUV100 and the future S102 are closely related to SsangYong's X100 project, the codename for the Tivoli. Like the Tivoli and its Long version (Tivoli XLV/Tivoli Air), the Mahindra models should eventually be built in two lengths (standard and long, but the latter will not have a longer wheelbase), thus the two codenames.
There is some confusion over S102. It could be the case that M&M is developing multiple vehicle off the Tivoli's architecture, or instead that the S201 project is in fact the same as the S102. Speaking to the Indian media in July 2017, M&M's MD stated that another SUV will be released in "2018-19" and "It is codenamed the S201 and will be a 5-seater," Pawan Goenka said. An electric version of S201 is then due in late 2019. Some believe that S201 will be a slightly altered SsangYong Tivoli XLV. It should be on sale from the fourth quarter of this year.
A facelifted KUV100 was announced by M&M in October 2017. The replacement is due for release in 2023. It will use the same architecture.
The TUV300 (TUV Three Double O) is a larger model and fundamentally different in that it is a body on frame design. The "T" of TUV300 stand for "tough" and that reflects the aesthetic of the vehicle which has utilitarian styling said to be based upon a military tank. Production started in September 2015 at Chakan.
The standard engine for this compact 5+2-seater is a 1.5-litre diesel. An extended wheelbase derivative, said to be called TUV300 Plus, is reportedly under development. Unlike the standard body, this one will offer full-sized seats in the third row. It will succeed the Xylo.
There should be a facelift in 2019 and a second one in 2022. The TUV300 and TUV 300 Plus replacements aren't due until 2025.
One of Mahindra's best selling models is also one of its oldest.
The XUV500 is another crossover. It went on sale in India in October 2011 and introduced a front- and all-wheel drive platform. A prototype of an XUV500 Hybrid was revealed at the Delhi motor show in February 2014.
A facelifted model went on sale in India in May 2015 and another facelift is due in the second half of this year. The next XUV500 should use an update of the existing architecture and be launched in 2021.
Ironically, one of Mahindra's oldest models is also its best seller. The Bolero debuted in August 2001 and has sold solidly in the home market year in, year out. 'Invader' and (short wheelbase) 'Sportz' versions were added in September 2003, while exports to Europe started in December 2003. The first facelift was in March 2007. The next Bolero is said to be scheduled for release later in 2018.
The Scorpio, another SUV, is one of Mahindra's best sellers. The current model was revealed in India in September 2014. It was claimed to have been developed on a new body-on-frame architecture yet the model is obviously a major facelift of the former Scorpio, though the wheelbase is longer.
Configurations include 7, 8 or 9-seat variants as well as rear-wheel drive or four-wheel drive versions. As had been the case with the previous model, the Scorpio is sold in certain export markets as the Mahindra Goa.
In January 2016, Mahindra gave the Scorpio a new version of its mHawk diesel engine. This was in response to a ban on diesel vehicles over 2,000cc by the city of Delhi. The drop in capacity was achieved by reducing the stroke so that the cubic capacity could be 1.99l. It now develops 140bhp. The XUV500 also got this engine at the same time.
A facelifted Scorpio appeared in the Indian market in November 2017. There should be another facelift in early 2020. The next generation Scorpio will use a Mahindra-SsangYong ladder frame chassis and should be on sale in 2023.
The SsangYong Rexton model will likely become the XUV700 as a Mahindra.
The SsangYong Rexton was shown to the Indian public earlier this month at the New Delhi Auto Expo. M&M will market this SUV locally but it will have Mahindra badges, as it did at the motor show. The model name will likely be XUV700.
The Rexton will be assembled at a plant in India. This should take place from the fourth quarter of 2018.
Pick-ups
What started life badged as the Pik-Up had its debut in South Africa in February 2006 before going on sale in India three months later. Since renamed (Imperio), there are 4×2 and 4×4 versions as well as single and double cab versions of each.
An assembly operation in Brazil got underway in January 2008. Local firm Bramont-Montadora Industrial e Comercial de Veiculos put together the chassis, suspension and powertrain at its plant in Manaus, while the bodies were built by Usiminas group company, Usiparts. The deal was for 5,000 vehicles a year and both the Pik-Up and Scorpio SUVs were assembled. Following disappointing sales, assembly ended in March 2015.
Plans for the introduction of the Pik-Up into the US market, meanwhile, were set for April or May 2010 but in May 2010, it was announced that production of US-spec models would not start until that September. Back in January 2010, Pawan Goenka, president of the company's automotive division, had told Dow Jones Newswires that assembly of one or two models may eventually take place in the US at a Navistar International plant. In July 2012, Mahindra finally told the media that it had decided to abandon plans to enter the US market "for now".
In July 2013, Mahindra announced its intention to begin assembly of certain models by its Ghanain agent, Svani Motors, at a site in Accra.
The Imperio replacement is expected to be based upon the next generation Mahindra Scorpio/Goa although it could be that M&M will instead position a Mahindra-badged version of the new SsangYong Rexton Sports/Musso as an eventual Imperio successor. The SsangYong pick-up will be assembled at Mahindra's Chakan plant and it might initially be marketed as an additional model with higher pricing than the Imperio.
Electrified vehicles
The company is giving itself four years to reach the target of 60,000 electric vehicles per annum.
M&M's managing director Pawan Goenka stated earlier on 20 February that the company has set a goal to manufacture an eventual 5,000 EVs per month, a percentage of which will be sourced from a fresh plant. Goenka did not name the location for this factory. Mahindra is presently making around a combined 200 EVs a month at sites in Nasik, Pune and Bengaluru, he noted. The company is giving itself four years to reach the target of 60,000 electric vehicles per annum.
Hoping to improve air quality, India's federal government says it will ban combustion engines by 2030. Last year, a government agency ordered 10,000 EVs of which the majority are to be supplied by Tata Motors. Mahindra too will contribute to the order although its share may not exceed a four-figure number.
The e2o is arguably India's best known electric car. The name of the vehicle is pronounced 'ee to oh'. The e stands for the energy of the sun, and the o for oxygen.
A prototype of this three-door, four-seater EV had its world premiere at the Frankfurt motor show in September 2009 as the NXR concept. Production was set to commence during 2010, the then REVA claimed at the time. Another prototype, the NXG ('Next Generation'), was also revealed at the show.
In May 2010, 55% of REVA was acquired by Mahindra & Mahindra. The firm was immediately renamed Mahindra REVA and subsequently, Mahindra Electric.
The production model went on sale in India in March 2013. It is claimed to have a 104km/h top speed and a range of 160km. Recharging options vary from eight hours to 90 minutes. The e2o is built at Bommasandra in suburban Bengaluru (Bangalore).
The e2o does not have painted body panels; instead, these are impregnated with colour.
The e2o, which was styled by India's DC Design, does not have painted body panels; instead these are impregnated with colour. The advantages are that they are scratch resistant and will bounce back after impacts of up to 15km/h. It also means the Bommasandra plant can be termed environmentally friendly thanks to its lack of a paint shop.
A Sport variant had its world premiere at February 2016's New Delhi auto expo. This was followed by the e2o Plus which went on sale in India during October 2016. The Plus has two extra doors and a wheelbase stretched by 300mm. It is 310mm longer, 61mm wider and 25mm taller than the e2o.
Mahindra is expected to launch an e2o successor in 2023. Meanwhile, a facelift of the current model should take place later this year or in 2019.
The E-Verito is another electric model. It is a BEV version of the Verito small car. M&M launched this plug-in B-segment sedan in June 2015. Since then, it has sold in small numbers only. No successor is expected although the company will likely keep it in production for a further year or two in case of potential government fleet orders.
Mahindra Electric is developing several new electric models, once of which will be the eKUV100. This plug-in version of the KUV100 small SUV was revealed to the public as a prototype at the New Delhi auto expo in February. Production is due to commence in 2019.
Summary
Overall, Mahindra's Automotive division is in good shape but major investments are needed if the company wants to keep its number three position in the Indian market. The other major question is what it wants to do about exports if indeed it does intend to expand this side of the business. And while a future alliance with Ford Motor Company has been mentioned, investors will want to see some detail soon about specifics.
In theory, the Mahindra brand could, with assistance from SsangYong, one day be a powerful force in SUVs and crossovers. Strong enough to challenge Jeep, Haval and Land Rover? That remains to be seen.
Future model plan reports for other manufacturers can be viewed in the OEM product strategy summaries section of just-auto.com.
Future product program intelligence
More data on vehicle lifetime and future product plans is available in PLDB from QUBE.
The next brand to have its current and future passenger vehicles looked at will be SsangYong.