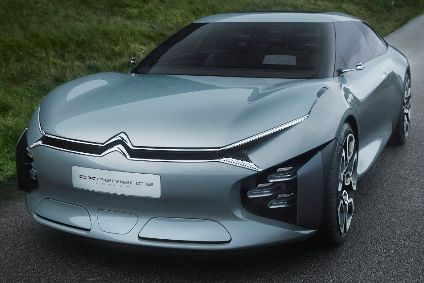 This is the second feature in a five-part series which examines the current and future models for PSA Group's passenger car brands. Following on from a look at DS, the focus now turns to Citroën. Peugeot, the subject of the final two chapters, will follow a second Citroën feature which looks at the brand's future SUVs, monospaces and electric vehicles.
A segment
Leaving aside the C-Zero, a small EV which will be looked at in the next feature, Citroën has only one model in the A segment. The second generation C1 had its world premiere at the Geneva motor show in March 2014.
Measuring 4.64m, it is 24mm longer than the old model, and slightly narrower as well as 150mm lower. Production began in May 2014 and European market sales from the following month. The Peugeot 108 and Toyota Aygo are built on the same production line in Czechia as the C1. All three are due for a facelift in 2018.
The model is also available with an 800m x 760mm roll-back soft-top. Like other C1s, the 'Airscape' can be ordered as a two-door or a four-door. In common with the original model, the current C1 has a glass panel to access the boot so technically speaking, is not a hatchback.
The 108, Aygo and C1 have a standard Toyota-supplied 1.0-litre three-cylinder petrol engine, but the Groupe PSA twins are also available with the French company's own 1.2-litre three-cylinder engine. Unlike the previous models, none is available with a diesel.
A potential crossover derivative might follow at the time of the C1's facelift. If so, it was potentially previewed by the Swiss & Me, a concept which premiered alongside the C1 at the 2014 Geneva motor show. The prototype featured big wheels, extended wheelarches and a centrally-exiting exhaust. There was a further concept, the Urban Ride, at the Paris motor show in October 2014.
Given how successful the partnership has been, the third generation C1 and 108 due in 2023 should again be a JV with Toyota Motor Europe. The cars need a fresh architecture: the current ones are based on Toyota NWC, a platform which dates as far back as the Vitz/Yaris which first appeared more than a decade ago. Production should remain at the Kolin plant in central Europe.
B segment
B618, the third generation C3, is manufactured at two European plants and should also be made at Porto Real in Brazil from next year. This five-door hatchback was shown to the media in June 2016 at a special event ahead of its public debut at the Paris motor show show. Developed on PSA's elderly PF1 platform, the new model sports an evolution of the larger C4 Cactus' Airbumps.
Linda Jackson, the CEO of Citroën, noted at the car's media launch that the latest C3 should continue to account for almost one in five of the brand's sales across Europe.
Available since the fourth quarter of 2016, this car has an especially distinctive front end, as Citroën attempts to turn back the clock to the days when its vehicles looked like nothing else on the road. The exterior comes with a standard two-tone effect and the buyer may select one of three colours for the roof, plus other choices for the foglamps, mirror surrounds, C pillar and Airbumps.
This had been expected to be the first car to use the 'upgraded low CO2 small car platform for Europe and other regions' which GM and PSA announced they were developing in October 2012. The next Peugeot 208, DS 3 and Opel/Vauxhall Adam should also have used this architecture. However, in October 2013, PSA said the "B-common platform project is under review" but provided no other details. Opel and PSA subsequently went their separate ways, with the former choosing to base its next generation B segment models on GM's Gamma 2.
PSA's PF1 platform was renamed for its use as the basis for the new C3, Citroën telling the media that the car uses 'Platform A'. This will not be the case for the Peugeot 208 and DS 3 successors, though. They will be based upon Groupe PSA's more modern CMP architecture.
In addition to featuring Airbumps on its doors, the other main novelty on the new C3 is the availability of Citroën ConnectedCam. This integrated and connected HD camera system films moments from a road trip for immediate sharing on social networks or for subsequent viewing (or as evidence in the event of an incident). Driver assistance systems include 3D connected navigation with speech recognition, reversing camera, lane departure alert, and blind spot monitoring.
Engines at launch were from PSA's PureTech and BlueHDi ranges, while the EAT6 latest-generation transmission also features. There's a choice of a three-cylinder petrol engine with various outputs: PureTech 68, 82 and 110 (Stop & Start). And there are two diesel powertrains: BlueHDi 75 (Stop & Start) and 100 (Stop & Start).
Later in its life, the C3 should be one of the first cars to be fitted with engines from PSA's DV-R family. The company stated in a September 2013 media release that these diesel units will enter production in 2017-2018, replacing the existing 1.4 and 1.6-litre engines.
The first DV-R 'production module' as Groupe PSA terms it, is at the Française de Mécanique facility in Douvrin in northern France. It will have an annual capacity of 640,000 engines. In 2018, a second production module with an identical capacity will be installed at the Trémery facility in eastern France.
The majority of European C3 production takes places at Trnava in Slovakia, with Poissy, which is west of Paris, providing additional build. The new car should have a stylish refresh in early 2020 and be replaced during the fourth quarter of 2023. There is, however, a chance that the fourth generation model might be brought forward to 2021 as this would allow most of Groupe PSA's B segment models to by then be based on the same CMP architecture.
A51, the second generation C3, is still manufactured but only in Brazil. The Porto Real plant in the state of Rio de Janeiro will likely switch over to build of B618 during the fourth quarter of 2018.
Another B segment car is the C-Elysée. This is one part of the M4 project and the twin of the Peugeot 301. The car's debut was at the Paris motor show in September 2012. Production began three months later. Both the 301 and the C-Elysée come down the same line at PSA's Vigo plant in Spain. These small sedans are rivals for the Dacia/Renault Logan. In Europe, sales are restricted to a handful of markets, mostly in the southern, eastern and central regions.
DPCA (Dongfeng Peugeot Citroën Automobiles) broke ground on its third vehicle plant in May 2011. The facility lifted the JV's production capacity from 450,000 to 750,000 vehicles in 2015. The current C-Elysée was Wuhan 3's first vehicle, production commencing there in July 2013. The Peugeot 301 was added in late 2013.
The current generation C-Elysée went on sale in China from September 2013, with the previous car continuing for a while as a cheaper alternative. A facelifted model premiered at the Guangzhou motor show in November 2016. There should be another makeover in 2018.
The C-Elysée might be the first vehicle for a forthcoming plant in Morocco, along with the Peugeot 301. Groupe PSA has not named the models that it will build there.
A media statement in June 2015 said the firm would "…build a plant in the commune of Ameur Seflia in Kenitra province, which will begin producing B and C segment engines and vehicles as from 2019, in order to meet the needs of the region and of Moroccan customers. Starting out with an initial production capacity of 90,000 engines and vehicles, the plant will ultimately raise output to 200,000 units in line with future market demand".
The next generation C-Elysée is due for release from the first quarter of 2020. It is expected to use CMP, a low-cost architecture co-developed by PSA and Dongfeng. The car, along with its Peugeot 301 twin, is likely to again be manufactured in China and Morocco. The second build location would probably replace production of the current model at Vigo in Spain.
Details of the future E-Elysée, a plug-in version of the C-Elysée, will be looked at in the second Citroën future models feature.
C segment
The B5 series first generation C4 has been in production for 12 years now but only the B53 sedan is still made.
The original C4 replaced the Xsara hatchback and wagon range. It went on sale across Europe in October 2004 in hatchback forms. The world premieres of both three- and five-door versions were at the Paris show in September 2004.
In most markets, the three-door car was known as the C4 Coupé, while the five-door was called C4 Hatchback. PSA added C4 assembly at its Russian plant in June 2010. Build of the C4 hatchback also started in Argentina in August 2008.
In China, where originally only the five-door was built and sold, this model was called 'C4-Quatre' as a five-door hatchback or C4-Quatre Sedan as a four-door. The sedan itself, which sat on a longer 2,710mm wheelbase, was originally made only in China. There it was called C-Triomphe from its introduction in February 2006 until a name change in April 2009. The same car has also been built in Argentina since 2007. It was also exported to Europe for a few years.
Returning to the Chinese-made cars, these were built as part of the DPCA joint venture. The five-door was announced in June 2008 and went on sale three months later. In China, the C4 name was not used by DPCA for this generation as many Chinese dislike the number four, which sounds like the word for death.
DPCA continued to update the C-Quatre range for many years. In November 2011 it added the C-Quatre Cross to its Chinese market line-up. This variant gained roof bars, a higher ride height and black plastic wheelarch mouldings to give it the appearance of a crossover. A facelifted variant of the C-Quatre followed in March 2012.
B7, the second generation C4, had its world premiere at the Paris motor show in September 2010, going on sale across Europe from early 2011. The C4 Coupé (three-door hatchback) was not replaced.
A new sedan, initially for the Chinese market, was announced in June 2012. This, the C4 L, is also the car which is CKD assembled in Russia. It went on sale in Brazil in September 2013 as the C4 Lounge and remains available there. The Lounge is made in Argentina.
Mulhouse (France) was the first plant for the C4. The C4 L entered production in China in late 2012, with CKD assembly at the PSA and Mitsubishi Motors JV facility in Kaluga (Russia) following in April 2013. Local sales commenced two months later.
A facelifted C4 was announced in December 2014. It had its world premiere at the Brussels show during the following month.
BZ3 is the model code for a related model, the C4 Shijia. This 4,588mm long sedan went on sale in China, its main market, during the fourth quarter of 2015. It replaced the C-Quatre and sits in the range above the C-Elysée and below the C4 L. Shijia can be translated into English as C-Quatre. The second generation C4 sedan should continue to be built in China and Argentina until 2019.
The third generation C4 is due to appear during the second half of 2017, most likely at the Paris motor show. It will use PSA's EMP2 platform. The five-door hatchback is not expected to be directly replaced but instead it should evolve into a crossover and a direct rival for the Nissan Qashqai and Renault Kadjar. C4 sales in France reflect the car's age, with January registrations numbering just 1,810 vehicles.
In June 2014, PSA announced that EMP2 architecture models would be built at its Mulhouse plant in France but did not name them. A replacement for the C4 is expected to be one of them, however.
China's Dongfeng Citroën JV should also have a successor for the C4 sedan but possibly not until 2019 or 2020 as it did not start selling its current C4 until the fourth quarter of 2015.
The new C4 might also be built in Iran by SAIPA and Groupe PSA. This JV was confirmed by the French firm in July 2016.
Expect a facelift for the next C4 in 2021 with its replacement due in 2024 based on an evolution of EMP.
D segment
The X7 series C5 is now quite an elderly car. It is but one example of how cost-cutting under Groupe PSA CEO Carlos Tavares has caused so much of the decline in Citroën's European sales. It would be shocking to learn that just 304 units of the car had been sold in France in January but the C5 has been a poor seller for quite a while now. This does seem to suggest that Groupe PSA will not be replacing this nine-year old model with a direct successor.
Unlike the first generation five-door hatchback, the current C5 is a four-door sedan and was the case previously, there is a wagon too. Intended to be a rival for the VW Passat, it was revealed to the press in October 2007 and had its public premiere at the Brussels show in January 2008.
The styling had been previewed by a four-door convertible concept at the Frankfurt motor show in September 2007. Unusually, both steel and hydropneumatic ('Hydractive 3 Plus') suspension systems have been offered with this car.
The C5 was also the first vehicle to be built at DPCA's second plant in Wuhan. Production started there in November 2009. In 2012, China overtook France to become the C5's largest market.
Citroën updated the range in Europe in November 2010, giving it Euro 5-compliant engines as well as darkened rear lamps and LED front lights. There was a minor facelift in July 2012. Its public debut was at the Moscow motor show in August 2012.
An additional variant, the C5 CrossTourer, was revealed at the Geneva motor show in March 2014. A rival for the Opel Insignia Country Tourer and Skoda Octavia Scout, it comes only with left-hand drive.
Two new diesel engines and a revised infotainment system were announced for the C5 in July 2015.
There is one production line at Rennes and all versions of the C5 plus all Peugeot 508 variants come down that line.
Despite the car's age, the DPCA joint venture will not be replacing it this year but instead, giving it another facelift. This model will have its world premiere at April's Shanghai motor show.
The third generation C5, which is said to be codenamed 'X8', had originally been expected to use a PSA platform but reports out of France in May 2012 claimed that the car would be made by Opel. That would logically have meant a shift to a GM platform and build at Rüsselsheim in Germany.
In October 2012, GM and PSA stated that a 'joint programme for mid-sized cars' would be one of four co-developed architectures to be launched 'by the end of 2016'. The likely PSA cars were the replacements for the Peugeot 508 and Citroën C5, and for Opel and Vauxhall, the second generation Insignia. However, in December 2012, PSA and GM issued a new statement concerning their alliance. In it, there was no longer any mention of large cars.
In January 2013, PSA announced EMP2, its platform for C- and D-segment vehicles. This will be the basis for the C5 replacement.
The new C5 will not be available with hydropneumatic suspension, thus ending more than sixty years of the technology's links to Citroën. It is believed that some kind of alternate system to provide some of the characteristics of hydropneumatic suspension will feature on the car.
In June 2015, Citroën CEO Linda Jackson said no decision had at that time been taken on whether or not the C5 replacement would be built in France. A car for China is, however, a definite. Abysmal sales of the current C5 across Europe mean a new model seems increasingly unlikely for the region.
As for the look of the next C5, some of the details may well have been previewed by the CXperience, a concept which is pictured above. Revealed at last year's Paris motor show, it was named after the D segment CX from the 1970s and 1980s. It would seem logical to make the new model more of a crossover than a sedan and wagon range.
Given that China's car is about to have yet another refresh, the next C5 will probably not now appear until late 2019 or even 2020.
E segment
X81 is DPCA's code for the C6, a 4.96m long sedan which is manufactured only in China. It is a rival for the Buick Lacrosse, Ford Taurus and Toyota Crown. Its public debut was at the Beijing motor show in April 2016 with sales beginning six months later. Exports to Europe are not expected.
Helping to make the business case for this model, R&D costs were shared with Dongfeng. The big sedan is closely based on the even longer Dongfeng Fengdu Aeolus Fengshen A9.
A facelifted C6 is due out in the second quarter of 2020 with the replacement model expected in late 2023. That car would be based upon an evolution of EMP2.
Summary
In both of what should be big markets for this brand, Citroën is in trouble. Last year, the Chinese market reached in excess of 28 million vehicles but the French marque's sales were down by 17 per cent to 248,509, ranking it 28th among all brands. Groupe PSA will say that the problem is a lack of SUVs and that multiple new models will eventually fix that yet this is not the full story. Many of the current cars are outdated and Chinese makes are undercutting most Citroën models.
On the face of it, selling 87,132 units of any car seems like a good result but this isn't really the case. That number is for the C-Elysée, the best selling model in China during 2016. Its total was only good enough to rank it in 89th place. Just 18,472 units of the C4 L were registered last year and that is a relatively fresh model.
In Europe, where numbers for January have just been released by ACEA, Citroën registrations rose at roughly half the rate of the total market's overall rise of 10 per cent. The main problem continues to be no B-SUV equivalent of the Peugeot 2008 and how long the new C3 took to arrive, though at least that car is off to a good start in France, where it was the seventh best seller last month. Across the region, the brand's total sales were 43,493 units, which was a year-on-year gain of 5.5 per cent. Market share fell to 3.9 per cent from 4.1 per cent a year ago. For CY2016, sales dipped by 1.4 per cent to 541,896 units, while the overall market was up by seven per cent.
As was the case with Fiat Group's policy following the Great Recession, Groupe PSA's management took the decision to preserve cash and delay spending on replacement and new models. The DS, Peugeot and Citroën brands are all now paying a high price for that, while trying to create a premium division from scratch using old former Citroëns isn't working. DS sales were down again in January across Europe, plunging by 33 per cent to a mere 3,776 units. Lexus sold 3,706 vehicles last month. DS will likely fall behind this imported brand in February. The DS 7 Crossback, a C segment SUV can't come soon enough but it won't be in dealerships until year-end and not until 2018 in the UK.
Rather than properly exploit the long history of Citroën by steadily making the brand a high-tech near-premium division, transaction prices for all models remain low and are often dramatically cut by dealers in so many countries. How else can they be expected to find customers for the elderly C4, C5 and other models? Despite the confusion created in buyers' minds about what DS is and how its invented heritage is in fact Citroën's heritage, things may well improve as the brand is given more SUVs: something which will be discussed in the next feature.
Future model plan reports for other manufacturers can be viewed in the OEM product strategy summaries section of just-auto.com.
Future product program intelligence
More data on vehicle lifetime and future product plans is available in PLDB from QUBE.