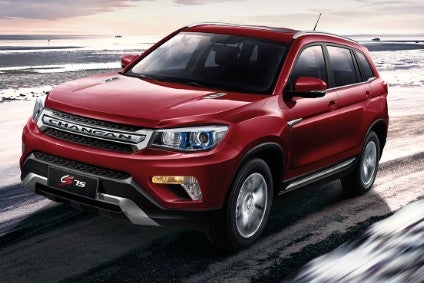 The parent company has been trading for 155 years, so Changan knows a thing or two about being successful in business. The automotive division has this year fallen prey to the ongoing surge in sales by Geely's Emgrand brand in China, recently losing its fifth place in that market. However, having sold 662,620 passenger vehicles so far in 2017, it is far from failing, especially as Changan remains ahead of the Nissan, Baojun, Haval and Ford brands.
Changan, Chang'An or ChangAn?
The name is meant to mean Lasting (Chang) Safety (An).
This state-run firm's name can sometimes cause confusion when written in the Roman alphabet. Changan, ChangAn, Chang'An or Chang'an all refer to the same vehicle manufacturer. The uncertainty arises from the firm's own inconsistency when it comes to referring to itself. The official reason is that the name is meant to mean Lasting (Chang) Safety (An).
LCVs and a JV with Groupe PSA
Changan Auto has several joint ventures with foreign OEMs, some performing far better than others. As for its own brands, these are Changan for passenger vehicles and Chana for light commercials. The latter are mainly mini-trucks, vans with seats and pick-ups. The Star Mini Truck is the best seller, with 67,095 delivered for the year to the end of August, but the Star Minibus (55,030) also does well. The aged Shenqi F-Series pick-up (6,743) is fading, though. It only just made the top 30 list for August.
The Shenqi F-Series will likely be replaced by a recently announced model which Changan is to co-develop with Groupe PSA on a fresh architecture. A one-tonne pick-up will be on sale "by 2020", manufactured by Changan at its Ding Zhou plant. This builds on the existing co-operation between the two firms (see below).
Although the model in question is termed an LCV, passenger versions are expected to follow. Oddly, the English language version of the original French media release translated "tonne" as "ton". No guidance has been issued by Groupe PSA over which brand or brands its version(s) of the pick-up will be. It is presumed that the LCVs architecture will be a body-on-frame design but this is not confirmed. For the Changan part of the venture, a range of Chana-branded commercial vehicles, including a potential dual-cab pick-up, is expected.
Passenger vehicle JVs: Ford, Mazda, Suzuki and DS
Of Changan's JVs, by far the most successful is the one with Ford Motor Company.
Of Changan's JVs, by far the most successful is the one with Ford Motor Company. For the moment, the American company's partnership is only for the blue oval brand. There are, however, rumours that Ford is talking to Changan and the relevant authorities about the possibility of producing Lincoln vehicles in the city of Chongqing. The current or next generation MKC would be a logical model to begin building in China.
Mazda is another partner of Changan's and this is a legacy of the Japanese company's former part ownership by Ford. The original JV involved production of Ford, Mazda and Volvo vehicles but this venture was split, with Volvo vehicles built in its own plants or Geely ones and Ford's made in Chongqing, Nanjing and Hangzhou by Changan Ford Automobiles (CFA). The factory in Hangzhou was only opened in 2015. It builds the Ford Edge as part of the CFA joint venture.
Changan Mazda is a smaller operation than CFA and yet it is a successful and growing one too. Manufacturing operations are based in the the city of Nanjing. The models built there were recently reported on in this feature. Changan Auto is not Mazda's only partner in China: the company also operates a JV with FAW.
The alliance between Suzuki Motor Corporation and Changan is a modestly sized one and is based at a plant in Chongqing. As noted in another recent report, its products are the Alivio and Vitara models, as well as the Beidouxing, which is an A segment hatchback based on an outmoded Wagon R.
CAPSA, a JV with Groupe PSA which builds DS models, has proved to be a disappointment.
CAPSA is the other JV. This one, which is with Groupe PSA, has proved to be a disappointment for both partners and is even more troubled than the Dongfeng Peugeot (1 Jan-31 Aug 2017 sales -33% to just 136,475) and Dongfeng Citroen (-63% to 57,103) ventures which Changan has nothing to do with. Instead, these are 50-50 ventures between its rival and PSA shareholder, Dongfeng Motor Corporation.
Four DS brand models are manufactured by CAPSA at a plant in Shenzhen (Guangdong province) but none of these vehicles has been a success. A mere 3,409 locally made DS vehicles have been registered in the eight months to the end of August. Among other European brands, only Fiat (a combined 2,033 locally made Ottimos and Viaggios) has had a worse year.
Changan and PSA stated in June that they would try to reinvigorate CAPSA. They certainly have a job ahead of them: the DS 6, the brand's only crossover/SUV, managed to find just 128 buyers in August. Registrations for the other models built at the CAPSA plant, which has an annual capacity of 300,000 vehicles, were even worse: DS 5 LS, 91 cars; DS 4S, 68 cars; and DS 5, 47 cars. There is a lot of pressure on the DS 7 Crossback to lift the brand's presence in this market once production commences in Shenzhen during 2018.
Cars
The Ben Ben is Changan's smallest model and so too is its sales volume (18,529 for the year to 31 August). The second generation of this 3,730mm long five-door hatchback had its global debut at November 2013's Guangzhou motor show. The new model entered Chinese showrooms in March 2014. The standard engine for the Ben Ben, which is also known as the BenBen or Benni, is a 1.4-litre petrol unit. A plug-in version is said to be under development. It may well appear to coincide with a round of updates due in early 2018. After this scheduled facelift, the Ben Ben 3 should be launched in 2021.
Not only the Ben Ben but a variety of other models use the Changan B2 architecture.
Not only the Ben Ben but a variety of other models use the Changan B2 architecture. The Yuexiang V3 is one such. This small sedan has been in production since 2012. Its replacement is likely due to be revealed in 2019. A facelifted car debuted at the Guanzhou motor show in November 2014. Like the Ben Ben, sales have been falling in recent times, with only 13,339 delivered to Chinese market customers over the first eight months.
Two years after the arrival of the V3, Changan added the larger (4,530mm long) Yuexiang V7. This C segment sedan, originally known as the Alsvin V7, was launched at the Chengdu motor show in August 2014 and went on sale locally three months later. It replaced the Yuexiang and has a standard 1.6-litre petrol engine. The V7 successor should appear in 2020. As for the performance of the current model, sales totalled 30,869 for 1 Jan-31 Aug.
In the C/D segment, Changan has the Eado, another sedan. This model started life as the Meirenyu (Mermaid or Sea Maiden), a concept which was exhibited at the Beijing motor show back in April 2010. The Eado was then revealed at the Frankfurt motor show in September 2011 in production form. The car would be sold in Europe from 2013, the company stated at the time, but obviously, this did not eventuate.
The 4,620mm long Eado sedan went on sale in China from March 2012, followed in August 2013 by the Zhishang XT which is a five-door hatchback version. Then came a plug-in Eado in March 2015, though this car has sold in only small volumes. An Eado PHEV, powered by the combination of a 1.0-litre petrol engine and one motor, will be added in 2018.
A new generation of the Eado family is set to be on sale from late 2019. Combined sales of the current Eado and Zhishang XT were 63,331 over the eight months to the end of August.
SUVs
Changan is having a lot of success with crossovers and SUVs, the smallest of which is the CS15. This model is only 4.1m long and was released in the Chinese market during April 2016. It is powered by a 79kW 1.6-litre four-cylinder petrol engine. A facelift is due in 2019 and a second generation CS15 in 2023. For the year to the end of August, Changan sold 45,408 units of the CS15 in China.
A fully electric CS15 is due to be revealed at the Guangzhou motor show in November.
A fully electric CS15 is due to be revealed at the Guangzhou motor show in November.
The larger CS35 is coming to the end of its lifecycle, having been launched five years ago this month. This model, which started out in near-prototype form as the E301 concept, had its global debut at the Beijing motor show in April 2012. It went on sale in China in October 2012, powered by a standard 1.6-litre four-cylinder engine. Registrations for the 1 Jan-31 Aug period number an impressive 86,548.
The next generation CS35 should appear in 2019.
The 4.5m long CS55 is Changan's C segment SUV. This model had its world premiere at the Shanghai motor show in April. Production had commenced during the previous month. Given how little time it has been available, home market registrations of 17,106 units is a decent result.
You could be forgiven for thinking that a model between the CS55 and CS75 would be called CS65. But no, the name is CX70. This 4.7m long seven-seat SUV has been available in China since April 2016. Changan sold 70,067 units of this model during the first eight months of 2017. Like other such models in the Changan line-up, production should take place over seven years, which would mean a facelift in 2019 and a second generation CX70 in 2023.
The CS75 isn't Changan's largest SUV but it is its most popular one. From 1 January to 31 August, home market deliveries reached 139,753. Changan revealed this model as a prototype at the Frankfurt motor show in September 2013. The vehicle, a D segment SUV that was engineered by Giugiaro, was launched in China in April 2014. The CS75 is 4,650mm long and so sits above the CS35 and competes with the Haval H6. Oddly, it is smaller than the CX70. A facelifted model should be on sale in 2018. A CS75 PHEV is also due out next year. Its powertrain is said to consist of a 1.8-litre petrol engine and two motors.
The CS75 replacement is expected to be in Chinese dealerships in 2021.
B301 was the development code for Changan's largest SUV yet, the CS95. Following its debut at the Beijing motor show in April 2016, this big SUV (4,949mm long) went on sale during March 2017. The CS95 is based upon the CS75 but longer and with the capacity to seat seven occupants. China is the vehicle's main global market. There, the CS95 competes with the Haval H8 and GAC Trumpchi GS8. Registrations over the first eight months of this year were 17,376. This is a good result, given that the XL-sized SUV class isn't (yet) a major one in China.
MPVs
When it comes to MPVs, people movers, minivans, call them what you will, Changan sometimes sells these under the Chana brand. Strictly speaking, this is a commercial vehicles division though certain passenger models can be Chana vehicles. The best seller is the Honor, a micro-van with seats, 71,073 examples of which were sold between January and August inclusive.
The Honor has been in production for almost six years; the successor should be revealed in 2019.
The Honor has been in production for almost six years now, so the successor should be revealed during 2019.
F102, which became the Chana Oushang, is a 4,465mm long minivan with a 2+3+2 seating layout. It was first seen as a prototype at the Shanghai motor show in April 2015 and went on sale in China during September 2016. There are two petrol engine choices: a 1.5-litre (DAM15B) and a 1.0-litre turbo (S10TDGI). Sales this year reached 50,093 over the first eight months. Chana should facelift this model in early 2021, although it may reveal an EV version before then. The second generation Oushang is due in 2024.
Yet another MPV is the Changan Linmax, also known as the Linxuan. It also has a twin, the Chana Oushang A800. Each is 4,730mm long and has seven seats. The standard engine is a 125hp 1.6-litre four-cylinder unit. Changan gave each model unique front and rear ends. Production commenced in March (2017). For the year to the end of August, sales volume is respectively 18,121 (Linmax/Linxuan) and 13,675 (Oushang A800).
The final model in this report is the Ouliwei. It is soon to go out of production after only four and a half years on the market, but sales have collapsed to only 1,849 over the first eight months. This tall five-door minivan is also known as the Eulove. The model's global debut was at the Guangzhou motor show in November 2012. The former Voss concept also gave an earlier preview of the vehicle. No replacement is expected.
Registrations data supplier: CAAM (September numbers were not yet available at the time of writing and publication)
Future model plan reports for other manufacturers can be viewed in the OEM product strategy summaries section of just-auto.com.
Future product program intelligence
Additional data on vehicle lifetime and future product plans, such as code names, production plants and expected annual build, are available in PLDB from QUBE.
The next make for just-auto's in-depth examination of current and future models will be Daihatsu, the first in a series that will include Toyota and Lexus as part of a review of what's ahead for Toyota Motor Corporation.