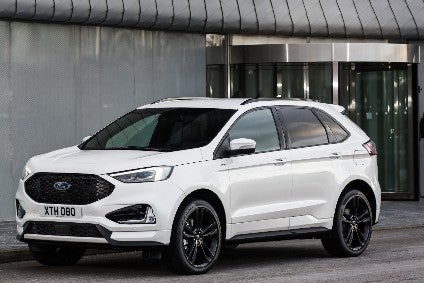 Ford has sold some 70,000 Edges in the US so far this year. Not bad for a model that's been in production since 2015 and which competes in a packed segment. This 4.8m long SUV has had a trickier time finding favour with European buyers though, which seems unfair given what is a first rate diesel powertrain.
Dual-diesel strategy
The Edge, which is manufactured in Canada and China, took a while to land in this region, Ford waiting until the second generation model arrived before then also applying a major powertrain change in the form of a four-cylinder diesel.
Ford of Europe originally offered the five-seat SUV with two versions of its 2.0-litre Duratorq TDCi. These had either 180PS and 400Nm or 210PS and 450Nm. With the arrival of a facelifted model in 2018 outputs changed to 110kW (150PS) and in some countries but not the UK, a (140KW) 190PS was also added. Bigger news was a far more powerful 1,995cc engine called EcoBlue. This produces 177kW (238PS) and a very welcome 500Nm of torque. It's also available with these outputs in other CD4 platform models such as the Galaxy and S-Max. Unlike those models, the Edge comes only with the diesel engines.
Five seats in a class of seven-seaters
In the US, this SUV chases the Jeep Grand Cherokee which somehow manages to keep its number one position despite being nine years old. Here, buyers shopping for a model of a similar size might also look at the Peugeot 5008, Kia Sorento, Hyundai Santa Fe, Renault Koleos, VW Tiguan Allspace, Volvo XC60 and/or Land Rover Discovery Sport.
The diesels are not available in North America. Instead, there are three petrol alternatives: a 2.0 four-cylinder EcoBoost as well as 2.7- and 3.5-litre V6s. All are linked to an eight-speed automatic.
Another version we miss out on in Britain and other European markets is the ST. A world premiere at last year's Detroit auto show and an addition for the USA's 2019 model year, it features tuned suspension, a modified automatic gearbox and a biturbo 2.7-litre V6 producing 335hp and 380 lb.-ft. of torque. The rest of the Edge range was facelifted for the 2019 model year a few months before Ford of Europe began imports of the similarly updated line-up.
A fifty thousand pound Ford
In Britain, instead of the ST, we have ST-Line as a trim level, along with Titanium, which is a high-spec entry level, plus the luxurious Vignale.
The car supplied for review had the 238PS version of the 2.0-litre diesel and came in Vignale form, its On The Road price being GBP46,035 and with options, GBP49,335. That might seem like a lot for a Ford but then remember how much people are willing to pay for Mustangs: more than GBP42,000 if it's got a V8 and six thousand on top of that before options for a Bullitt edition.
One of the main differences between the Edge made in Hangzhou by Changan Ford and the one made in Ontario is the lack of a seven-seat format for vehicles manufactured in Canada. Which is why ours doesn't have that layout. The Oakville plant also supplies all right-hand drive markets, which includes Australia. Some trivia: there, it's the Ford Endura due to Toyota having local ownership of the Edge name.
It's quite a sophisticated vehicle to drive, this. Even if you baulk at the price of a well-optioned version, it soon becomes apparent that the Vignale in 238PS and 500Nm form is, like a high-spec Tiguan, a borderline luxury vehicle. This model grade, along with ST-Line, comes with standard intelligent all-wheel drive and it's genuinely tricky to tell which is the primary driving axle. The rear driveline is automatically disconnected when sensors detect there being no need for its added push, to the benefit of fuel economy.
The lack of steering tug from what is a heavy SUV – 2,133kg with EcoBlue power – with a front-drive bias reminds you of the high standards that Ford set with this same platform when it launched the current Fusion back in 2012 and which was then tweaked for Europe's Mondeo three years later. Standard acceleration numbers aren't anything special, with 62mph taking 9.6 seconds but maximum speed is a respectable 134mph and the way the Edge devours motorways matters more anyway.
The vehicle's weight doesn't mean too much of a penalty when it comes to consumption, with the WLTP range being 34.4-41.5mpg. CO2 is 176g/km, again with the 238PS and 500Nm EcoBlue engine and 153g/km for the 150PS and 370Nm alternative. Due to the lack of standard all-wheel drive and other factors, the low-power Edge tips the scales at 2,011kg in its lightest model grade. Fuel economy isn't too different, being an official 38.2-42.4mpg.
As a family vehicle, the Edge has much to recommend it. Storage space is close to amazing: commodious door pockets all round, an extraordinarily deep box under the centre armrest which extends below the transmission selector dial, a big glove box, oodles of legroom in the back and a lot of space for up to three rear passengers. The icing on the cake is that the boot will take a vast amount of gear. All in all, this would be a superb continent-crosser. Sadly, Ford stated recently that it would be phasing out the Edge in the UK market, which is a great shame. It may return in the 2020s in next generation form though; who knows.
Third generation model
We still have no confirmation that the the next Edge will be built in southern Ontario. The 66 year old Oakville factory was the lead plant for the first and second generation models. It also makes the Lincoln Nautilus.
The earliest that the Edge mark three could arrive is 2021. As the existing vehicle has only been around since 2015, it might come later than that. The first generation was manufactured for more than nine years.
As for build in China, that too seems likely but not guaranteed due to Ford's Changan joint venture being right now in a world of sales trouble. Will the company play the long game and keep investing? No doubt it depends on what happens in the Chinese market's D-SUV segment.
The next Edge will – wherever it ends up being built – use the C2 architecture as introduced by the fourth generation Focus. The development codename is said to be CDX706. There should also be a petrol hybrid and, as could be the case for the larger Explorer from later this year, European countries might instead gain a plug-in hybrid.