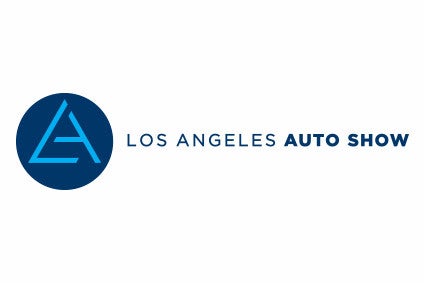 Vehicles which made their global debuts at the 2018 LA Auto Show are named below.
Information on the majority of the following models can be found by searching PLDB, just-auto's global vehicle database. Simply click on the link at the end of this list.
Audi e-tron GT concept: a 4.96m long preview of the rival Audi is developing for the Tesla Model S and which is due out in 2020, power is quoted as 434kW (590hp)
Audi R8 facelift: V10 quattro's outputs rise to 419kW (formerly 397kW) and 550Nm (540Nm), and the former V10 plus quattro becomes the V10 performance quattro with outputs rising to 456kW (449kW) and 580Nm (560Nm)
BMW 8 Series Convertible: will be offered with the same engines as the Coupé, the international "market launch" commences in March says BMW
BMW iNext concept: the media was shown this electric crossover in September so this is its public debut
BMW M340i & M340i xDrive: powered by a new turbocharged 275kW/374hp 3.0-litre six-cylinder engine with peak torque of 500Nm (369 lb-ft)
BMW X7: first versions of this big SUV are the xDrive30d, xDrive40i, xDrive50d and xDrive50i
Honda Passport: the model name is being revived for an SUV which is a shorter version of the Alabama-built Passport but with its own body, has standard 280hp V6
Hyundai Palisade: large front- and all-wheel drive SUV, closely related to the (US-made) Kia Telluride although the Hyundai will be built at one of HMG's Ulsan plants
Jeep Gladiator: Wrangler-based crew cab pick-up, available from Q2 for 2020 model year, soft top or hardtop, 3.6-litre V6 at first and a 3.0-litre diesel from 2020
Kia Soul: the USA is easily the world's largest market for the existing Soul so a California debut makes sense, car is two inches longer and wheelbase grows by an inch
Kia Soul EV: in US spec at least, it has the same 64kWh battery pack as the Niro EV, outputs are claimed to be 201hp and 201 lb-ft
Lincoln Aviator: this pre-production model follows the debut of a prototype earlier this year, has a 400hp and 400 lb-ft biturbo 3.0-litre V6, will be built in Chicago
Lincoln Aviator Grand Touring: also new for the 2020 model year, this variant is a plug-in hybrid and has outputs of 450hp and 600 lb-ft
Mazda3 sedan and five-door: first vehicle for Skyactiv-Vehicle Architecture which forms the basis of most future self-developed FWD/AWD Mazdas
Mercedes-AMG GT Coupe & Roadster facelifts: "modifications to the exterior and interior that emphasise the close relationship to the 4-door AMG GT Coupé"
Mercedes-AMG GTR PRO: AMG says "[this] limited-edition model was modified in numerous details to deliver even more racetrack performance"
Mercedes-Benz GLE 350 & GLE 350 4MATIC: each powered by a 255hp 2.0-litre petrol turbo engine
Nissan Maxima facelift: updated for the 2019 model year, engine remains a 300hp 3.5-litre V6
Nissan Murano facelift: another model which gains fresh styling for the 2019 model year, engine remains a 260hp 3.5-litre V6 connected to a standard CVT
Porsche 911: 992 series shape has pop-out door handles, 331kW (450PS) biturbo 2,981cc H6 engines and a new eight-speed PDK dual clutch gearbox
Porsche 911 GT2 RS Clubsport: not part of the new-shape range but instead the last variant of the previous 911 line-up, this racing-spec car has 515kW (700PS)
Porsche Panamera GTS & Panamera Sport Turismo GTS: powered by a 338kW (460hp) and 620Nm biturbo 4.0-litre V8
Rivian R1S: 5m long seven-seat electric SUV and will be manufactured at the former Mitsubishi plant in Illinois from 2020 some months after R1T production starts
Rivian R1T: 5.4m long electric four-door pick-up, has a front boot and a 'gear tunnel' under the load bed for golf clubs or a surfboard, production set to begin in 2020
Subaru Crosstrek Hybrid: illogical name as it's a PHEV, combines a 2.0-litre engine with two motors, has a maximum range on electricity of just 17 miles
Toyota Prius facelift: electric all-wheel drive is also newly available in North America for the first time
Volkswagen I.D. Buzz Cargo concept: seen already in Hanover at the IAA commercial vehicles show back in September but it has been "reimagined in LA as a support vehicle for the I.D. R Pikes Peak record holder" (stickers on its sides)
Future product program intelligence
Get more data on vehicle lifetime and future product plans with PLDB from QUBE.