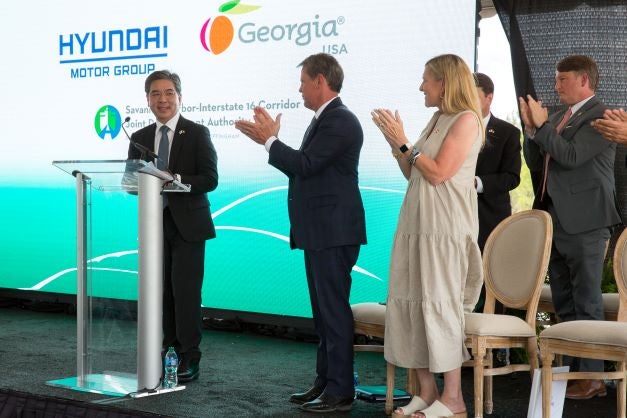 Hyundai Motor Group (HMG) said at the weekend it would spend US$5.54bn to build its first dedicated electric vehicle (EV) plant and battery manufacturing facility in Brian County in Georgia.
As previously reported by Just-Auto, a formal announcement on the investment was delayed so it could be timed with US President Joe Biden's visit to South Korea at the weekend.
The official signing ceremony actually took place earlier in the month in Bryan County.
Hyundai said the investment was designed to put HMG, which includes both Hyundai Motor and Kia Corporation, on track to becoming a "leader in electric mobility in the US market".
Hyundai said construction of the new EV plant would begin early in 2023 with production scheduled for the first half of 2025. The factory, with annual capacity for 300,000 units, would produce "a wide range of EVs".
The battery factory would be built by a joint venture, thought to be with South Korea's SK On, which would "establish a stable supply chain and build a healthy EV ecosystem in the US".
Both plants would be built on a dedicated 2,923 acre site with immediate access to major highways and close to metropolitan areas. The site is also less than 30 miles (50km) from the Port of Savannah which the company said was the largest and fastest growing container terminal in the US.
Hyundai said it would build an "intelligent manufacturing plant in Georgia with all processes, from order collection, procurement, logistics to production, to be optimised using artificial intelligence (AI) and data.
Innovative manufacturing systems would help create a "human-centered work environment with robots assisting human workers".
The said: "The new plant will boast a highly connected, automated and flexible manufacturing system.
"We plan to implement much of its advanced intelligent manufacturing technology which is currently under development at the Hyundai Motor Group Innovation Center in Singapore."
The EV and battery plants are part of a larger US$10.5bn US investment programme to be implemented by the automaker by 2025 which includes development of advanced technology such as autonomous driving, robotics, urban air mobility and artificial intelligence in ventures with local companies.
The automaker said the overall investment would "foster future mobility including production of EVs and smart mobility".
Hyundai acquired US-based robotics firm Boston Dynamics in June last year for US$900m.
Earlier this month, HMG said it was targeting annual EV sales of 3.23 million units globally by 2030.
Chairman Jaehoon Chang said: "We decided to build our first dedicated EV plant in the US because America embraces change and drives innovation. This new plant is the future of our business and it will help us meet the growing demands of our US customers who want leading edge design and safe, zero-emission vehicles."
Kia has an assembly plant in Georgia and there is a Hyundai car factory in Alabama.