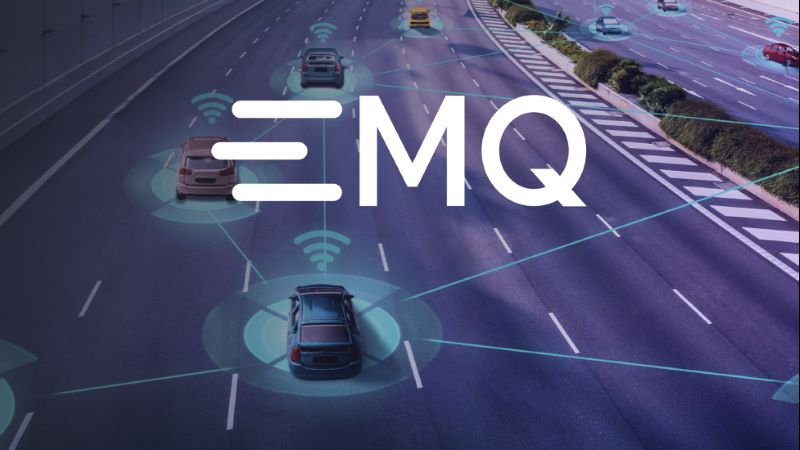 EMQ is the world's leading software provider of open-source Internet of Things (IoT) data infrastructure. Using one-stop, cloud-native products, the company is dedicated to empowering future-proof IoT applications that connect, move, process, and analyse real-time IoT data across edge, cloud, and multi-cloud systems. Its IoT infrastructure software helps to connect people, vehicles, and roads to the cloud for reliable and improved networking.
Vehicle connectivity and autonomous driving
The different applications of driverless cars and driver assistance systems are becoming more widely recognised and these new systems are driving intelligence and innovation within the automotive industry. Connected vehicles are now more intelligent than ever before and communication systems are becoming increasingly complex.
Within a vehicle, components such as in-vehicle sensors, actuators, controllers, and in-vehicle system modules must all be coordinated to form a cohesive system that allows for environmental perception, complex control functions, and intelligent decision-making features. This level of connectivity means that more demand is being placed on large-scale automotive networks and mobile networking. As a result, traditional vehicle-to-everything (V2X) networks are evolving into the Internet of Vehicles (IoV). This new communication network allows people, vehicles, and other infrastructure components to stay connected and share important information. Successful communication and reliable connectivity are vital for the future success of autonomous systems and autonomous vehicles.
Open-source message queuing telemetry transport platforms
Connectivity is becoming the primary focus within the automotive industry, as services increase and the demand for vehicle data grows stronger. Electrification is also more prevalent and, as the automobile industry switches from fossil fuels to more sustainable energy sources, electric vehicles and electrified architecture are both becoming increasingly important. Electrification is essential for intelligence and connected vehicles, and the management and control of vehicle components is vitally important. As a result, some networks struggle to keep up with the growing usage. To address this issue, EMQ created its core product, EMQX, the world's most scalable and reliable open-source message queuing telemetry transport (MQTT) platform. EMQX provides users with an IoT infrastructure solution for a range of different applications, including autonomous driving, networking, and V2X connectivity. The platform can be used by vehicle manufacturers, suppliers, travel service businesses, and after market service providers.
EMQX supports 100 million concurrent IoT device connections per cluster while maintaining a throughput of one million messages per second, with a sub-millisecond latency. It hosts over 20,000 enterprise users, connects more than 100 million IoT devices, and is trusted by over 400 customers in mission critical IoT scenarios. It also provides users with reliable messaging services, even in challenging network conditions. EMQX offers many benefits for connected vehicles and some of its users include well-known brands, such as HPE, VMware, Verifone, SAIC Volkswagen, and Ericsson.
With EMQX, users will be able to use multiple protocol access, which allows large vehicle TBox connections to be linked via diverse protocols. The system uses front- and back-end separation, as well as asynchronous, distributed cluster architecture, to provide improved support and access to IoV protocols, including MQTT, GB/T32960, and JT/T808.
EMQ's systems can be used to connect road-side infrastructure, such as cameras, laser radars, and millimetre wave (MMW) radars, to support cooperative vehicle infrastructure systems (CVIS). Using cloud technology, EMQX can coordinate road-side infrastructure, in-vehicle units, and other applications to facilitate information exchange as part of the V2X network.
EMQ also uses the Erland/OTP platform for concurrent data exchange. Autonomous driving and connected vehicle networks require accurate and real-time data exchanges to operate successfully, so the low latency and real-time capabilities of the Erlang/OTP platform make it ideal for IoV applications.
For maximum security, EMQX uses an extensive authentication and authorisation chain that supports authentication through external or internal databases, third-party platforms, or certificates. It also supports bi-directional certificate authentication and transport layer security/datagram transport layer security for added data protection.
The distributed cluster architecture used by EMQ facilitates horizontal expansion and network growth. The system supports automatic node discovery, automatic clustering, automatic removal of downed nodes, and recovery following a network partition. In addition, the layered and modular design can be used for multi-language extension, creating an easy-to-expand architecture that is reliable and interconnected.
Digitising automotive manufacturing
To improve efficiency and reduce operating costs, an increasing number of businesses within the automotive manufacturing industry are adopting digital technologies to transform manufacturing and production processes. New IT solutions and IoT technologies are now being used to collect and analyse data to optimise production, predict when maintenance will be required, or detect faults. The data can also be used to improve the quality of products and tailor them to meet specific customer requirements, which can lead to a competitive advantage.
EMQ provides Industrial Internet of Things (IIoT) solutions to help businesses with the digital transformation of the automotive manufacturing industry. These solutions can be used to collect data from heterogeneous industrial equipment, which can then be analysed by using the eKuiper streaming process engine. Using structured query language-based data processing provides real-time data responses while also reducing cloud-side transmission costs.
About EMQ
EMQ's global research and development centre is located in Stockholm, Sweden. It has over ten offices throughout the Americas, Europe, and the Asia-Pacific region. Over 200,000 customers across more than 50 countries and regions use EMQ's systems to collect, generate, and analyse valuable data.