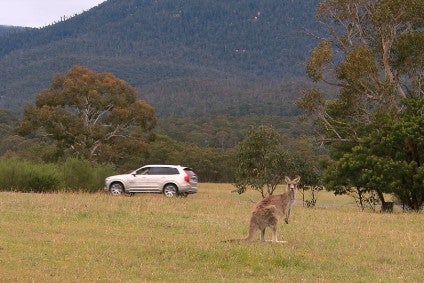 Something a bit out of the ordinary always draws the eyeballs so this yarn from Australia (via our own in-house Australian) proved popular this week. Apparently a little local difficulty with autonomous Volvos not being able to spot a kangaroo mid-jump. Given the damage a 'roo can do to a vehicle, they better get this one fixed or autonomous crossings of the Outback could be a bit perilous. Hailing from the other side of the Tasman, I look forward to reports of how autonomous cars will cope with the occasional, droving season country hazard of rounding a corner and running into 5,000 sheep. What will the sensors make of dozens of huge merinos brushing past them?
Moving on to items a little more serious, we had some analysis of Takata's future Under New Management (the toxic airbag bit and attendant liabilities have been ringfenced a la 'old GM') and took a look at how Lotus might fare under yet another owner.
This week, I was in a sparsely populated part of northern Spain to try Ford Europe's gadget-laden (if you tick enough boxes on the order form) redesigned Fiesta which, despite some misgivings over steering by a few young hoons (like your granny will be provoking terminal understeer or seeing how the tail kicks out if you cut the power), seemed to be largely warmly received by the attendant UK media. While most roared around in the stiffer and sharper ST-Line versions, a few drawing EUR100 a time 'chats' with credit card machine-toting local Gardia Civil, I was content to potter about mostly in standard-suspension, EcoBoost I3 models (a whole one litre but nippier than you'd think), playing with the tech. There are up to 15 'driver aids' and the story is now partly how these items, now migrated down to Fiesta, have improved in these latest iterations. For example, Ford claims traffic sign recognition extended to digital overhead gantry signs on what are, in England, called 'managed motorways'. And, as I learned, getting that to work across Europe isn't as easy as you think. An almost unheralded change: the sometimes troublesome Ford-Getrag dual clutch automatic has been replaced by a six-speed torque converter unit. For what one insider called the "less than one percent" who want it. I guess I'd be 'Special Order For Mr Less Than 1%'.
Speaking of Ford, Our Man in Brazil had news this week of a new, 1.5-litre Ford EcoBoost I3 for the updated EcoSport produced there. In the bizarre world of auto industry logistics, this initially comes from India where it's made, but, not yet, stuffed into a local Ford product. Brazil gets flex fuel but a turbo is on the way and I believe this, in 200PS boy racer tune, is destined for the 2018 European Fiesta ST. As is a Brazil-style, higher riding, pseudo-sporty Active version I reckon will also appeal to stiff-jointed older buyers wanting a higher hip point for easier entry and exit.
There have been reports in India Tata Motors may list its JLR cash cow but these so far have been denied, officially. Which reminds me Jaguar delivered on its 300PS petrol Ingenium engine promise. Not a bad output for an I4. The news had me wondering what the late Sir William Lyons, he of that jewel of a twin-cam six, might make of all this eco-influenced downsizing. I reckon he'd mourn the passing of his straight six but be very impressed with the engineering now squeezing so much 'clean' power out of such a small displacement.
Have a nice weekend.
Graeme Roberts, Deputy Editor, just-auto.com