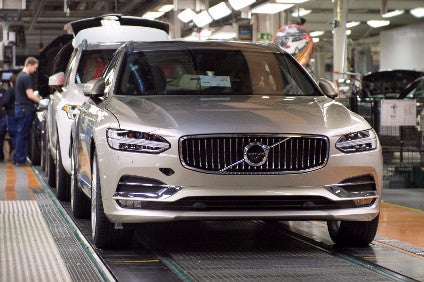 Geely owned Volvo's apparently deliberately vague attempt to update the world on its 'electrification' plans attracted a lot of just-auto reader eyeballs this week as well as numerous newspaper and website headlines about the company going all-electric. Sure, eventually combustion engines will be phased out and battery powered electric motors in but it might be worth noting that 'mild hybrid' can be defined as a glorified alternator or stop-start system. Pioneers of proper hybrid tech – like Toyota – can rest a little easier – me-too Volvo (its PHEVs with diesel or petrol ICEs are good) is not re-inventing the wheel. We decided a little reality check might be in order and our QUBE product chief, Calum MacRae, ran his experienced analyst's eye over the claims to sort fact from fiction.
Editor Dave Leggett returned from Frost & Sullivan's Intelligent Mobility 2017 event with some interesting takes to tell such as how the poor reputation of diesel (take a bow, VW emissions test fiddles; NOx emissions; London traffic fumes) is among the factors at work that will help to boost electric vehicle sales in Europe over the next five years. He also heard, again from Nissan, about fifth generation mobile (cell) networks – 5G – will be a game changer for autonomous driving (AD) technologies when they arrive in 2020. Meanwhile, Facebook's head of automotive strategy told delegates in London the social media platform 'is in a good position' to help the auto industry in a number of areas and not only digital marketing.
Barely a day goes by without some automaker using the word 'mobility' and we learned this week of some interesting customer feedback which has prompted Toyota to re-think its strategy.
Our components and eastern Europe specialist, Simon Warburton, reported this week from the CLEPA conference with news of European Commission lobbying, a post-Brexit wish list and urging regulators not to demonise cars in the search for cleaner, er, mobility.
We also heard from BMW on the issues surrounding Mini EV factory location selection and Mercedes showed off a successful trial of self-loading freight – new car autonomously finds its way 1.5km from line-off to storage area. I like the idea of the car driving itself from the line to the customer's home but what about the PDI check and registration process? Guess they'll figure that out, too.
Have a nice weekend.
Graeme Roberts, Deputy Editor, just-auto.com