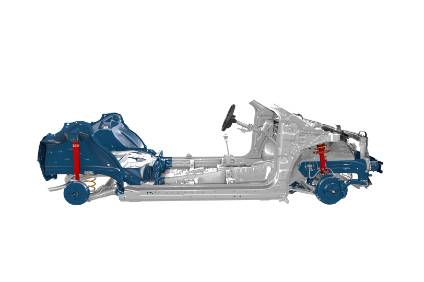 Toyota has confirmed that it will produce an A-segment city car based on its TNGA-B architecture for European buyers. It will be the third compact TNGA-B model after the B-segment Yaris launched in 2020 and similar Yaris Cross SUV due later in 2021. The new model could get a new name, but it will probably keep the Aygo nameplate that's been on sale in Europe for two generations alongside the badge-engineered Citroen C1 and Peugeot 108.
This commitment from Toyota is notable because the A-segment has been under pressure in Europe. GlobalData figures show A-segment vehicles accounted for 6.3% of production in Europe in 2012 but this had dropped to 4.5% by 2020. In comparison, SUV share of vehicle production grew from 16.7% to 33.5% over the same period. The predominant challenge for A-segment vehicles is profitability – they are typically the lowest priced models on sale with the smallest per-unit margin, so strong sales figures are needed for a meaningful return.
In addition, A-segment vehicles as an affordable form of transport faced pressure from the pre-COVID growth of the ride-hail and car-sharing industry, along with the demotorization trend seen among younger people who are increasingly working from home and opting for home delivery over in-person retail. Plus, from a consumer perspective, A-segment vehicles lack the kind of utility offered by the increasing number of compact SUV options on sale.
The COVID-19 pandemic could present an opportunity for the A-segment.
However, the COVID-19 pandemic could present an opportunity for the A-segment. Consumers have become increasingly aware of the infection risk posed by shared vehicles used by ride-hail and car-sharing networks, with usership of those services declining significantly throughout 2020 – Uber noted in its 2020 results that gross bookings for its ride-hail mobility products dropped 47% compared with 2019. As fewer people make use of shared mobility, some may opt for cheap, 'no-frills' personal transportation as a safer alternative – a market that could be served by Toyota's A-segment offering.
The new model is due to be built at Toyota's existing Kolin facility in the Czech Republic. This was previously a joint site for manufacturing the Toyota Aygo, Peugeot 108 and Citroen C1 however, in 2018, Toyota took sole ownership over the facility. With production of the second-generation badge-engineered Toyota/Citroen/Peugeot trio coming to an end, Toyota now has capacity at the plant to devote to a new model based on the TNGA-B platform. Labour and manufacturing costs in the Czech Republic are somewhat lower than West European nations, improving the profitability of the new A-segment model.
Toyota is well placed to take advantage of the gap in the European A-segment. Rivals including Renault, Ford and Opel/Vauxhall have all abandoned the A segment due to the lower profit potential and the pressure to meet weight-adjusted fleet CO2 targets. A-segment cars are typically lightweight so face the strictest CO2 targets but, with tight profit margins, aren't suitable for the greater per-unit cost of an emissions-free electrified powertrain. Toyota's mostly hybridised lineup means it could address the A-segment niche with a combustion-powered model without straying above its fleet CO2 target.