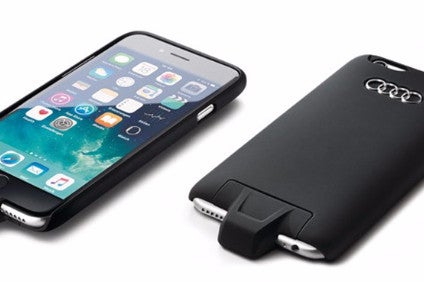 I was rather intrigued to see our story about Audi introducing a new wireless charging case for the popular iPhone 6/6S (iPhone 7 will be announced 7 September and go on sale 23 September, the techie media reckon) was the 'most-read' on just-auto this week. I've yet to try wireless phone charging though there was a recharging pad in both the latest Toyota Prius and Lexus RX450h I drove recently (my Android phone is too old and my work iPhone is not equipped). Wireless charging is nothing new, of course, as long-loyal Oral B electric toothbrush owners like me know, and a cordless recharge – via buried strips in roadways – is a long dreamed-of utopia of electric vehicle makers and owners. It'll come. One day…
Moving away from hand-held wireless gadgets back to auto, we had an intriguing look at what Tesla might make if it builds an electric truck after Elon Musk wrote in his Master Plan, Part Deux, that future electric models would include a full-sized truck. He promised that it would "deliver a substantial reduction in the cost of cargo transport" as well as being safer and "really fun to operate". Bring it on.
Still with Tesla, there has been a degree of rewording of its Chinese website in the wake of a recent 'autopilot'-related crash there. The automaker reportedly has removed the word 'autopilot' and a Chinese term for 'self-driving' from its China website after a driver in Beijing who crashed in 'autopilot' mode complained that the car maker overplayed the function's capability and misled buyers. The Tesla driver crashed earlier this month while on a Beijing commuter highway after the car failed to avoid a vehicle parked on the left side, partially in the roadway, damaging both cars but causing no injuries. It was the first known such crash in China.
None of Tesla's troubles have deterred Ford which has painted a target around its California-based rival with the bold announcement this week it plans to have a high-volume, fully autonomous SAE level 4-capable vehicle in commercial operation in 2021 in a ride-hailing or ride-sharing service. It said it was investing in or collaborating with four startups to enhance its autonomous vehicle development, doubling its Silicon Valley team and more than doubling its Palo Alto campus (more or less in Tesla's back yard).
We continued our series of Research Snapshots (highlighting research available from our QUBE portfolio); this one's on lightweighting.
Volkswagen's alleged emissions test cheating was in the news again this week following the latest US court filing – by lawyers for US VW owners – which alleges supplier Robert Bosch began playing a key role in developing VW AG's emission-cheating technology as early as the late 1990s. Bosch was an "active participant in a massive, decade-long conspiracy with VW," the lawyers reportedly said. The 722-page court filing is an extraordinary document and makes serious allegations against the automaker, supplier and a long list of top executives of both, some of whom have now departed VW. This will all run for a while yet as a US district court judge will rule later this year on VW's final settlement with the federal government and 44 individual states. And then there's the potential for lawsuits here in Europe, where most of the allegedly 'rigged' cars were sold.
Have a nice weekend.
Graeme Roberts, Deputy Editor, just-auto.com