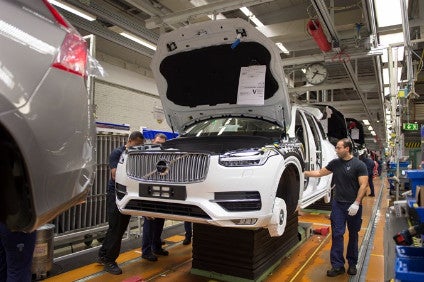 News that Geely-owned Volvo Cars had made first quarter earnings gains thanks to strong sales of its recently launched, and high margin, XC90 luxury SUV drew a lot of just-auto reader eyeballs this week. Thus proving my long-held theory that new product, and lots of it, usually leads to profits. Volvo has continued the new model roll with the S90/V90 and there's more to come – I'm off to Sweden next week to learn more about the products we can expect on the new CMA architecture co-developed with Geely.
Volvo said operating profit for the first three months of the year increased to SEK3.1bn (from a year-ago loss of SEK11m) and the operating profit margin reached 7.5%, as sales improved in Europe, Asia and the US. Global retail sales between January and March rose 11.9% to 120,591 units while net revenue increased to SEK41.7bn, up an impressive 24% compared to last year.
BMW also reported a healthy Q1 result but operating profit (EBIT) was down slightly on last year due to currency headwinds and higher costs. Net profit was up by 8.2% and auto sales were up 5.9% to a new Q1 record of 557,605 units. But, although sales volume in units was up, revenues were slightly down. Mixed.
News of a new 94Ah battery in place of the original 60Ah unit for the BMW i3 BEV and REX models also attracted lots of reader interest this week. I rather enjoyed a comment on our Facebook post from a motor noter I've known for years in New Zealand, where a rather controversial EV 'push' is going on at the moment: "Joy". In a rather spaced-out country, every Ah counts.
We've been carrying a lot of plant spending news lately and this week was no exception – Mercedes announced it was allocating EUR580m (US$672m) to its plant in Kecskemét, Hungary, to produce the next generation of compact cars. In addition to a new body shop, the cash injection would see capacity expanded.
An intriguing story arrived from the insurance industry which reckons autonomous cars will shake it up a bit and FCA and Google announced plans to collaborate on self-drivers using the new Chrysler Pacifica minivan as a test bed.
We have also noticed that more people in the industry are thinking seriously about the consequences for the UK's auto sector of the upcoming UK national vote on whether to stay in the EU or not. This thoughtful piece captures some of the flavour of the discussions taking place, plenty of uncertainties at the moment – not least over the likely outcome of the vote itself; it looks very finely balanced judging by the opinion polls. We're also going to participate in a discussion panel on this subject at an upcoming LMC Automotive forecasting event. Hopefully, the likely real impacts on the auto sector will start to become clearer as the vote nears. Whatever happens, the voters will have their say and the world will continue to spin on its axis.
Finally, Ford's been busy on the new product front, getting ready to launch the right hand drive Edge SUV here in UK and other markets, and also a new, 10-speed automatic gearbox for the 2017 F-150; this transmission was another collaboration with GM.
Have a nice weekend.
Graeme Roberts, Deputy Editor, just-auto.com