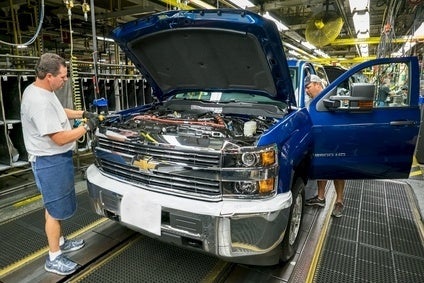 Whenever I hear the word Flint I always think of a certain Michael Moore, native of that Michigan city, and his movie Roger & Me about the closure of a vast swathe of factories that once made up General Motors' Buick City.
I've never been to Flint so, resorting to Google Earth, whose Streetview images are almost four years out of date, I see only a vast tract of cleared land with traces of building foundations, employee parking lots and driveways that once led to administrative offices and warehouses. Even the odd deserted park. A bit depressing. Not a vehicle or person in sight on the surrounding roads, either. But GM's still in Flint. Scroll down a bit and there's another large site, some of it cleared of some buildings to be sure, but still clean and tidy and home to an assembly plant making those giant GMC and Chevrolet pickup trucks Americans love, along with adjacent component factories and supporting services.
This is good to see, as was the news from The General this week – in the final plant spend of the US$5.4bn round revealed back in April, its oldest assembly plant in North America will get US$877m to build a new body shop for the assembly plant, locating it closer to the Flint Metal Center, which supplies sheet metal and other parts used in the full size pickups produced in the assembly plant. Although there was considerable money spent at Buick City not too many years before the big axe fell, I'm more optimistic for what's left in Flint because the downsized and restructured General Motors is far better at balancing more efficient production with demand and those giant Chevrolet Silverado (archrival of Ford's F-150) and GMC Sierra trucks sell like hot cakes, usually near the top of the monthly US sales charts. Since 2011, GM has announced spending of over $1.8bn at Flint Assembly including $600m for plant upgrades and a new stand-alone paint shop under construction and scheduled to open in 2016. Buick City is never coming back (China is now the top market for that brand and most are made there) but I think Flint Assembly will be around a while yet.
We've published a number of analysis articles this week well worth a look – Matthew Beecham talked to executives at Lear and Dräxlmaier about trends in the automotive wiring harness sector, Calum MacRae discussed future powertrain developments with Ricardo, Tony Pugliese reviewed second quarter 2015 ASEAN market vehicle sales and Matthew also explored why OEMs should consider 'simpler' materials over 'fancy' composites in pursuit of lightweighting.
Vehicle analysis this week considered Land Rover's Freelander-replacing Discovery Sport and Audi's diesel-only strategy for the UK for its redesigned Q7 SUV with news of other powerplants offered elsewhere or on the way. Some interesting electrification plans.
Have a nice weekend.
Graeme Roberts, Deputy Editor, just-auto.com