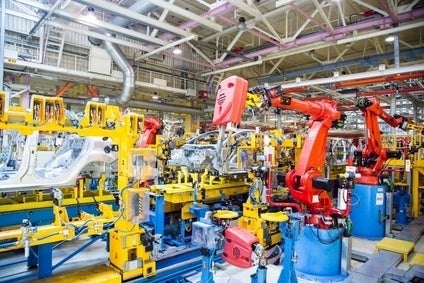 Some of the news is just in today so, you may not have seen all of the stories yet but, after a slight rattling of investors' cages by the recent stock market shenanig…, er, 'correction' in China (resident economist Dave Leggett's take here), this week we have seen automotive investment confidence in three key markets. From Mazda, in Russia, Daimler, in alliance with the Renault-Nissan Alliance, in Mexico and, Nissan again, right here in the UK, for Europe.
The auto industry has long been somewhat incestuous – when it suits consenting parties – for years so it is no surprise that Mazda, which Ford once controlled, has now climbed into bed with Ford's well-established Russian joint venture partner, Sollers. That JV just this week opened its new US$275m engine plant in Elabuga, Tatarstan as part of an existing commitment to increase local content and expand operations in Russia. Mazda's latest venture, supplementing the existing Mazda Sollers Manufacturing Rus (MSMR) car assembly operation, coincidentally will also be an engine plant, in Vladivostok, if construction, in due course, follows today's signing of an MoU. The next Good News was the breaking of ground for Daimler and Renault-Nissan's joint venture manufacturing complex COMPAS (Cooperation Manufacturing Plant Aguascalientes), in Aguascalientes in central Mexico, which will build premium compact vehicles for Mercedes-Benz and Infiniti, starting with the latter's Q30 in 2017. Staying with Nissan, we, and the English north east, to the delight of politicians assorted, also learned Nissan will build Juke Generation Two at Sunderland.
Always assuming that Mazda engine plant in Russia will get the 'go', these three projects illustrate the automakers' quiet confidence in the long-term health of multiple key markets – the vastness that is still barely tapped Russia, NAFTA (Mexico, US, Canada, all well established markets but share could be wrested from the Detroit Three and the Germans) and UK/Europe – despite recent jitters such as the Chinese stock market upset, the Tianjin explosion (upside: thousands of dealer-ready new cars will have to be made again) and sporadic outbreaks of terrorism in Europe. Plus possible side effects on individual European countries' economies in the face of the need to absorb the current (and tragic) tide of refugees from Syria and troubled African countries.
That all three investments include Japanese automakers is no surprise to me – after a decade and a half of covering most of them in the tiny, then-KD kit assembly-centric market that was my native New Zealand, I know they take a surprisingly long view and will even bounce back when shafted by blow-with-the-prevailing-wind politicians. After the NZ government unexpected (a) permitted unlimited free access to the market of an inexhaustable supply of used cars, primarily from Japan, and (b) later suddenly dropped the recently slowly lowered import tariff protection that made local assembly viable, the Japanese automakers still operating there reinvented themselves as importers/distributors rather than assemblers and some even set up their own, factory-backed used import operations, selecting prime stock from their parent company's captive dealer networks in Japan.
Speaking of long views, it did look to me a while back, that Ford might have mis-stepped with its brave new venture into aluminium bodymaking for the redesigned F-150 pickup truck, the top selling single model line in the US. Initial reports suggested buyers, perhaps a bit worried about body repairs or just plain suspicious of anything new-fangled, were holding back and we heard other reports about the need to put more 'cash on the hood' in some US markets normally very receptive to pickups where incentives were normally not needed so early in a model's life cycle. But, after Glenn Brooks crunched some numbers for us this week, it looks like market jitters are over and Ford really cranked up the F-150 cookie cutter last month.
Something else that attracted a lot of just-auto reader eyes this week: Kia UK figured another trip to the California desert testing grounds might be in order and, on our behalf, Roger Stansfield filed this. Fair brought back some memories for moi, too.
Have a nice weekend.
Graeme Roberts, Deputy Editor, just-auto.com