US: Critters count at Hyundai-Kia proving ground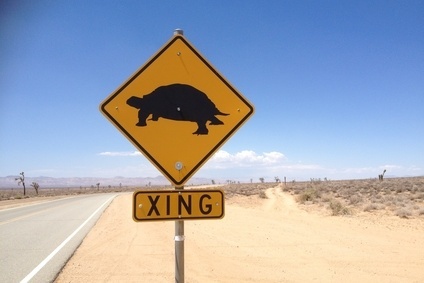 The first sign visitors to the Hyundai-Kia proving ground see on the approach road. Relocating and monitoring 27 desert tortoises accounted for $3.5m of the facility's initial $60m cost
Critter control isn't an essential item on the CV of anyone applying for a job at Hyundai America Technical Centre's Inc's (HATCI) California proving ground in the Mojave Desert but it doesn't hurt to know what you're doing. For a start, facility manager Matt Seare has no problem catching snakes and carries the essential kit in the SUV in which he prowls the 4,300-acre facililty.
Introduced by our host from Kia UK, Seare is tall, slim and tanned and looks very much the auto engineer though, with his enthusiasm for the Mojave Desert environment, he'd make a great national park head ranger while the earpiece and coiled wire emerging from the collar resemble those of the Secret Service operatives surrounding the president - though Seare has a neck and doesn't wear a dark suit on the job.
This is a man who has designed proving grounds and worked extensively in that area for Ford. After a stint outside the auto business in Florida, but still in developmental testing, Hyundai-Kia attempted to lure him to California. The idea of the urban sprawl of Los Angeles region, where Hyundai and Kia national sales companies and design studios are based, did not appeal but HACTI's vast desert spread, near Edwards Air Force Base (the former west coast landing strip for the space shuttle is visible from a high point on the facility), and within easy reach of sparsely-populated Mojave and California City, "that we could do".
Desert-bound
Getting there is a fun, 100-mile trip. You leave the Los Angeles basin, often cloudy or foggy in the mornings, and head up 'the 405' freeway into 'the (San Fernando) valley' where the skies are clear and then take the 14 Antelope Valley freeway towards Palmdale, where Lockheed once made the Electra and Tristar airliners, and its 'skunk works' has developed all sorts of cutting-edge military aircraft down to the latest F-35 fighter, continue on through Lancaster and then reach Mojave, home to one of several dry-desert airfields where old airliners go to retire and eventually be minced up for recycling. Then you hang a right onto Highway 58 and keep eyes peeled left for the sign and, soon, electric bar-gated private road.
A short way up the entrance road, the next sign you see cautions against desert tortoises crossing and therein lies a tale - as part of the deal to build the facility, Kia had to spend US$3.3m of the facility's $60m cost to track down and relocate 27 of the protected creatures, buying a separate piece of land and fencing it (just a foot height is all that is needed) for three years to keep them from coming to harm on test tracks till they got used to the new neighbours. A first sweep of the land netted 26, a second the one hold-out and a third sweep was conducted two years later to nab any that might have been too small to be spotted the first couple of times out. In all, the automaker paid 10 scientists to monitor the tortoises - whcih were each equipped with radio transmitters - for five years to ensure they settled in. Bobcats, coyotes, Mojave ground squirrels and rabbits also roam the land which is dotted with Joshua trees.
That radio headset Seare wears is so he can monitor employee whereabouts and safety at all times in what is a pretty harsh environment - summer sees at least 40 days with temperatures over 38C (100F) and it reached 105F the day we visited. Up in Death Valley, where many employees were "having fun" the day we visited, 120F-130F is not uncommon. As photos in the main office show, winter snow is not out of the question, in contrast. Health and safety laws require companies provide a minimum of two gallons of water per employee to avoid dehydration; the deeply tanned workers all appear to use plain common sense, according to where they toil. Outside, the maintenance guys look like LA gardeners - all exposed skin covered, wide-brim straw sunhats, dark sunglasses. Drivers are in shorts, most engineers are in short sleeve shirts and trousers.
Full-time, Seare has 22 workers, mostly engineers, on his books plus four Hyundai Motor Group co-ordinators from Korea. Maintenance, various technicians, drivers and security (G4S) are all on contract and the numbers on site vary according to the 'projects' in hand - typically around 60 most of the time.
Local and global
Though constructed primarily to recreate roads and highways across North America, the facility will do work for any part of the Hyundai and Kia network, supplementing a facility in Korea. Seare commands 10 test courses - high speed oval, uphill, VDA, winding road, straight stability, special surfaces, cross country, offroad, LA freeway (if you've been on any, you'll understand why) and a durability loop. Then there are offices, workshops, a car wash, a fuel island and a VDA office. All surrounded by desert and, conveniently, thanks to the nearby air force base, under a no-fly zone - which was a factor in the choice of location.
The facility does pretty much everything you'd want to try before putting a vehicle on sale in North America or anywhere else. Adaptability work includes tuning ride and handling to local roads, approving tyres, tweaking brakes, NVH work, the suitability of HVAC and engine cooling to cope with the freezing cold and blistering heat than can be encountered across the continent as well as vehicle suitability to towing.
Durability testing compresses 20-40,000 miles worth of use into a short space of time and new eco vehicle durability testing now encompasses electric vehicles and FCEVs - Kia has a market-ready Soul EV and parent Hyundai has FCEVs in real-customer hands.
Other testing helps validate vehicles - or parts thereof for Central and South America, and Europe. The facility can also run special tests to see how a car will fare in specific programmes such as the Consumer Reports test mode.
Seare says the rise of CAD/CAE development work in recent years has taken a lot of the mechanical drudgery out of testing these days so that, for example, by the time a test vehicle arrives, unsuitable combinations of spring and roll bar will have been ruled out electronically and the engineers can then set to and test the combos they know should work.
"But you still have to prove it out," he asserted.
The oval test track is 6.3 miles around with 12% banking and 75mph neutral speed and just about every test group gets on it at some point.
Freeways
There are replications of bits of LA's 710, 10 and 5 freeways while the 43-acre VDA site is 1,200 feet wide at one end and 2,000 feet long with room for handling and brake tests where you can exceed adhesion limits and not slide into anything to damage car or driver.
Straight stability allows crosswind sensitvity testing as well as testing of road crown sensitivity, pulling and wet braking tests courtesy of sprinklers and other road-drenching gear. California is in the midst of a very severe drought and Seare said every effort is made to minimise water use for this. The local coyotes appreciate the free supply and appear for a drink any chance they get. The winding road course is two lanes wide and 2.4m with 0.7m of hills - all artificially created in a flat desert - and is used for handling and powertrain testing while undulations give suspension compression and check for bump steer.
There are 17 special surfaces for ride and NVH testing which give dampers a workout and evaluate sound deadening - these include smooth asphalt, different aggregates, concrete, coarse chip and 'freeway hop'. An uphill section is graded at 12% and is used for powertrain wide open throttle tests, automatic transmission parking pawl release tests and cruise control.
A cross-country course includes stone road and fine aggregates and is also used to check dust sealing and for rocker panel wear. The offroad course is used for durability testing, suspension jounce/rebound and SUV/4WD performance testing.
The proving ground opened at the end of 2004 and a durability loop was added in 2008 - this three-lane, 1km course has block road, cobblestone, chatter, bump and strip, chalk holes, potholes, grit troughs, speed bumps and dips and 'twist ditches' - Seare demonstrated an evil, steep angle, driveway approach not uncommon in the US which can leave one wheel dangling.
Europe, too
As well as US cars, the proving ground has also done work on Europe's Optima, Soul and Rondo models. European requirements include different tyre wear expectations and the need to prove winter season tyres, and higher road speeds (autobahn) which brings with it the need to ensure windscreen wipers still work at 100mph-plus. European units will send the proving ground vehicles with specific testing requests though, due to different testing regimes, powertrains are usually done at Russelsheim in Germany and at a test facility at the Nurburgring.
One fascinating section is accelerated weathering - whole cars and bits thereof laid out under the scorching desert sun in a dedicated 2.6-acre area. The vehicles have various sensors attached to monitoring equipment and then there are racks upon racks with painted noseclips, tailgates, head and tail lights and all manner of exterior trim pieces. Interior parts such as upholstery cloth, door panels and rear parcel shelves are arrayed under glass, both clear and tinted. Some small parts are mounted on special units which use moveable mirrors to direct the sun's rays directly on to them all day.
Associated workshops allow vehicles to be prepped and tested and then pulled apart after durability running to see What Broke. Without giving away any state secrets we noted a diesel engine, a steering column and a third row seat folding mechanism being scrutinised during a short tour of a bright, new and air conditioned shop.
So what would happen should a sidewinder or a Mojave green escape Seare's snake catching kit and bite you? As with everything at this fascinating proving ground, there's a plan in place. As part of the safety training every employee undergoes, all snakes are to be treated as venomous even though 70% on site probably are not. Get bitten and a helicopter will be summoned for a speedy trip to the hospital in nearby Bakersfield, 15-20 minutes' flight away. "Most people are strong and very few actually die from snake bites," Seare assured us. Of the wildlife potentially on view that day, we saw none.
Company analysis
Most popular news
---
Most popular insights
---
Oops! This article is copy protected.
Why can't I copy the text on this page?
The ability to copy articles is specially reserved for people who are part of a group membership.
How do I become a group member?
To find out how you and your team can copy and share articles and save money as part of a group membership call Shivani Hayer on
+44 (0)1527 573 732 or complete this form..