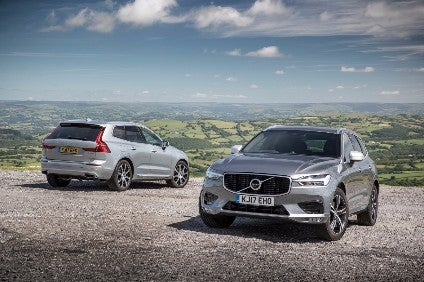 There's no sign yet of any let-up in the popularity of SUVs. Large, small, medium, compact, crossover, they just keep on a-coming. Case in point: in just the last week or so we've had the chance to look over one brand-new model and one substantial redesign.
The brand new Ess You Vee was Jaguar's 'compact' E-Pace, the smaller sibling for the now well established F-Pace (which itself is getting a series of heart transplants as more new in-house-made Ingenium I4 engines become available) which we told you about last week. The big news was the JLR UK plants – Castle Bromwich dedicated to Jaguar, and the Land Rover plants in Solihull and Halewood – are, in the words of one spokesman, "full up". At capacity. Hence, following the earlier announcement concerning the all-electric I-Pace, the news E-Pace assembly also will be contracted out to Magna Steyr in Austria. Soon after, the Magna unit confirmed Job One timing and was itself in the news again this week concerning the regulatory approval it still awaits for its planned new assembly plant in Slovenia. We learned, too, 3,000 people have applied for the first few hundred jobs.
Also announced this week: E-Pace build at the Chery-JLR JV opened in 2014 to turn out the Range Rover Evoque which has since added the Discovery Sport (same platform makes it easier) and a special long wheelbase version of the Jaguar XF developed for China. To top it off, JLR has just announced the opening of a second Ingenium engine factory, at the Chinese JV facility, to make the petrol versions.
The other new SUV was a redesign of Volvo's XC60, the brand's most popular model here in the UK. And elsewhere. A Swedish HQ representative, here for the launch event in rainy Manchester, told me some European dealers had suggested the new model could be delayed a bit as the outgoing model was still selling well. The new one borrows the larger XC90's flexible SPA platform, engines, all the new tech and adds its own styling, particularly an interior that challenges the best from the German premium brands (and gives the likes of Bentley a prod) and should sell just as well. Mine's a top-trim T8 PHEV, please.
JLR parent Tata's decision to open its new GBP20m (US$26m) Warwick European Innovation and Development Centre (EIDC) in Britain's Midlands region, was a firm sign of the company's confidence in UK business post-Brexit, its CEO said, but, back home in India, there were storm clouds over the group's truck business. The report the company was facing increased competition in India from Volvo Trucks and Daimler reminded me of Tata's attempt 40-odd years ago to challenge other then-established brands like Bedford-Isuzu, Nissan Diesel and Leyland in New Zealand. With not much success.
Being a fan of electrified cars, I am looking forward to (finally) Nissan turning over its new Leaf and the drip-feed of info continues. Latest: it will offer one-pedal driving with a system called e-Pedal, activated by a switch, which will allow drivers to accelerate, decelerate and stop using just one pedal. You can, in slow traffic, pretty much do that with the current model using braking regeneration drag but this clearly moves the idea on a bit. Bring it on.
Finally, our analysts have been considering the shrinking of Chevrolet and scrutinising interior design and safety technology trends in Volvo's premium mid-size S60 sedan.
Have a nice weekend.
Graeme Roberts, Deputy Editor, just-auto.com