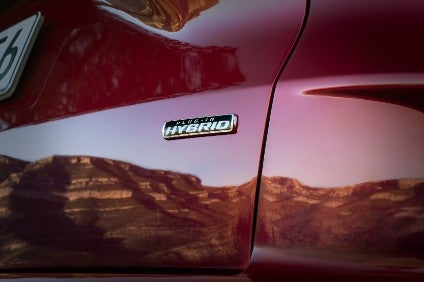 We've been hearing a lot lately here in the UK about 'self charging hybrids' (from you know who) but 'self combusting plug in hybrid' is probably not what the marketing people behind a new Ford wanted to hear.
According to respected media outlet Autocar, Ford of Britain suspended sales of its Kuga PHEV model due to concerns over vehicle fires related to overheating battery packs. The PHEV variant had just been launched in the UK (it's all over tv advertising at the moment) and Ford has high hopes for the model as it ramps up its electrification strategy in Europe. According to Autocar, Ford said in a statement sales of Kuga PHEVs built prior to 26 June 2020 had been suspended "temporarily". The statement added "information from the field indicates that four vehicle fires are likely to have been caused by the overheating of the high-voltage batteries". The report also maintains that buyers of the model who have received their cars have also been contacted and told not to charge their high voltage battery until further notice. They have been asked to keep the car in its 'EV Auto' drive mode. Ford had now issued a safety recall for all affected models and was writing to customers to book vehicles in for remedial work from later this month.
Combusting Fords hit the headlines in Australia a while back but that was due mainly to the likes of tinder-dry grass being sparked off by hot exhaust catalysts. Given how much testing has been done, as the automakers often like to claim when they launch new models, I am always intrigued when something like this – albeit just a few vehicles in the UK – flares up so soon after a new vehicle takes its bow. What did they miss and why? Or was it a manufacturing error? Hopefully it's soon sorted as the Kuga looks a cracker, ready to give rivals a shakeup in the developing 'self charging and also willing to take a boost from a power cable' sector rivals like Toyota and Honda have been slow to enter. Ford also this week announced some recalls in the US and a couple of those are pretty new models. No substitute for real world field experience, huh?
After the COVID-19 crash decimated its UK market car sales, Renault has staged an exceptional comeback, deliveries shooting up by more than 200% in July. The Clio was a big reason for that, while in the B-SUV segment, the new Captur was much in demand. The July surge was a remarkable turnaround for Renault, deliveries of 6,598 vehicles being enough to propel the brand back up to ninth position ahead of Nissan. Year to date, the total is 21,867 (-36.2%) while last month's market share was an impressive 3.8%. The big question now has to be can this momentum be sustained?
Fire sale? Veoneer this week said it completed the divestiture of its US brake control business to ZF. The parties will collaborate on a transition plan for a limited period as part of the divestiture process. On 23 April, Veoneer announced the signing of an initial agreement to divest the US brake control business. As it said earlier, with the divestiture Veoneer expects to achieve reductions of negative cash flow for 2020 and 2021. The agreed purchase price is US$1 (yes, one dollar), net.
Legal tit for tat continued this week between GM and FCA. The latter asked a US federal judge to dismiss a request from General Motors to reinstate a racketeering lawsuit against its smaller rival, comparing a recent GM filing to a "third rate spy movie, full of preposterous allegations". Reuters noted GM last week asked US District Judge Paul Borman to reopen the case, claiming it had new information on foreign accounts used in an alleged bribery scheme involving FCA and leaders of the United Auto Workers (UAW) union. When it first filed its lawsuit last year, GM reportedly alleged FCA bribed UAW officials over many years to corrupt the collective bargaining process and gain advantages, costing GM billions of dollars. GM was seeking "substantial damages" which one analyst cited by Reuters said could have totalled at least US$6bn. But last month, Borman threw out the racketeering lawsuit, saying GM's alleged injuries were not caused by FCA's alleged violations. This will run awhile yet, I suspect.
Payment start-up Stripe this week said it had snagged General Motors' chief financial officer Dhivya Suryadevara amid an e-commerce boom brought on by the pandemic. CNBC noted Suryadevara was named the automaker's first female finance chief in 2018, leading it through a pandemic that pressured GM finances this year as global factories were closed. At Stripe, she will have to balance "aggressive growth while maintaining the highest standards in discipline and fiscal responsibility", CNBC quoted Stripe as saying. "Stripe's mission to increase the GDP of the internet is more important now than ever," Suryadevara said in a press release quoted by CNBC. "I really enjoy leading complex, large scale businesses and I hope to use my skills to help accelerate Stripe's already steep growth trajectory."
Another automaker launched geofenced PHEVs in the UK this week. BMW's so called eDrive Zones for London and Birmingham is a new digital service which automates the process of switching to electric-only power when a plug-in hybrid vehicle (PHEV) enters a defined area of these cities. The service is similar to than announced recently for Ford's Transit Custom PHEV which offers the option of geofencing technology to help improve urban air quality. Using live location data, the PHEV automatically switches to electric drive mode whenever entering predefined areas such as congestion and low-emission zones. The geofencing tech need not only apply to city centres: operators can also create 'green zones' to encourage low-emission driving near schools, playgrounds and warehouses. When the vehicle leaves a controlled zone, it automatically switches to the most appropriate drive mode for the next stage of its trip. BMW said its system also automatically ensures electric power is conserved for use during the part of the journey within the low emission zone, if the journey destination is entered into the vehicle's navigation system. Clever stuff and I expect more PHEV makers to announce similar offerings soon.
Indian control of struggling Ssangyong (which has just moved its UK HQ from Vauxhall to Honda territory) may be ending. Mahindra & Mahindra confirmed this week it was prepared to give up its majority ownership of SsangYong Motor to help it find a new strategic investor. The Indian carmaker currently holds a 74.65% stake in Ssangyong but is prepared to give up control after its losses continued to deepen due to the COVID-19 global pandemic which has decimated world markets this year. The company's global sales fell by 28% to 56,846 units in the first seven months of 2020 from 78,687 units a year earlier. Ssangyong reported its 13th consecutive quarter of financial losses in the first quarter of 2020, prompting Mahindra & Mahindra to inject KRW40bn (US$33m) into the company to help it stay afloat through the global pandemic. But this was far short of the KRW230bn (US$187m) in fresh capital Mahindra had previously said was needed to return Ssangyong to profitability over a period of three years.
Magna International reported financial results for the second quarter and first half ended 30 June, 2020 with significant operating losses, as expected.
Light vehicle production in North America and Europe, the supplier and contract vehicle assembler's most significant markets, were down 70% and 59%, respectively in the second quarter while global light vehicle production was down 42%. Magna estimated Q2 COVID-19 impacts of approximately US$5.5bn on sales and $1.2bn on both income from operations before income taxes and adjusted EBIT. Sales fell 58% to $4.3bn and the loss per share of $2.17 compared to earnings of $1.42 in Q2 2019.
Hyundai has announced the launch of a new Ioniq brand dedicated to battery electric vehicles. Previously it was a model line nameplate.
Under the Ioniq brand, Hyundai will offer customer centric EV experiences centered on connected lifestyle solutions in line with Hyundai's vision of 'Progress for Humanity'. The brand will introduce three new models over the next four years with more to follow.
Have a nice weekend.
Graeme Roberts, Deputy Editor, just-auto.com