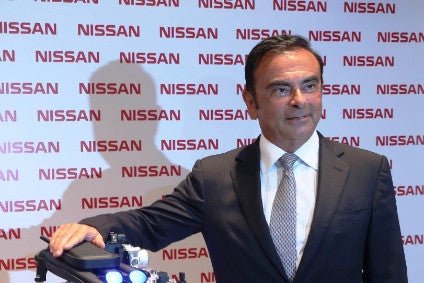 2018 was quite the year and threw up one or two surprises in the automotive business. Editor Dave Leggett's personal review picks out some highlights as seen through the prism of just-auto's industry coverage.
What a year that was. We got to know a new acronym and one that caused some OEMs a fair bit of grief (WLTP). A trade war broke out between the world's two largest economies and a couple of big beast auto company executives found themselves deprived of their liberty by prosecutors. And, here in Britain, Brexit was always on our minds as the automotive sector contemplated (and, indeed, still contemplates) the uncertain outcomes that will impact trading arrangements between the UK and its biggest trade partner next door – the EU. Here's a month by month rundown, Part 2 July-December (Part 1 January-June).
July
Jaguar Land Rover CEO Ralph Speth calls for more Brexit certainty for business and warns that additional tariffs and trade costs under a 'bad deal' could cost the company more than GBP1bn a year (Jaguar Land Rover chief issues Brexit warning). We conduct some analysis ourselves and come up with a case study that produces a very similar 'hard Brexit' outcome: Brexit's come home – how the costs mount up.
In the US, Donald Trump raises the temperature in the trade relations debate when he threatens to slap 20% tariffs on EU imports. It's a rather complex subject though, and a number of companies suggest that the US auto industry would actually be harmed by such actions.
Siemens CEO Joe Kaeser issues a stark warning of the importance for German companies of successfully managing the industry's transition to electrified and automated vehicles. Kaeser says that Germany's automotive giants need to get the transition right, or risk mass unemployment and violent social unrest in Germany. "We'll still have cars in the streets, but they won't be electric, they'll be burning," Kaeser tells reporters. "The success of Germany depends on this one industry."
Devastating flash floods and landslides in Japan halt automotive production at a number of plants in the country, mainly in the western prefectures of Hiroshima, Kyoto and Yamaguchi, as well as in the nearby city of Osaka. Mazda, Nissan, Mitsubishi and Daihatsu are all hit – suppliers too.
Sergio Marchionne dies after serious illness had caused him to step down as FCA CEO. Many are shocked at the sudden loss of a smooth and clever operator: part-businessman, part-economist, part-philosopher and part-politician. We have a piece published on just-auto that reflects on the influential and talented industrialist's 14-year reign over the Fiat car business.
Daimler joins the let's-restructure-club and unveils plans for a new corporate structure designed to give its major business areas greater agility ahead of major challenges and transformation in the mobility and automotive sector. If shareholders agree it could be in place by 2020 (Daimler plans to split into three consolidated business areas­).
BMW raises prices in China – due to higher tariffs on SUVs shipped from the US – illustrating the growing difficulties for OEMs and tough decisions in China: absorb the tariffs in wholesale transfer prices (and accept lower margins or losses), or try and pass them on (and do that in a softening market).
August
The big annual CAR MBS pow-wow at Traverse City in Michigan takes place. Disruption from megatrends and CASE was very much on the agenda. We've a nice summary that gives a flavour of the discussions: Traverse, the great divide – a tough CASE to crack
BMW announces it is to build a new manufacturing facility in Hungary, close to the town of Debrecen. It says the plant will come at an investment of approximately EUR1bn, offer capacity of up to 150,000 units a year and create over 1,000 new jobs. The plant will be equipped with a single production line to manufacture electrified models as well as cars fitted with conventional combustion engines.
How far away are solid state batteries for automotive applications? Volkswagen says it is considering producing its own solid state battery cells with possible serial production from 2024 or 2025.
News emerges of some clever work on sound waves in the cabin that has been taking place at Hyundai. It holds out the hope of 'sound bubbles' (Separated Sound Zones) inside the car enabling people to do their own audio thing without interfering with others and sans headphones. It could be a way to solve the problem of conflicting audio wants in the car without the physical shut-off barrier that is presented by headphones.
Hyundai reveals next-gen Separated Sound Zone technology
August is a quiet time of the year, news-wise. Tesla's Elon Musk decides to liven things up with Twitter talk of taking Tesla private. They are comments that come back to haunt him when existing shareholders reject the idea and US regulators also take a dim view.
Elon Musk mulls taking Tesla private and there's talk of a Saudi sovereign fund being interested.
Tesla's board forces Musk to do a U-turn.
Monterey Automotive Week, including the Pebble Beach Concours d'Elegance, takes place over the final weekend of August and during several days leading up to it. A somewhat rarefied event, but with one or two striking concepts.
2018 Monterey Week world debuts list
We publish an interview with the Delphi Technologies CTO, Mary Gustanski, who has some interesting things to say about powertrain splits and power electronics. Plug-in and electric vehicles are clearly emerging as a big priority for the company's OEM customers.
Delphi Technologies CTO talks powertrain and power electronics
Volvo's new T3 three-cylinder petrol engine starts to make an appearance as the automaker expands its XC40 compact SUV line. The T3 petrol, the company's first I3, is a derivative of the in-house developed Drive-E engine family.
OEMs with manufacturing plants in the UK that are heavily dependent on trade with the EU are starting to go a little bit more public over their concerns. Ford tells British politicians it would take "whatever action is needed" to protect its business over Brexit.
Dyson to hoover up in EVs? The British inventor of the Dyson bagless vacuum cleaner says it is ramping up plans to enter the electric car market and outlines a plan to expand testing facilities in southern England and further invest in the ambitious project. It is certainly ambitious…
September
In another area of trade tensions and knock-on effects, Ford is forced to drop plans to ship the Focus Active from China to the US due to US tariffs imposed on China vehicle imports. "Given the negative financial impact of the new tariffs, we've decided to not import this vehicle from China," Kumar Galhotra, president of Ford North America, tells reporters. The Focus Active variant was planned to replace the standard Focus model in the US market as Ford phased out the entry-level car and tilts its model range towards trucks and SUVs. No longer.
The European car market data for the month of August is published in the first week of September and shows a very big spike – sales up by 27% over the same month in 2017. The reason? WLTP – the Worldwide harmonised Light Vehicle Test Procedure – deadline for EU introduction of September 1. That meant vehicle manufacturers took a hard look at what was ready to go to market complying with the new standard and what needed to be rushed to market ahead of September 1, stocks of non-compliant vehicles having to be cleared. There will be a 'payback' though – lower sales in the following months. Some manufacturers, it turns out, are much better prepared than others. One sign of the volatility is VW's unusual leadership of the UK car market. That will likely not last though, especially given the imminent arrival of the fourth generation Ford Focus.
Aston Martin Lagonda announces an initial public offering (IPO) and will list its shares for trading on the London Stock Exchange LSE. It also says it plans to boost output into five figures and increase profits. It could raise GBP5bn. It also says that says its new facility at St Athan in Wales will become the company's centre for electrification and the manufacturing home for the new all-electric Lagonda brand.
The world premiere of Volkswagen's modular electric drive matrix (MEB) takes place in Dresden. The brand says the newly developed technology platform will be the key to the "electric car for all" with 10m electric vehicle sales targeted. VW plans to sell some 150,000 electric cars, including 100,000 ID models made in Germany, by 2020.
There are signs that all is not well at Tata Motors' Jaguar Land Rover when it puts its Castle Bromwich Jaguar plant in Birmingham on a three-day week. The move happens just ahead of opening its new Land Rover Discovery plant in Slovakia.
Hyundai is one of a small group of OEMs that sees a big competitive opportunity in hydrogen fuel cells. Hyundai Motor, in cooperation with H2 Energy, says it is to provide 1,000 hydrogen fuel-cell electric trucks to the Swiss commercial vehicle market, beginning 2019 through to 2023.
It's a sign of the times. Porsche drops a statement onto its website announcing it is quitting diesel for future models. It says it is "intensifying its activities in the areas of hybrid technology and electromobility and will, in future, no longer offer vehicles with diesel propulsion".
Spain-based automotive supplier Ficosa reveals that it has developed the digital rear-view system (which uses cameras and displays instead of the traditional external side mirrors) fitted to Audi's upcoming e-tron model. Lexus also announces its introduction of 'Digital Side-View' monitors on the new ES to be launched in Japan in October.
Later on in the year it doesn't end well, but back in September, a deal to sell a Ford gearbox plant in France is inching forward and looks hopeful.
October
After an August surge, Europe's car market comes down with a bump when we see the September numbers in early October. September's market was down by 23%. Yikes.
Faurecia's CEO says it will adapt to what its customers want as the UK prepares to leave the European Union (EU) next year. "What is an issue for us is what our customers will do," Faurecia CEO, Patrick Koller tells us at the Paris Motor Show. "We will adapt [but] the clock is ticking. It is a little bit like a trade war – a trade war is [of] benefit to nobody. There is no winner." Wise words.
Our Paris Show coverage is grouped together here. One notable debut brand at the show is VinFast, a new OEM from Vietnam, who pushed the boat out with A-list celebrity David Beckham on its stand.
Tesla and its CEO Elon Musk reach a settlement with the US Securities and Exchange Commission (SEC) that will see Musk step down as the company's chairman but retain his CEO position. As part of the settlement there will also be two new independent Tesla board members appointed to counter Musk's disproportionate power over the company. Be careful what you Tweet…
Worries start to rise in China over the adverse impact of a slowing economy and trade tensions with the US on new car demand. Dealers in China start to lobby for tax cuts to boost the automotive sector. It has been done before, so they could be pushing at an open door in Beijing as 2019 nears and the annual market heads for a decline for the first time since 1990.
In a sign of liberalisation to the FDI regime in China, BMW Group says it is to increase its stake in its Chinese joint venture, BMW Brilliance Automotive (BBA), to a controlling 75% from the current 50%. It is also extending the JV contract out to 2040, expanding production capacity and employment and will add new models.
Over at Ford, there are reports suggesting big reductions to the workforce may be ahead as part of restructuring plans.
Weaker demand in China and other export markets forces JLR into a two-week shutdown in October at the Land Rover Solihull plant. Local labour unions are far from happy. The company is hitting headwinds.
Jaguar Land Rover formally opens its EUR1.4bn (US$1.6bn) manufacturing facility in Nitra, Slovakia, the first time a UK automotive company has opened a factory in the central European country. The investment in Nitra marks a further step in the company's global expansion strategy following the opening of its Chinese joint venture in 2014 and Brazilian plant in 2016, supported by contract manufacturing in India from 2011 and Austria from 2017.
R134a – an air conditioning refrigerant – is back in the news as it, along with other factors, impacts the full-year outlook for Daimler profit. The latest guidance takes it down again.
The shape of the leaner and more profitable FCA is far from finalised, but spinning off the Magneti Marelli components division was one part of the strategy under the late Sergio Marchionne. A deal is finally done, with a sale to Calsonic Kansei.
Ford warns that a no-deal Brexit would 'severely damage the UK's competitiveness'. The company also says it will take 'whatever action is necessary to protect our business'. In a lengthy statement supplied to just-auto it also says that a Canada style free trade agreement would add border checks and end frictionless trade shipments between the UK and EU. ACEA and CLEPA also pile in. Alas, in the UK, the Brexit arguments run on and on, no sign of an emerging consensus solution among politicians.
The Mahindra Group and Ford sign two new agreements that build on their strategic alliance in India. It looks like a smart move for Ford, positioning for growth in what will eventually be a very much bigger automotive market than currently.
The allegedly state-sanctioned and brutal murder of a journalist at a Saudi Arabian consulate is among the most horrific news items of the year. Many international companies subsequently come under pressure to pull out of an upcoming Saudi investor conference. Bill Ford is among the first to cancel plans to attend.
At the end of the month, VW Group reports a whopping 18.6% decline to third quarter operating profit as its bottom line was dented by weaker vehicle sales and the impact of tighter emissions testing regulations – WLTP – in Europe. Put the blame on WLTP.
November
A car company is a car company, right? Less obviously so these days as they try to reinvent themselves while not undermining their core strengths. Ford Smart Mobility announces it has acquired Spin, a San Francisco based electric scooter sharing company that provides customers an alternative for first- and last-mile transport. "The acquisition of Spin is the latest strategic move by Ford in the mobility space, as the company builds a mobility portfolio to help customers get places more easily, more quickly and less expensively," Ford says in a statement. It just popped out for a Spin – on two-wheels, not four.
Jaguar Land Rover is among the UK companies that have warned of the potentially highly adverse consequences of a so-called 'no-deal' Brexit. It also has a manufacturing facility coming on stream in Slovakia which will be making all Land Rover Discoverys from next year. Intriguing then, to see that it is stepping up efforts to develop supply lines in Eastern Europe: Jaguar opening supplier liaison office in Hungary
Bosch announces an EUR1bn investment in a new semiconductor fabrication plant in Dresden, saying it is the largest single investment in the company's history.
It's one of the shocks of the year. Automotive industrialist and creator of the Renault-Nissan Alliance, Carlos Ghosn, is arrested in Japan on suspicion of under-reporting his income and financial misconduct. Tokyo prosecutors appear to have the backing of Nissan, which says it has been conducting an internal investigation. Ghosn is swiftly removed from his post as Nissan chairman, but the response in Paris is a lot more muted, with Ghosn staying in his CEO post – at least nominally. There are some suspicions that Ghosn had been pushing for something close to a full merger and that political tensions between Paris and Yokohama could be a factor.
Amid ongoing speculation on the possible deepening of Ford's tie-up with Volkswagen Group, Ford CEO Jim Hackett cautions that expanding partnerships with VW is a 'delicate dance' given that they are major competitors. Quite. It's one to watch in 2019.
Mercedes-Benz says it has launched an electric vehicle featuring hydrogen fuel cell and conventional plug-in hybrid electric vehicle (PHEV) battery technology. The first sales are to selected customers in Germany. The 'GLC F-Cell' hydrogen/PHEV powertrain is unique as it features both fuel cells and a battery drive which can be charged externally using plug-in technology. Other customers in Germany will also be able to rent access to the GLC F-Cell from the spring of 2019 via Mercedes-Benz Rent.
Mercedes launches 'GLC F-Cell' hydrogen/PHEV powertrain
On the product front, a big SUV which also describes itself as a coupe is not to everyone's taste. But Audi, the king of niches, may just have found another one. Hmm. That name. Q8. Rings a bell. Oh yes, there used to be a petrol station company in the UK with that very name. It was said to be a play on the name 'Kuwait' which sounds very like 'Q8'; Kuwait, of course, is a place with very big reserves of oil. Surely someone in Ingolstadt is aware? 'Q8 pays homage to small middle-eastern kingdom awash with oil'.
Has Audi created a new segment with the Q8?
I have always admired the engineering approach behind the rotary engine developed by Mazda, partly because it went so far against the conventional powertrain grain and they stuck with it for so long. While well executed, there were always inherent issues with such a design, for example in the additional quantities of engine oil required in operation. The company remains an engineering innovator though and has never ruled out bringing back rotary engines. We publish an insights piece on Mazda future product that notes Mazda is developing an EV-Rotary hybrid – a rotary as range extender has several advantages over a conventional petrol engine. And there is compression-ignition technology, too: Mazda bets big on revolutionary new petrol engine
Jaguar Land Rover redesigns the Range Rover Evoque. Will it sell like hot cakes as its Land Rover Freelander replacement did initially, back in 2011? At first glance, it looks very much like the original, so we shall see. JLR also said it had placed contracts worth over GBP4bn with UK suppliers for production of the redesigned Evoque.
Toyota and PSA say they are 'resetting their collaborative relationship in Europe' so that PSA exits the Czech joint venture making small cars and they ramp up their collaboration in light commercial vehicles.
November also means the LA auto show. We have a list of world debuts there this year. It's a lot longer than used to be the case, reinforcing the importance of the LA show.
December
Restructuring is one of the words of the year. General Motors announces it will close its Oshawa assembly plant in Ontario, Canada, two further plants in the US, plus two powertrain factories in the US. The automaker also said: "In addition to the previously announced closure of the assembly plant in Gunsan, Korea, GM will cease the operations of two additional plants outside North America by the end of 2019." Cost reductions of US$4.5bn and a lower capital expenditure annual run rate of almost US$1.5bn will contribute to the cash savings of US$6bn. Expect 'restructuring' to be at the top of many company agendas in 2019.
On the upside, there are reports that GM expects to be able to offer new posts to about 2,700 of the 2,800 hourly employees affected by plans to halt production at four US plants next year.
Volkswagen says its namesake brand will develop its final generation of vehicles using combustion engine technology in 2026 and focus instead on electric cars. It's also wasting no opportunity to shout about its e-mobility strategy and the challenges of the future. The Volkswagen Group says it will spend almost EUR44bn on e-mobility, autonomous driving, new mobility services and digitalisation of its vehicles and plants by 2023. This is about a third of planned group expenditure for 2019-2023 and is the outcome of the planning round now completed and signed off by the board, it says. 'Transform' is another word of the year…just ask Ford.
Here's something to reflect upon next time you see a dandelion: they can be used to make tyres.
News emerges in France that the planned sale of a Ford plant – to Punch Powerglade – has hit problems and the plant's future now looks even more uncertain after Ford said the deal is off. France's Finance Minister doesn't mince his words and launches an astonishingly blistering attack on Ford slamming the US manufacturer's move as 'cowardice' and a 'lie'.
An intriguing and unusual story comes out of Motown. Ford says it has begun its renovation of the 105-year-old Michigan Central Station in the historic Corktown neighborhood. In revitalising this Detroit landmark into the centerpiece of a new campus, it "seeks to shape the future of transportation". It's quite a project.
The European Automobile Manufacturers' Association (ACEA) expresses 'serious concern' over what it terms the 'highly challenging' final deal on the EU CO2 regulation for cars and vans, setting target reductions out to 2030. Volkswagen reckons it may need to accelerate its e-mobility plans and that the new CO2 reduction targets imply a much higher EV share of the vehicle market than it has previously been planning on – perhaps to a penetration rate of as much as 40% in 2030.
BMW and Daimler say they are planning the next steps for their joint mobility company, following approval by the relevant competition authorities.
Mahindra-owned Automobili Pininfarina announces plans for an electric car. Oh, and it will be a sports car. And it will be quite a powerful one – 1,900bhp. I guess that ought to be enough.