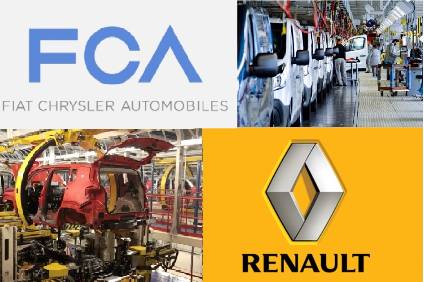 Well, it seemed like a good idea. Barely had we deep-dived a potential merger between FCA and Renault before Mother French State called off the engagement, even before the ring had been bought. Shades of GM Europe-Fiat, maybe.
I recalled the ancient days of yore (80s-ish) when AMC, then owners of Jeep, had been adapting and building Renaults for the US market. The wheel would kinda have gone full circle. Surprisingly, one of the usually bolshie French unions wasn't entirely against the tie-up and would have liked to take a closer look. The other, of course, was dead against.
More successful collaboration: Tata-owned Jaguar Land Rover (JLR) and BMW Group said they were joining forces to develop next generation Electric Drive Units (EDUs) in a move they said would support the advancement of electrification technologies in automotive. The two say that the joint investment will support the increased consumer adoption of electric vehicles through efficiencies and cost savings. They maintain it will enable both companies to take advantage of efficiencies arising from shared research and development and production planning as well as economies of scale from joint procurement across the supply chain. The strategic collaboration will build on the considerable knowledge and expertise in electrification at both companies. JLR maintains that it has demonstrated its leading technical capability in bringing the premium battery electric I-Pace SUV to market, as well as plug-in hybrid models. BMW Group brings the experience of developing and producing several generations of electric drive units in-use since it launched the BMW i3 in 2013.
Jaguar itself announced Ian Callum, director of design, is to leave his position at the company after two decades but will become a design consultant. Julian Thomson, currently creative design director, replaces Callum from 1 July. After joining Jaguar in 1999, Callum built a world-class creative design team, established a new design philosophy and revived the range with award-winning designs. These include the F-Type – the brand's first two-seater sports car since the iconic E-type – the XE, XF and XJ saloons, and the marque's first SUVs – F-, E- and, most recently, the electric I-Pace.
Ford finally announced the closure of its Bridgend engine plant in Wales, which has been steadily deteriorating, in terms of volume and product assignments for quite some years. Ford's "commitment to the UK" claims are likely to have rung pretty hollow as the company has axed truck production, car production at Dagenham, sold its Halewood plant and closed its Southampton van plant, transferring the work and jobs to Turkey. Cars are now imported mostly from Germany and Spain. Dunton commercial vehicle development, Dagenham engine building and a retail dealer network are about all that's left.
A certain Mr Ghosn was again in the news this week. The French finance minister has said Renault – in which the French government holds a 15% stake — plans to bring a case against its former chief executive Carlos after identifying EUR11m of questionable expenses. The Japan Times said the prospect of new legal action backed by France marked a new headache for the former Renault CEO, who was also Nissan chairman in the alliance with the Japanese carmaker, after his arrest in Tokyo in November. "The (French) state will hand over all the elements to the judicial authorities and there will be a complaint," finance minister Bruno Le Maire told BFM TV in an interview. "The state will play its role fully as a Renault shareholder. When the state has a shareholding like it does in Renault, its role is to assure that (corporate) governance works well," he added. He said the conclusions of an internal audit carried out by Renault had uncovered "reprehensible" facts and it was now up to the judicial authorities to take the next decision. The internal audit conducted by Renault and Nissan Motor identified EUR11m of questionable expenses at their Dutch subsidiary RNBV linked to Ghosn, the paper said.
Ford got into a spot of bother in China. China's market regulator has fined its main joint venture CNY162.8m (US$23.55m) for violating anti-monopoly laws. Reuters said Ford was the latest automaker with foreign partners to face such penalties. The State Administration for Market Regulation (SAMR) said on its website the joint venture with Chongqing Changan Automobile, Changan Ford, had breached the law by setting a minimum resale price for its cars in the Chinese municipality of Chongqing since 2013. The joint venture, which is owned 50:50 by Ford and Changan Auto, did not provide evidence that this complied with the country's anti-monopoly law during the investigation, it said. "Changan Ford's actions deprived downstream dealers of their pricing autonomy, excluded and restricted competition within the brand, as well as damaged fair competition in the market and consumer's legal interests," it said. The fine is equivalent to 4% of the joint venture's sales in Chongqing last year, it said. Changan Ford told Reuters it respected the regulator's decision and had taken corrective action in its regional sales management together with its dealers.
If you are like me and hate vehicles that substitute a can of gunk and an electric pump for a proper spare wheel, help is coming. Michelin and General Motors have shown off a new generation of airless wheel technology, the Uptis Prototype (for Unique Puncture-proof Tire System), at the Movin'On Summit for sustainable mobility. GM intends to develop this airless wheel assembly with Michelin and introduce it on passenger vehicles as early as 2024. Later this year, GM will initiate real world testing and validation of the prototype on a Michigan test fleet of Chevrolet Bolt EVs. "General Motors is excited about the possibilities that Uptis presents and we are thrilled to collaborate with Michelin on this breakthrough technology," said Steve Kiefer, GM's senior vice president, global purchasing and supply chain.
Analysis this week included a look at Nissan future models – platforms and timings and future Mitsubishi models.
Have a nice weekend.
Graeme Roberts, Deputy Editor, just-auto.com