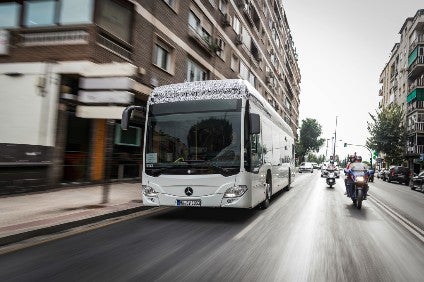 'Could this 'breakthrough' in energy storage disrupt the EV market?' was the most-read story on just-auto this week and little wonder.
A French startup, spun off from the nuclear industry, is using nanotechnology to make the next generation of battery. NAWA Technologies' ultra fast carbon battery is a carbon-based ultracapacitor that is claimed to be five times more powerful than existing ultracapacitors. Based near Marseille, the company is also developing 'structural batteries', using the same nanotechnology to turn ordinary items into objects that can hold charge eg a smartphone case or a window frame. To learn more about how this green and clean tech could rapidly charge an EV, we spoke to Ulrik Grape, CEO of NAWA Technologies and Pascal Boulanger, COO and founder. Well worth a read as is this about what Toyota is up to with fuel cells.
Our future models articles are always popular and this week's subject was Daimler's Mercedes-Benz Cars. We also followed up quickly (I don't think our colleague Glenn Brooks sleeps) with Merc's SUVs and, just today, the sporty AMG spin-off's cars and SUVs. Plenty there to get your teeth into with a bit of weekend reading catch-up.
Coincidentally, we also reported on Daimler's plans to split into three consolidated business areas; in Stuttgart they seem to be eyeing company structure as much as their rivals in Wolfsburg. The automaker plans to set up three legally independent entities — Mercedes-Benz AG, Daimler Truck AG and Daimler Mobility AG, all operating under the umbrella of Daimler AG. Daimler said the new structure makes Daimler Group fit for the future with "greater entrepreneurial freedom for divisions, even stronger market and customer focus, as well as faster and more flexible partnerships".
We spotted some interesting analysis elsewhere this week which asked: Does Ford want new AV operation to function like a tech startup? According to extremetech.com, Ford's decision to makes its autonomous-driving business a semi-autonomous operation in downtown Detroit, separate from corporate HQ in Dearborn, is because the automaker hopes Ford Autonomous Vehicles may function more like a tech startup than an automaker, and be especially rewarding to shareholders and employees. Ford could establish a tracking stock and/or spin off the company, it added. The article said that, by some accounts, Ford will have to invest more than the US$4bn it plans to spend on its AV efforts to the end of 2023, including its $1bn investment in Argo AI, to get self-driving cars to market. The recent fatal Uber crash (nothing to do with Ford) showed there was "lots more development and testing needed".
Despite being on a new product roll, the all-electric Jaguar i-Pace being the most recent, Tata Motors' Jaguar Land Rover Automotive reported a pre-tax loss of GBP264m for the three-month period ending 30 June 2018. The company said this was due to lower wholesales, higher China incentives combined with an unfavourable balance sheet currency revaluation and higher depreciation and amortisation resulting from continuing investment.
BMW announced a new factory for Hungary, a country in which rival Daimler has a growing presence. The plant would cost about EUR1bn, offer capacity of up to 150,000 units a year and create over 1,000 new jobs. It will have a single production line to manufacture electrified models as well as cars fitted with conventional combustion engines. We said: "Electrified cars are relatively costly to develop and manufacture, so adding e-mobility capacity with a flexible plant in a low-cost part of Europe (and inside the EU) that can build them could make good long-term strategic sense for the company."
Vehicle reviews are always popular and this week the Volkswagen Arteon 1.5 TSI Evo came under the serious microscope while I took a more lighthearted look at the tremendously complex mobile massage parlour otherwise known as the Lexus LS 500h.
I also took a look at KIA's Zilina plant in Slovakia as an adjunct to a trip to the country to try the redesigned Ceed that is the plant's second highest volume model after the Sportage crossover
Have a nice weekend.
Graeme Roberts, Deputy Editor, just-auto.com