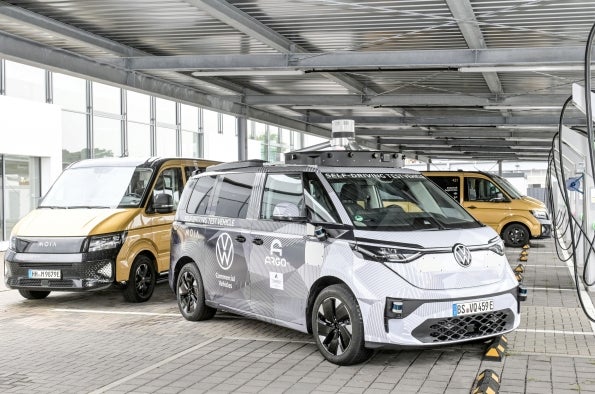 A couple of good new interviews on Just Auto this week. Firstly, to learn how electronics specialist NVIDIA is developing artificial intelligence and high performance computing products for the automotive industry, we spoke to Tim Wong, director of technical marketing. The company's DRIVE Concierge is designed to transform the digital experience inside the car. Omniverse Avatar technology enables it to serve as everyone's digital assistant, helping them by making recommendations, reservations, making phone calls and providing alerts.
Volkswagen has shown the production model versions of its new all-electric ID. Buzz and ID. Buzz Cargo which go on sale in the autumn in Europe. With the ID. Buzz, Volkswagen of America will also be initiating the comeback of the so-called microbus in the US and Canada. The ID. Buzz, which is built by Volkswagen Commercial Vehicles in Hannover, is also based on the VW Group's Modular Electric Drive Kit platform (MEB). We caught up with chairman of the board of management at Volkswagen Commercial Vehicles Hannover, Carsten Intra, to tell us more.
Japanese and German automotive manufacturers dominated YouGov's 2022 rankings of the best global brands – as determined by consumers around the globe. Global rankings are determined by a brand's Index score, a measure of overall brand health calculated by taking the average of General Impression, Quality, Value, Customer Satisfaction, Recommendation, and Corporate Reputation scores. They cover 22 markets in all (see below for a full list). YouGov shortlisted the top ten brands in each market, creating 220 scoring opportunities in all. Toyota placed first with a score of 170, some way in front of second-ranked Mercedez-Benz (153), and third-placed BMW (123). From there, the places narrowed: just five points separate fourth-placed Audi (95) and fellow German automaker Volkswagen (90), with Honda close behind in sixth (88). The table opens up again in seventh place, with Volvo earning 53 points, only to narrow again with eighth-placed Ford (48) and Nissan (44). Lexus rounds out the top 10 with 34 points.
And now, the answer to that question you long asked yourself: What is a gigafactory and where are they being built? Gigafactories are an increasingly important driver of FDI, but attracting this investment requires a varied mix of incentives. Tesla's gigafactory in Texas is the kind of facility that regions all over the world are looking to attract. The competition for gigafactory investment is only set to increase, with global capacity predicted to be 10 times its 2020 level by 2030, according to research by Just Auto parent GlobalData. So what is a gigafactory? Read on.
New targets related to fuel economy in the US should herald significant changes in the EV market. The National Highway, Transportation and Safety Administration (NHTSA) has released the final national fuel economy standards for 2024-2026 model year light vehicles. The new targets replace the 1.5%/year fuel economy improvements contained in the Safer Affordable Fuel-Efficient (SAFE) regulations passed in 2020. By the 2026 model year, the new fuel economy targets closely align with the EPA's CO2 targets released in December 2021. The result is a projected 49 mpg national light vehicle fleet average for the 2026 model year. Our vehicle and powertrain forecasts already account for the changes finalised in the new fuel economy law due to its eventual parity with the pre-existing EPA standards.
The New York International Auto Show was back this week and there were multiple vehicle global launches. The cancellation of Beijing, which would have been the biggest motor show so far of 2022, means the Big Apple's equivalent gained even more importance. We have a list of public premieres.
Mercedes-Benz has developed a long-range BEV concept that has managed to cover more than 1,000 km on a single charge. The car comes with a number of technical innovations including a specially developed lightweight battery that is around 30% lighter than an EQS pack. It is also air-cooled rather than liquid. Travelling from Sindelfingen across the Swiss Alps and Northern Italy, to its destination of Cassis on the Cote d'Azur, the car covered more than 1,000km (600 miles) in everyday traffic, on a single battery charge.
Toyota said it would launch its new bZ4X battery-powered SUV in its home market on 12 May, as it steps up its effort to reduce its carbon footprint. The bZ4X is Toyota's first vehicle on a dedicated EV platform which it developed with Subaru. It is produced at the Motomachi plant which, the automaker said, now uses CO2-free utility power derived from renewable sources. Toyota claimed its new BEV SUV offers a power-efficiency performance of 128Wh/km, giving it a cruising range of 559km (347 miles). It is compatible with rapid DC chargers worldwide and its battery can be 80% recharged in 40 minutes.
Automakers have been scrabbling to lock in supplies of battery materials. Latest: Glencore announced a multi-year sourcing agreement in which it will supply GM with cobalt from its Murrin Murrin operation in Australia. Cobalt is an important metal in the production of EV batteries, and the cobalt processed from Australia will be used in GM's Ultium battery cathodes, which will power electric vehicles such as the Chevrolet Silverado EV, GMC Hummer EV and Cadillac Lyriq. GM said the the agreement built on a commitment both companies share to create strong, sustainable and resilient supply chains through collective industry and multi-stakeholder platforms. Both are members of the Responsible Minerals Initiative (RMI), and the Murrin Murrin operation conforms with the OECD-aligned Responsible Minerals Assurance Process.
Chinese lockdown woes continued this week. Bosch suspended auto parts production in Shanghai and Changchun due to COVID-19 rules. The supplier said it had stopped production at a thermotechnology factory in Shanghai and an automotive components site in Changchun in northeastern Jilin province. Two other parts plants in Shanghai and Taicang were maintaining closed loop operations, in which workers sleep, live and work in isolation to prevent virus transmission, the manufacturer said.
You get what you pay for, I guess. Citroen's DS 4 and the Honda HR-V have done well in the latest round of Euro NCAP testing while a Dacia, not so much. The DS 4, from Stellantis' premium brand, achieved a four star rating in standard form but five stars when equipped with optional safety equipment. Honda's third generation HR-V wass also awarded a four star rating. Meanwhile, Dacia ended up on the wrong side with the Jogger, a variant of the Sandero Stepway, earning just one star.
Hyundai electrification build is coming to America. Hyundai Motor Manufacturing Alabama (HMMA) later this year will assemble the hybrid version of the Santa Fe SUV. The electrified variant will join the Elantra sedan, Santa Fe and Tucson SUVs, and Santa Cruz on the Montgomery assembly line. The new hybrid is the start of the automaker's electric vehicle production in the US. Recently announced production updates at HMMA including the start of hybrid production, will cost US$300 million and add 200 jobs.
Have a nice weekend. (A long one for us here in the UK).
Graeme Roberts, Deputy Editor, Just Auto