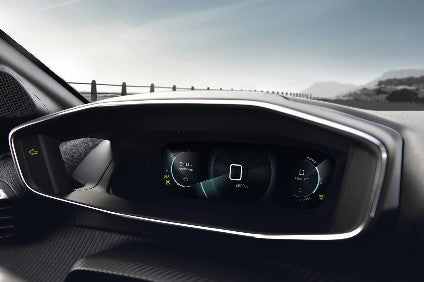 Ignoring the high count for this column last week, the top-read story on just-auto this week was our look at future Peugeot models. Thanks to the 208, 3008 and 2008 (in that order) Peugeot is holding on to a strong third position in its largest regional market behind Renault and Volkswagen. A new version of its best seller, revealed three months ago but not yet available, has strong looks and has generated a large bank of orders. In contrast to that good fortune in Europe, the picture in China is much darker, however. Well worth a look.
Anhui Jianghuai and JAC-Volkswagen future models was also popular. A partnership with Volkswagen AG and a certain degree of expertise in EVs have become vital assets for JAC as it tries to recover from losses of CNY786.1m during fiscal 2018 and a plunge in home market vehicle sales. The Chinese OEM, the full name of which is Anhui Jianghuai Automobile Group Corp Ltd, is based in the country's east where it has a modestly sized manufacturing footprint. The company's focus is increasingly going in the direction of electric vehicles, which is what drew the attention of SEAT and its parent company as well as Nio.
These days we are regularly running news stories about collaborations and partnerships. This top-read news story this week is typical. Faurecia, Affectiva and Accenture are collaborating on driver safety and in-car infotainment. The Connected Car Lab is a digital product and service innovation facility, which fits into a car to allow Faurecia to test and develop applications. The Connected Car Lab, which was developed with help from Accenture Industry X0, features a connected vehicle platform that gathers data about driver behaviour and conditions inside the car cabin as well as outside the vehicle. By using artificial intelligence and other technologies, including integrated smart sensors, wearables and in-car video cameras, the data is used to detect and assist the driver with safety issues, such as drowsiness, attention, posture discomfort and temperature. Developed at Faurecia's Digital Service Factory with the support of Accenture, the Connected Car Lab leverages Affectiva's Automotive AI to monitor emotional and cognitive states of the driver and other passengers from facial and vocal expressions.
China marches steadily on and its export forays are starting to target markets other countries' automakers might think their own. SAIC Motor, Chinese partner to GM and VW, is moving to undercut Japanese rivals in the Philippines, one of southeast Asia's fastest-growing economies. It has launched its Maxus commercial vehicle brand in the country where the Japanese have an 80% share, joining a few Chinese brands that were already on the roads. The launch underscored Chinese carmakers' determination to crack a southeast Asian market that has been a stronghold of Japanese manufacturers for decades. Philippine conglomerate Ayala is importing and distributing the Maxus line. It started selling two models – the G10, a nine-seat family van, and the V80, which can either be used for cargo or seat up to 18 passengers. Ayala said it was prepared to explore local production if demand proved strong enough. It already manufactures and exports KTM motorbikes and distributes Honda, Isuzu, Volkswagen, and Kia cars locally. Ayala aims to sell 600 units in the first six months, and triple volume next year.
BMW made another export foray with the opening of its second plant in the NAFTA region, Trump tariff rumblings or no. The new assembly plant is in San Luis Potosi. Production head Oliver Zipse said during the opening ceremony: "The new plant is an important pillar of the BMW Group's global production strategy. We aim to achieve a balance in our production and sales in the different world regions. We want to strengthen our footprint in important and growing markets. Plant San Luis Potosi will significantly boost our regional production flexibility in the Americas. From here, we are delivering our locally produced 3 Series sedan to customers worldwide." The company has spent US$1bn on the new factory. The plant, which already employs 2,500 people, will have a capacity of up to 175,000 units per year. We've had South African BMWs here in the UK. Wonder if we'll get any from Mexico?
Toyota was top automotive brand in the latest BrandZ Top 100 Most Valuable Global Brands 2019 listing but only 41st overall with a US$29,151m valuation, down 3% and five places. Amazon worth $315,505m, CarPlay supplier Apple, Android Auto supplier Google, Microsoft and Visa were the top five. Uber ($24,206m) placed 53rd ahead of second placed car brand Mercedes-Benz ($23,355) and BMW ($23,326m) was ranked third car company and 55th overall. Ford and Honda did not make the top 100 this year.
The FCA-Renault proposed merger can't be written off entirely. The withdrawn proposal could be revived if a way can be found to alleviate Renault's alliance partner Nissan's concerns over future stakeholdings and influence, a report said. Reuters said FCA and Renault were looking at ways to resuscitate the collapsed merger plan and secure the approval of Nissan. The report cited anonymous sources close to FCA and Renault. The report also said Nissan was poised to urge Renault to reduce its 43.4% stake in the Japanese company in return for supporting a FCA-Renault tie-up.
More and more automakers are looking at Israel for R&D. Renault and Nissan inaugurated a new facility for a joint innovation laboratory in Atidim Park, Tel Aviv, to allow the Alliance to accelerate collaboration with Israeli start-ups and partner with the Israel Innovation Authority. Known as the Alliance Innovation Lab Tel Aviv, the facility focuses on sensors for autonomous driving, cyber security and big data. The Alliance is currently testing and working on more than 10 joint prototyping projects with Israeli start-ups at different stages, among them: Apollo Power, Argus, AutoTalks, BrightWay Vision, Electreon, Enigmatos, IRP systems, Karamba, Moodify, Saferide and Upstream. The lab's location in Atidim Park enables it to carry out Proof of Concepts (PoCs) and co-develop prototypes in Tel Aviv's smart city experiment zone. With a surface area of 1,600 square metres, the lab provides start-ups with space to test technologies with real vehicles.
Ford's in on the act, too. After denying it was falling behind peers on autonomous, the blue oval opened its own tech centre in Tel Aviv. The new centre will serve as a research hub augmenting global research and advanced engineering. It will also support automotive and mobility businesses by identifying technologies and start-up companies in the fields of connectivity, sensors, automated-systems research, in-vehicle monitoring, and cyber security. The centre, opened by chairman Bill Ford, will include a vehicle lab to support proof of concept efforts and AI work conducted by the SAIPS team. Ford said it had been working with local companies and partners in Israel's tech community for many years.
On the subject of autonomous, Uber had been a bit quiet for a while, for obvious reasons. But, this week, with Volvo, ride hailer and automaker presented a "production vehicle ready for self-driving". The pair said the jointly developed production car capable of driving by itself was the next step in the strategic collaboration between both companies. They entered a joint engineering agreement in 2016 and have since developed several prototypes aimed at accelerating the companies' self-driving car development. The XC90 SUV is the first production car that in combination with Uber's self-driving system is capable of fully driving itself.
Finally, I took a look at the seven-seat Lexus RX which, for 2020, gets some substantial updates ahead of a complete redesign we expect in production in 2021.
Have a good weekend.
Graeme Roberts, Deputy Editor, just-auto.com