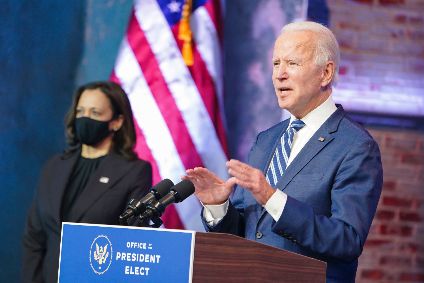 After a tumultuous election process in 2020, President-Elect Joe Biden is due to be sworn into office tomorrow (20th January). From the outset of his campaign for office, Biden has made it clear that he intends to introduce some significant policy shifts in an effort to reverse some of the changes introduced by the outgoing Trump administration. While businesses are yet to be briefed on all the changes, many are hoping for a period of greater political stability after recent unrest in the US.
The Trump administration campaigned on a platform of deregulation, especially for environmental issues. This led to disagreement within the US industry as some manufacturers agreed with the reduced environmental requirements to reduce production costs, while others objected on the grounds that it would make US-made vehicles less competitive in export markets with stricter emissions and economy requirements. Now, with the incoming administration promising to tighten regulations again, we look at what auto companies can expect from the beginning of Joe Biden's presidency.
US rejoins Paris Climate Agreement
The Trump administration was criticised by climate scientists and environmental campaigners for pulling the US out of the Paris Agreement – a motion adopted by the UN in 2015, committing countries to reduce greenhouse emissions to limit global temperature increases. In contrast, President-Elect Biden has stated that he intends for the US to rejoin the agreement on the very first day of his presidency.
While the Paris Agreement does not set country-specific targets for reductions in greenhouse gasses, it is a symbolic gesture signalling that the incoming administration is taking climate change issues much more seriously than its predecessor. While only symbolic, the US rejoining the agreement is likely to precede the introduction of stricter emissions and fuel economy standards for vehicles sold in the US. This may slightly increase the on-cost to US auto manufacturers building combustion-powered vehicles for additional emissions reduction equipment but, considering many are already spending a great deal on transitioning to electrified vehicles, that may be a price worth paying for greater clarity on future emissions requirements and the greater ease of exporting to markets with similarly stringent regulations.
Fuel economy standards tightened
Under the Trump administration, vehicles sold in the US would only have to demonstrate a 1.5% increase in average fuel economy between 2022 and 2025, a sharp decrease from the 4.7% mandated by the previous Obama administration. It is not yet clear whether Biden will return standards to the level they were under Obama, but they will certainly be raised from the level set by the Trump administration.
Tighter fuel economy standards will encourage automakers to build more efficient vehicles, pushing them away from combustion-powered SUVs and pickup trucks that sell particularly well in the US. To continue selling vehicles in these hotly contested segments, automakers will probably increase the number of electrified SUV and pickup options. We are already seeing this through the introduction of models including the Ford Mustang Mach-E, the GMC Hummer EV, the Cadillac Lyriq, and the Tesla Model Y and Cybertruck.
Climate activists in positions of power
President-Elect Biden has now assembled much of his cabinet and administration team, including hiring lawmakers with strong backgrounds in climate campaigning for top environmental roles. Notable among these are former presidential candidate Pete Buttigieg as Secretary of Transportation. In his own campaign, Buttigieg proposed a $1tn transport infrastructure plan, including a 13-fold increase in public transport funding. With Buttigieg at the helm, expect the Department of Transport to focus more resources on public transport, emissions reduction and infrastructure for EVs.
Elsewhere, Biden has chosen North Carolina's Michael Regan to run the US's Environmental Protection Agency, which had many protection policies rolled back under the Trump administration. Regan has spent nine years developing the EPA's air quality program and has a strong background in legislating on environmental issues. His appointment can be seen as another strong signal that the incoming administration is serious about tackling climate change. While this might increase short-term costs for US automakers, it may provide more stability in the long term and push them to remain competitive with Chinese, Japanese and European automakers that are aggressively pursuing their own electrification strategies.
Softened approach on Iran
The Trump administration took a hard line on Iran, pulling the US out of the Iran Nuclear Deal and threatening sanctions against others that agreed to trade with the country. This led to a number of automakers including PSA, Renault and Daimler pulling business from Iran, and a general souring of relations between it and the US. Biden's team has promised to return the US to the Nuclear Deal, which sees the removal of some restrictions against Iran in return for it limiting its nuclear material refining activities.
With the softening of the US's stance against Iran, expect global automakers to begin to restart plans in the country. This could see a revival of the joint venture planned between PSA and Iran's Saipa, potentially leading to PSA-developed vehicles being built under license in the country for local sale and export to nearby markets. A similar joint venture between Renault and Iran Khodro, another large national automaker, is also likely to be resumed. Daimler was also gearing up to manufacture trucks in Iran before US sanctions kicked in and will probably be keen to return when they are lifted.
This article first appeared on GlobalData's research platform, the Automotive Intelligence Center