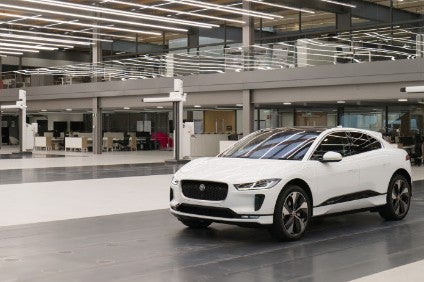 Predictable, you lot are. Dangle a future models feature under your noses, particularly if it's Tata Motors' Jaguar, and it's the most read of the week.
As we noted: Jaguar on its own is far from a viable business, as global deliveries of only 37,323 vehicles (-11%) in the 1 July to 30 September quarter showed. Tata Motors is nonetheless standing behind the troubled brand even if some believe that both the leaping cat and Land Rover might be sold to another OEM. For now though, spending on Jaguar continues, with an emphasis on electrification for all manner of future vehicles.
We had a chance to meet Citroen UK's managing director Karl Howkins who told just-auto his company is planning on a 'hard Brexit' with import tariffs added on cars shipped from the EU that could cause the UK market to decline by as much as 25%. The UK is scheduled to leave the EU trade bloc on 31 October (prime minister Boris Johnson has secured a 'new deal' but it must pass the House of Commons on Saturday, 19 October so a further extension and a general election is also possible) but trade arrangements on UK-EU shipments after that date remain unclear. Reverting to WTO rules in the absence of a UK withdrawal agreement being ratified by Parliament could mean new import tariffs of 10% imposed on UK manufactured new car shipments to the EU, with reciprocal tariffs applied in the other direction, too.
China's Ministry of Finance confirmed this week it would withdraw financial subsidies entirely for hydrogen fuel-cell electric vehicles (FCEVs) at the end of 2020, according to local reports. The ministry was responding to suggestions made by Chen Hong, chairman of SAIC Motor and a National People's Congress deputy, the government should continue to support this emerging segment of the automotive market beyond the end of 2020 deadline. From the beginning of 2021, all subsidies will be withdrawn on all types of new, new energy vehicles (NEVs) which currently mainly comprise electric and hybrid vehicles. Thus, FCEVs will not be given special treatment by the government as had been hoped, even though they are a very early stage of development and despite negligible sales volumes at present. Local sources suggested the Chinese government has set a goal of 5,000 FCEV sales annually by 2020, rising to 50,000 units by 2025 and 1m by 2030. NEV subsidies have been slashed over the last few years with the latest cuts having taken place at the end of June – to around 25% of their original levels. This pushed the NEV segment into reverse, with sales falling by 16% to 85,000 units in August and by almost 34% to 79,000 units in September – albeit compared with strong year earlier volumes. This is the first time the ministry has specifically stated FCEVs will not enjoy financial subsidies beyond the end of 2020.
World premieres for this month's Tokyo motor show continue to be announced. The latest one, a tiny low-speed EV, is a concept Toyota said would be put into production next year.
I had a rare opportunity this week – drive an actual car. This one has prompted a bit of debate amongst just-auto readers. The 2020 Land Rover Discovery Sport is an unusual vehicle. Technically it's a mid-life facelift of a model launched back in 2015 and which sells at a rate of about 120,000 a year worldwide, with 20% of those finding homes here in the UK. But it's rare to get a brand new platform underneath a mid-cycle refresh as well. At first glance, little looks changed. Nose styling tweaks. New tail lamps with the distinctive circular lens replaced by rectangles to more closely match the full-fat Discovery redesigned since little sporty brother came along. Also arriving at the new Premium Transverse Architecture (PTA) platform are new electrified in-house made Ingenium engines (48v mild hybrid), a new interior, new seats and dashboard and some new technology. There's been a little debate as to how new the PTA platform (nee D8) really is though clearly it has been changed to allow electrification – MHEV and PHEV.
Faurecia Clean Mobility develops and produces novel solutions to drive mobility and industry toward zero emissions. Its R&D focus includes hydrogen fuel cell and battery packs. To learn more about this exhausting business, we spoke to Andrew Pontius, vice president, light-vehicle product lines, North America.
Ford said its sales grew more than 3% in the third quarter of 2019 in the company's traditional 20 European markets, outpacing industry growth of 2.2%. Market share was flat at 7.5%. Passenger vehicle sales were up 5.6% to 221,600 with share up 0.2% to 6.3%. Commercial vehicle sales fell 2.6% to 91,800 and lost 1% of market share at 14.5%. "Overall Ford vehicle sales and market share grew in the third quarter to their highest levels since 2016," said marketing, sales and service chief Roelant de Waard.
Not so good in China: Ford Motor Company and its joint ventures in China said third quarter sales in China fell 30.3% year on year to 131,060 vehicles. China automotive industry sales slowed during the third quarter following an elevated second quarter sales period, primarily driven by China V Emission Standard stock clearances. Ford said its China third quarter sales reflected those market conditions, as well as "actions taken to continue to build future sales momentum".
Overall, the country is not good: New vehicle sales in China continued to slide in September 2019, by 5.2% to 2.27m units, from already weak year earlier sales of 2.39m units, according to wholesale data released by the China Association of Automobile Manufacturers (CAAM). This data included all vehicle types, including passenger vehicles and commercial vehicles. This was the 15th consecutive monthly decline for the vehicle market and reflected slowing economic growth in the country and falling domestic sentiment as trade relations with the US continued to deteriorate. The vehicle market this year had also been disrupted by new emissions regulations and by the long term switch to new energy vehicles through sales quotas. At the beginning of July, 15 cities and provinces, which together account for over 60% of vehicle sales in the country, introduced stricter emission standards earlier than the central government's 2020 deadline which, local analysts said, had weakened the market considerably this year.
It looks like a deal has finally been struck between GM and striking UAW workers. Full-time workers will get a US$11,000 ratification bonus if the contract scheduled to start on 6 January, 2020 is ratified, the union said. Temporary workers will receive $4,500. The new agreement gives full time temporary workers a shortened path to permanent status and, from 1 January, 2021, provides a path for part time temporary employees to convert to regular status. The contract also provides for improved paid and unpaid time off for temporary workers. But most of the "unassigned" plants will, unfortunately, stay closed. We await member ratification at the time of writing.
Have a good weekend.
Graeme Roberts, Deputy Editor, just-auto.com