Tata Motors future models - Jaguar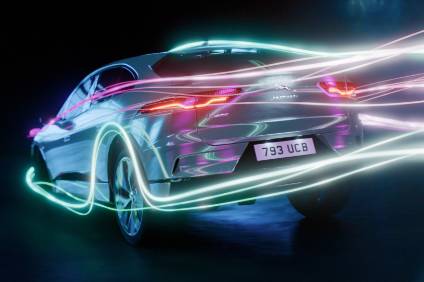 The next XJ will be manufactured at Castle Bromwich from 2020
Jaguar on its own is far from a viable business, as global deliveries of only 37,323 vehicles (-11%) in the 1 July to 30 September quarter shows. Tata Motors is nonetheless standing behind the troubled brand even if some believe that both the leaping cat and Land Rover might be sold to another OEM. For now though, spending on Jaguar continues, with an emphasis on electrification for all manner of future vehicles.
Cars
A facelifted XE was announced in February, the car having been in production since April 2015. Powertrains are now:
P250 (184kW/250PS & 365Nm 2.0-litre Ingenium petrol, RWD or AWD)
P300 (221kW/300PS & 400Nm 2.0-litre Ingenium petrol, RWD or AWD)
D180 (132kW/180PS & 430Nm 2.0-litre Ingenium diesel, RWD or AWD)
In North America, the styling update is new for the 2020 model year and the former diesel option is dropped.
The current car is made at Castle Bromwich in the English West Midlands but the successor may instead be built in Slovakia from 2022. JLR hasn't made public how it will replace its D segment sedan and there are several options available.
The idea of a four- or five-door car (plus a much needed estate for certain key European markets) aimed at the same buyers who are currently queuing up to buy a Tesla Model 3 could be what JLR decides to do. That might also mean the merging of the XE/XEL and XF/XFL replacements into one project, although there could of course be a repeat of the standard and extended wheelbase bodies. Making one basic battery-electric model would mean substantial spending but it could potentially mean far greater sales success than what Jaguar's first rate yet largely ignored D and E segment cars currently have.
The second generation XF has been in production in England since August 2015. Extensive details of its history and data on the China-specific XFL can be found in PLDB: please see the link at the end of this report. The cars' first facelifts are likely to be announced later this year. At the same time, JLR's Ingenium in-line six-cylinder petrol engine should become available.
If there is a third generation XF, it will need to be a truly fresh design. JLR's sensitivity to the lack of success for the XF (and XE) is reflected in the fact that media releases announcing global deliveries no longer break down the brands' numbers to model level. Nor, unlike Volvo for example, is monthly data available.
Jaguar will likely have to accept that the segment in which it competes is controlled by Audi, Mercedes-Benz and BMW and so find a way of becoming a high-margin niche player. The obvious answer would be to make the replacement for the sedan a rival for either the Audi A7 and S7 or else the Mercedes-Benz CLS-Class. An extended wheelbase sedan would probably be needed for China, making the hatchback body a less likely possibility. Europe, meanwhile, would probably still want a Sportbrake wagon too.
Naturally, the car will feature JLR's Ingenium three-, four- and six-cylinder engines. A PHEV and possibly even an EV will also likely feature. Some even believe that the car could be sold only in fully electric form.
Given that JLR is not expected to replace it until 2022 or 2023, there will be another facelift for the F-Type either later this year or in 2020. The company's own 3.0-litre Ingenium engine should be added at the same time, replacing the Ford-made V6. Even though the looks are still greatly admired and have hardly dated since its mid-2013 market introduction, the car has never sold strongly, either as a hatchback or convertible.
Production of the Ford-supplied V6 and V8 petrol engines will end in September 2020 so if the successor does not become an electric-only model, it would use Ingenium engines. The platform should be MLA and the development code is said to be X161. JLR may launch the F-Type 2 with petrol and PHEV powertrains and then bring in an EV alternative later in the 2020s.
Incredibly, TML has approved funding for a new XJ. This is astonishing to most industry watchers as even those who greatly admired the now out of production predecessor would struggle to call it successful.
The next XJ is expected to at first be available only as an EV. Versions powered by JLR's four- and six-cylinder petrol and diesel engines may come later. The battery pack will reportedly have a capacity of 90.2kWh and the car should have a maximum range of 470km (WLTP).
This big sedan goes into production at a retooled Castle Bromwich plant in late 2020. The architecture is MLA, a new platform which can be adapted for EVs, hybrids and combustion engines. Sources indicate that the original X360 project code was changed to X391, reflecting the rethink on what the car will become. The life cycle should be eight, possibly nine years.
SUVs
The 4,395mm long E-Pace, the smallest Jaguar yet, is aimed at the Audi Q3, BMW X1, Volvo XC40 and Mercedes-Benz GLA-Class. It is manufactured in Graz by Magna Steyr, and in China by CJLR, the Chery JLR joint venture. This was the fourth vehicle to be built by the JV at its Changshu plant after the Range Rover Evoque, Land Rover Discovery Sport and the Jaguar XFL.
The architecture is D8, which is JLR's name for its evolution of Ford's EUCD platform. The five-seater SUV has a boot capacity of 577 litres, a 60/40 split rear seat and total volume of 1,234 litres with both seats folded. Its wheelbase is longer than that of the first generation Range Rover Evoque.
The E-Pace was revealed to the media in July 2017 and initial production in Austria commenced two months later. Cars did not reach UK dealers until early 2018, but certain other European markets received LHD vehicles from late 2017.
The introductory engine range was as follows:
110kW (150PS) & 380Nm Td4/D150 Ingenium 2.0-litre diesel
132kW (180PS) & 430Nm Sd4/D180 Ingenium 2.0-litre diesel
177kW (240PS) & 500Nm Sd4/D240 Ingenium 2.0-litre diesel
183kW (249PS) & 365Nm Si4/T250 Ingenium 2.0-litre petrol
221kW (300PS) & 400Nm Si4/T300 Ingenium 2.0-litre petrol
Jaguar announced changes for the E-Pace in June last year. These included the options of adaptive suspension and a 200PS petrol engine as well as standardisation of particulate filters for all petrol engines. A few days later, series production commenced in China although the ramp up was slow. The partners added annual capacity of 70,000 vehicles, lifting the plant's output to 200,000 units.
There should be a facelift in 2021 and a successor model in 2025. It is too early to know how JLR will replace the E-Pace, only that by then it could become a fully electric model.
The X590 I-Pace is now eighteen months old and selling modestly well. JLR's first series production EV is manufactured in Austria by Magna Steyr. The 98kWh battery pack was self developed by Jaguar Land Rover, the company stated when announcing the original I-Pace concept to the media. Jaguar has hinted that there could be other variants to come, with the launch car called I-Pace EV400.
While some have compared the I-Pace to the 5,037mm long Tesla Model X, the Jaguar is smaller, being about the same size as the F-Pace and the 4,692mm long Porsche Macan. It is around 30cm longer than the Range Rover Evoque and 10cm lower.
In March 2018, JLR announced a deal for the supply of "up to 20,000" units of the I-Pace to Waymo, the Google-owned driverless vehicle firm. After a testing period, the first units of this model should be delivered in 2020. In April this year, Waymo announced that it would be retro-fitting its Level 4 self-driving vehicles at a converted AAM (American Axle & Manufacturing Inc.) factory in Detroit. The company spent US$13.6m to modify the site, which had not assembled components for AAM since 2012. The facility is within the supplier's Holbrook Avenue campus.
I-Pace deliveries have been slow. JLR's own figures showed 558 retail sales during the first quarter of its fiscal 2018-2019 (April-June 2018). Things improved dramatically in fiscal Q2 to 3,666 vehicles, although as that number shows, car buyers the world over are not generally too taken with high-priced EVs.
One of the strange things about JLR is how long it leaves vehicles on sale without a styling refresh. The F-Pace is a case in point. In production since April 2016, an update would logically have been due around now, or even several months ago. Instead, a facelift probably won't happen until the second half of next year. That is also when we may see a plug-in prototype. JLR's Ingenium 3.0-litre in-line six-cylinder petrol engine, which replaces the Ford-sourced 3.0-litre V6, will become available in 2020 too.
Jaguar has one more SUV up its sleeve. Potentially to be called J-Pace, it should use MLA, the same platform as the future Range Rover and Range Rover Sport, and likely priced halfway between the two. It should be around 4.9m long although there could be an extended wheelbase derivative too, stretching to 5.1m or more.
It is known that JLR has a model codenamed X363 under development and another one with the code X191. It seems likely that one of these is J-Pace. The big SUV was at one time due in late 2019 but cost cutting is said to have delayed its arrival in showrooms until mid-2021.
Reports for many other manufacturers' future models are grouped in the OEM product strategy summaries section of just-auto.com. That includes those current and future Roewe models not discussed in the above report.
Future product program intelligence
More detail on past, current and forthcoming models can be found in PLDB, the future vehicles database which is part of QUBE.
This was the second feature in a series examining the current and future models of TML's passenger vehicle divisions. The first one looked at Tata, and the final report will focus on Land Rover.
Most popular news
---
Most popular insights
---
Oops! This article is copy protected.
Why can't I copy the text on this page?
The ability to copy articles is specially reserved for people who are part of a group membership.
How do I become a group member?
To find out how you and your team can copy and share articles and save money as part of a group membership call Shivani Hayer on
+44 (0)1527 573 732 or complete this form..