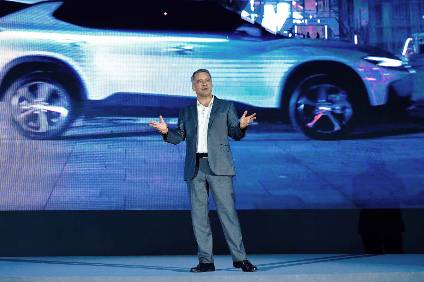 "It's electrifying". John Travolta once sang those words. They also resonate with what's going on in the auto industry right now. Wherever you look, there are signs of electrification, of rising investment in EV plants and products. E-mobility seems to be doing relatively well despite the virus and also plays into the talk of more sustainability in the economic recovery.
Companies in the auto industry are all over it, naturally. August is generally a quiet time in autos, but electrification was pretty busy again this week.
General Motors put on an EV and AV tech virtual shindig in Warren and Shanghai, with its China strategy also set out and clearly at the heart of things.
GM sets out electrification push for China
There were some interesting nuggets in the presentations: Key takeaways from GM's Tech Day
And it's full steam ahead at Volkswagen – the ID.4 is already in production. VW has also announced battery pack engineering investment in the US.
The race to get product to market (PHEVs as well as full BEVs) seems most definitely to be on.
Volvo adds second plug-in hybrid powertrain to XC40
And it's not just the OEMs jockeying for position ahead of the bonanza.
CATL targets overseas acquisitions to regain leadership
ZF sees pace of electrification increasing
Connectivity and data is also a very hot topic. When it comes to choosing partners, automotive companies are increasingly looking outside of the traditional automotive eco-system.
Toyota increases collaboration with Amazon Web Services
And there was a reminder that some of the technology at the heart of the connected vehicle relies on telecommunications innovations pioneered by others. Yes, it's the age-old debate about fair recompense for inventions and where the line gets drawn on who is entitled to replicate and on what basis. Add in some market power concerns (I would wager that Daimler draws support across a number of companies, even among those who currently pay up) and you have a recipe to keep lawyers in business for many years. In the end, of course, there's usually a compromise.
Nokia wins court ruling in cellular patent dispute with Daimler
Still on Big Data, this Ford initiative sounds intriguing. Mountains of traffic data utilised for predicting traffic incidents.
Ford trials tech that 'predicts traffic incidents'
COVID-19 and its impacts haven't gone away – you can catch up with that in our running article.
UPDATED – Daily automotive coronavirus briefing FREE TO READ
Here's a Covid-compliant coach. I hope it turns out to have been an interesting niche and a temporary one.
We've also been looking into the annual shutdowns at UK car manufacturing plants to establish who's doing what in this strangest of years.
Several UK plants follow traditional summer schedule
More UK OEMs restart after summer break
And finally, it is still August and I hope everyone reading this is managing to get some downtime. This summer has seen many sports events cancelled, but we are at least starting to see tentative steps to restart – even if spectators cannot be at these events just yet. A press release about an autonomous shuttle at a golf tournament caught my eye. Hopefully the smart shuttle gets used for spectators sometime soon.
Aurrigo tees up autonomous first at the Wales Open
Have a nice weekend.
Dave Leggett, Editor, just-auto.com