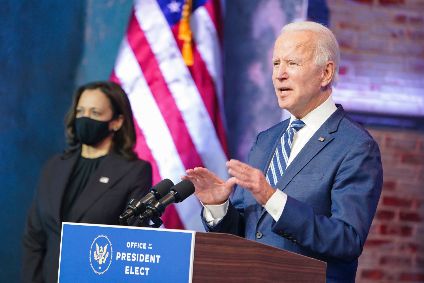 US President-Elect Joe Biden has announced that he will nominate Pete Buttigieg to lead the US Department of Transportation (DOT). Buttigieg is the former mayor of South Bend, Indiana and has enjoyed a significant rise in his political profile on the back of his campaign to secure the Democratic Presidential nomination for himself. While unsuccessful in his bid for The White House, Buttigieg scored well in polls and was popular on social media – his appointment will be the first such role for an openly LGBTQ+ individual in the US Cabinet.
As head of the DOT, Buttigieg will oversee an expansive network covering airlines, highways and public transportation. This is a particularly difficult role because enacting meaningful changes in transport policy often takes longer than most politicians are in office so, as a result, many are reluctant to back long-term plans that won't pay off until after their tenure. In addition, US' transport networks have seen significant recent disruption from the impact of COVID-19 and pressure from the outgoing Trump administration to abandon environmentally friendly policies.
Buttigieg's appointment is likely to see US transport policy become significantly greener than it was in the outgoing administration led by Trump appointee Elaine Chao.
Progressive voices in the Democratic party have expressed lukewarm support for Buttigieg – for them, the policies he proposed when he ran for president didn't go far enough in tackling the US's environmental impact, compared to voices such as Rep. Alexandria Ocasio-Cortez who has been advocating for more widespread changes. Nevertheless, Buttigieg's appointment is likely to see US transport policy become significantly greener than it was in the outgoing administration led by Trump appointee Elaine Chao.
Of particular relevance to automakers was Chao's introduction of the SAFE rule (Safer Affordable Fuel-Efficient vehicles). This relaxed the rate at which fuel economy standards would ramp up over the next five years – claiming that the change would reduce on-costs to OEMs of efficiency-enhancing equipment meaning cheaper cars for consumers, or cars that would add more safety equipment in its place. Critics pointed out that reducing fuel economy standards would put US automakers at a competitive disadvantage with rivals from other countries and would see more environmental damage wrought by transport.
With Buttigieg at the helm, it is likely that fuel economy requirements will be reinstated at similar levels to those outlined by the Obama administration. While this will increase on-cost to automakers thanks to the need to add efficiency-boosting tech, it will keep US-made vehicles competitive with those from other countries, allowing OEMs to compete with foreign rivals in export markets with strict efficiency and emissions standards. In addition, OEMs will be glad for some clarity and consistency in the environmental rules they must meet.
In his run to become president, Buttigieg proposed a $1tn infrastructure plan to modernise the US's crumbling networks. This included a bold $150bn budget for the Federal Transit Administration – which oversees public transport – 13 times more than currently budgeted. While Biden did not commit a dollar figure for transit while campaigning himself, he has also committed to providing high-quality, zero-emissions transit for all US cities larger than 100,000 people. While the new administration's finalised public transit policy has yet to be clarified, expect to see more investment in public transport policies with the goal of getting more Americans out of private vehicles.
Underlying this goal was another of Buttigieg's proposed policies for private vehicles – a shift away from taxation based on fuel used to taxation based on miles travelled. This policy is considered by many transport experts to be more effective at disincentivising the use of private transportation, compared with fuel taxation. Such a change, if enacted, could see Americans begin to move away from gas-guzzling SUVs and pickups, and towards smaller, more efficient or electrified models used in concert with expanded public transport options.